Yu Darvish's Rehab Progress and Projected Timeline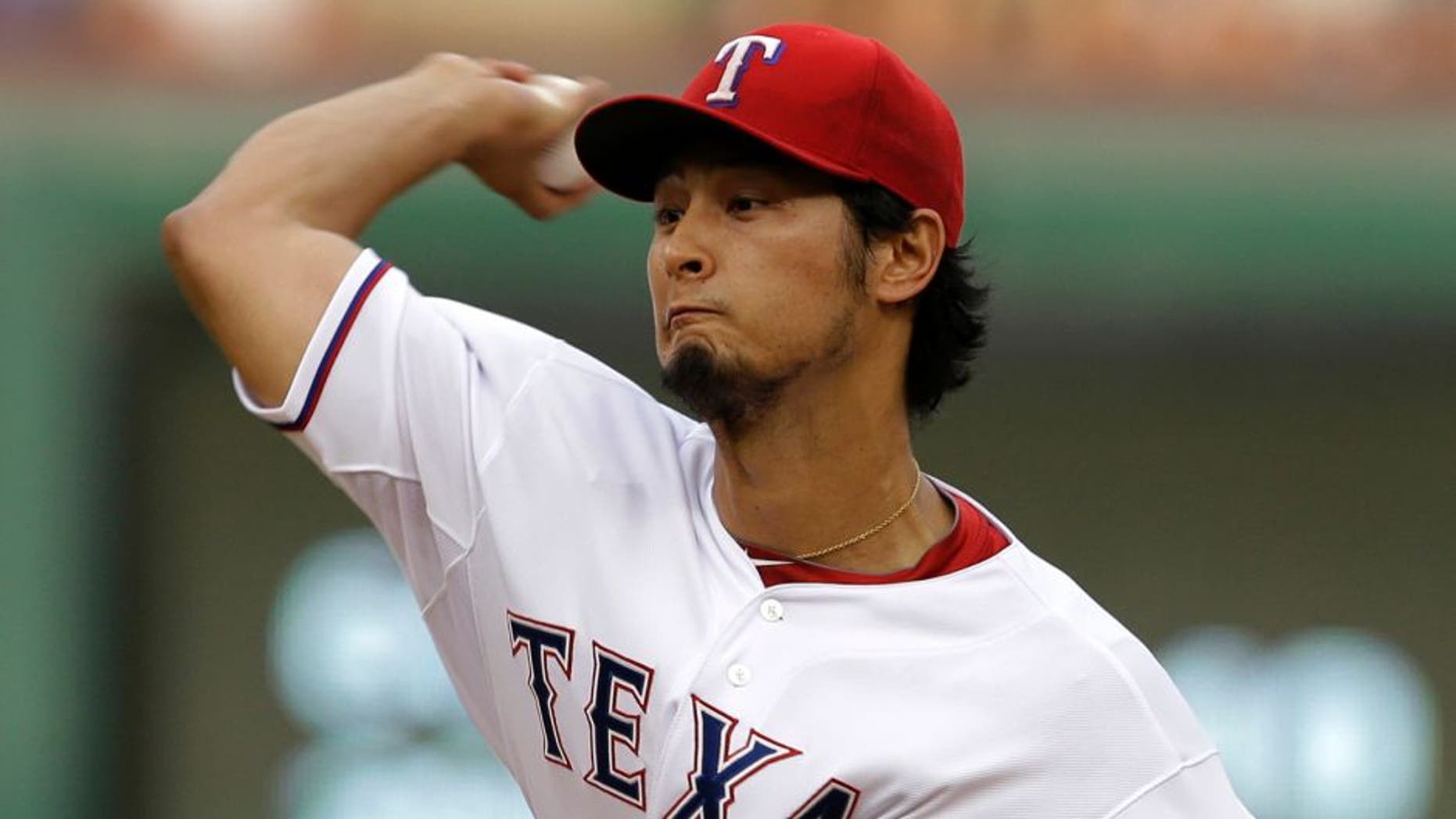 Texas Rangers ace Yu Darvish is still on the recovery trail from Tommy John surgery performed 14 months ago, but he's getting closer to making his return to the majors.
Darvish made his rehab stint debut this past weekend for Double-A Frisco, throwing 32 pitches over two scoreless innings while striking out two batters. More importantly, there was no soreness the following day, which keeps him on track to make another start on Friday for Triple-A Round Rock.
According to Evan Grant of the Dallas Sports Day, Darvish will up his pitch count to 45 (or three innings) in Friday's start.
What does that mean for fantasy owners, and when can we project Darvish to make his MLB return? Let's break it down here.
Ownership
Unfortunately, most Darvish owners who drafted him have remained patient. Darvish is owned in 91 percent of FOX Sports leagues, which means you can't just go run and add him to the wire.
Time is probably ticking on pulling off a trade for the Rangers ace as well. His rehab has gone smoothly thus far, but reports of soreness or some other news about Darvish's MLB season debut being pushed back into June instead of late May would probably be the only shot you'd have at nabbing him at this point.
If you're a Darvish owner, you should ask for a lot if you want to deal him. Even with some projected drop off, Darvish could easily still be a top-10 pitcher in the league. Which leads us to...
Expected Performance
On the whole, the average MLB player returning from Tommy John surgery puts up worse numbers. A 2014 study showed that 168 Tommy John pitchers averaged a 4.15 ERA with a 1.40 WHIP before surgery, and a 4.74 ERA and 1.48 WHIP after.
Of course, Darvish is far from an average pitcher. He's been an All-Star each of his three seasons in the league, and in 2013, he led the AL in strikeouts (277 in 209 IP). He's a fantasy monster, capable of putting up double-digit strikeouts with low peripherals and good win totals for a solid Rangers team.
Darvish's velocity is still on point, even after surgery. He hit 97 MPH in his rehab game, which is a great sign for his projected return later in May.
Obviously, the Rangers will want to be careful with Darvish and won't cut him loose. That means limiting his pitch counts, and maybe even skipping a few turns in the rotation. Obviously owners would be thrilled with something along the lines of Jose Fernandez's numbers last year (2.92 ERA, 5.8 IP per start, 1.16 WHIP, 11.0 SO/9), another hard-throwing ace who came back from Tommy John to perform well.
Projected Timeline
Fantasy owners should realistically expect very little in the month of May, even though Darvish is projected to make his return later this month.
More realistically, Darvish will probably receive one or two starts in May, and then slowly up his pitch count throughout June. It might take until July for Darvish to look a little closer to his usual dominant form, but again, Texas is going to extremely careful at this stage in the game. It's far from a guaranteed proposition that Darvish will be making regular starts anytime soon.
It's probably reasonable to expect Darvish to make at least two more rehab starts after this Friday. For now, though, owners should take a "one game at a time" approach. So far, so good.
Tweets from https://twitter.com/FantasyOnFOX/lists/fox-sports-fantasy