You probably forgot how bad Colin Kaepernick was last year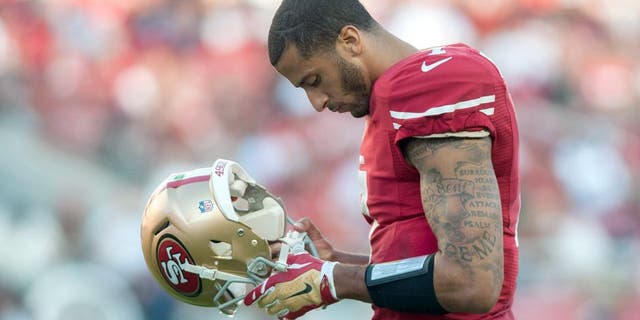 NEWYou can now listen to Fox News articles!
Tuesday, San Francisco 49ers fans finally received what they've been asking for -- Colin Kaepernick is now the team's starting quarterback.
Chip Kelly didn't have much of a choice -- while it isn't necessarily Blaine Gabbert's fault the 49ers' offense is one of the worst units in the league, he certainly wasn't the solution to that problem.
Is Kaepernick? Probably not.
A lot has happened since the last time Kaepernick took the field for the 49ers:
Jim Tomsula and his staff were fired, Kaepernick underwent multiple offseason surgeries and was retained by the team, guaranteeing his nearly $12 million salary. He avoided being cut in the preseason, despite two terrible performances, and you might have heard about some situation involving the National Anthem -- at this point, so many people have appropriated erroneous (at best) meaning to that peaceful protest I'm not quite sure what that's about anymore.
It's a lot, and because of all of that, it's easy to forget just how bad Kaepernick was the last time he took the field.
Kaepernick was replaced by Gabbert last year for a reason -- he turned in one of the worst quarterbacking seasons in recent NFL history. The Browns wouldn't have started him.
Let's refresh the memory:
Last season, Kaepernick had a defense-adjusted yards above replacement -- Football Outsiders' ultimate value quotient -- of minus-182, 35th in the NFL. By all metrics, he was one of the worst quarterbacks in the league.
These numbers look even worse when you consider that the 49ers went to a single-read offense for Kaepernick after his terrible four-interception performance against the Arizona Cardinals in Week 3.
Each progressive interception in that game was worse -- it was a total unraveling.
It only devolved further from there.
Kaepernick lost the 49ers locker room after a home loss to the Packers in Week 4 -- Torrey Smith and Anquan Boldin both vented their frustrations with the [insert any and all expletives here] play of their quarterback during and after the game (the latter being more of the passive-aggressive variety, as two of the most loquacious and intelligent players on the team refused to talk to the media).
Kaepernick was air-mailing throws all over the field, and when he wasn't doing that, he was skipping easy ones like this.
The 49ers went to a read-option offense for the next two games, and Kaepernick and the Niners didn't look half bad. They weren't a good team, but they weren't being embarrassed.
But then defenses figured it out. The unraveling became a meltdown.
Kaepernick's performance in the 49ers' Week 7 Thursday Night Football game last year was among the worst quarterback performances in recent NFL history. As I wrote at the time "his mechanics had become so disorganized that even the easiest toss became an adventure in forward passing."
We're talking about 10-yard outs being thrown 15 feet over receivers' heads. Eventually, the 49ers stopped throwing the ball on third-and-long, such was the struggle.
It kept getting worse and worse. You honestly couldn't tell if Kaepernick was throwing the ball away or aiming for intended receivers by the end of the contest.
There were basic mental lapses, too -- on a third down in the second quarter, he broke the huddle with 17 seconds remaining on the play clock, only to try to change the play with three seconds remaining. The Niners were hit with a delay-of-game flag.
Week 8 was the official end. Any competent coach would have benched Kaepernick long before that game in St. Louis, but it was Tomsula in charge …
Kaepernick simply wasn't allowed to throw beyond the first-down sticks in that game. The 49ers had a one-read system in place, and that read never went past the first-down marker, regardless of scenario.
Kaepernick's lack of awareness finally forced the 49ers' hand -- they had to go to Gabbert after the Rams decided to stop covering wide receivers at the line of scrimmage and Kaepernick didn't recognize it.
Kaepernick was, hands down, the worst quarterback in the NFL last season. He played so poorly that he made Gabbert look competent by comparison. He made mistakes that would get a high-school quarterback benched.
Perhaps that poor form will change under Kelly -- the 49ers have run three times more zone-read plays than any other team in the NFL this season, despite having Gabbert at quarterback, and theoretically Kaepernick should thrive in those situations.
Then again, defenses will be able to stack the box with nine or 10 players, daring Kaepernick to make the throws he showed last year he couldn't make. That's what happened last year, and after that point bad become worse.
Perhaps the injuries were a factor in the poor play last year, but that doesn't explain the complete lack of awareness and football smarts Kaepernick displayed. Maybe Kelly can tap into the same magic Jim Harbaugh found in No. 7, but until that's shown, one has to presume we're going to get a repeat of 2015.
As for the contract -- the one that could well guarantee Kaepernick $14 million for next season should he get injured this year -- Kelly pleaded ignorance and said Tuesday that it had nothing to do with his decision to start Kaepernick. Despite the fact that the 49ers front office leaked to NFL Network that the team and Kaepernick were working on a new deal that would alleviate the team's concerns over injury guarantees, Kelly's statement is somewhat believable -- while it would be ridiculous to play Kaepernick given his contract and the risk of injury behind that offensive line, something the front office is clearly aware of, it's far more likely that the 49ers have a completely dysfunctional organization where the head coach and general manager have no communication and cannot run a team in unison.
No matter what Kaepernick's contract is for Sunday's game against Buffalo, he'll enter the contest with plenty to prove. Even borderline mediocrity would be a massive upgrade for No. 7.