You have nothing to panic about, Cubs fans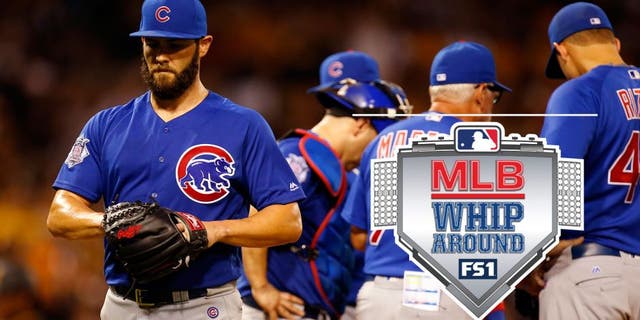 NEWYou can now listen to Fox News articles!
Week 14 of the MLB season is complete and the All-Star Break is here. Some teams couldn't get to the break quick enough (the Chicago Cubs) and some probably wish they didn't have to stop playing at all (the Pittsburgh Pirates).
Let's go Whip.
The Cubs went into the break with a win, but barely. The Baby Bears squeaked one out by the score of 6-5 in Pittsburgh on Sunday. The win halted the Cubs' five game-losing streak, but it doesn't change the fact they head to the All-Star break having gone just 6-15 in their last 21 games.
There are few people alive today that were around the last time the Cubs won it all in 1908. So naturally when the team starts to struggle like this after getting off to such a great that it was crowned likely World Series champs before July, the fan base panics.
Let me talk you off the ledge, Cubs fans.
Yes, the starting pitchers' ERA of 6.09 in those 21 games is slightly concerning. Watching Jon Lester give up 13 combined runs in his last two starts was alarming. We also found out Jake Arrieta is a human being, giving up 15 runs over 16.1 IP in his final three starts before the break. This is not what anyone expected from what was perceived to be a flawless roster.
Despite all of it, the Cubs still hold a seven-game lead in the NL Central, the largest division lead in all of baseball.
And here's the good news:
-- Dexter Fowler, who has proved to be a vital piece to this team, will be back soon.
-- Willson Contreras is the real deal and may force the Cubs' hands with Miguel Montero.
-- Jason Heyward is batting .280/.356 over his last 29 games and will not be as bad as he was in the first half.
-- The top of the rotation is healthy and all have track records you can believe in.
-- The front office will make a significant move, one in the bullpen and possibly one in the starting rotation.
I understand you Cubs fans. You're Red Sox fans pre-2004 and subscribe heavily to Murphy's Law. Not this year. Things will go well, this team will win a division title and they will be a legitimate threat to win a World Series. Is the ring a guarantee? Of course not, it never is.
Two teams won 116 games in a season, the 1906 Cubs and 2001 Mariners. Neither won the World Series that year. Don't worry about the win total and don't worry about this 6-15 stretch. The break is here, this team will get stronger both internally and externally, and October is going to be a lot of fun.
23-year-old Josh Bell was called up on Friday by the Pittsburgh Pirates. The consensus top-50 prospect and third overall prospect in the Pirates system was told he would only be in the major leagues for three days, as a bat off the bench, while the Pirates took on the Cubs at PNC leading to the break.
Bell was called on to pinch hit on Friday in the seventh inning against Cubs ace Jake Arrieta. He promptly lined the first pitch he saw, an 81-mph curveball, into right field for his first major-league hit.
I asked Clint Hurdle prior to Saturday's game on FOX if Bell had any chance to remain in the big leagues beyond the three days. "No. He's here for three and then back to (AAA) Indy. Unless someone gets hurt." Hurdle was emphatic. According to his manager, there is nothing Bell could do on his own to keep his roster spot in the big leagues beyond Sunday.
On Saturday Bell struck again. In the fifth inning he pinch-hit for pitcher Arquimedes Caminero. Facing Adam Warren, Bell hit the third pitch he saw, an 84-mph changeup, deep into the right-field stands, almost clearing them, for a grand slam.
On Sunday Bell pinch-hit again, this time in the seventh inning. After falling behind 0-2, he ended up working a nine-pitch walk against John Lackey. After reaching second on a base hit by John Jaso, Bell showed some nifty baserunning skills, taking third and avoiding a tag on a groundball by Starling Marte.
Three pinch-hit plate appearances, two hits, one grand slam and a nine-pitch walk. Both hits came on off-speed pitches. Quite the start to a career.
I asked someone who was familiar with Bell what his best position was. "Hitter" was their response. Bell started his career in right field, but has since become a first baseman, where he has exclusively played the last two seasons. Jaso, on a two-year deal, is playing first and Gregory Polanco is anchoring right for the Pirates. They're both doing very well.
The Pirate bench is also pretty strong with Sean Rodriguez, David Freese and Matt Joyce, all veterans having good years.
No room at the Inn for Bell, but Pirates fans have something to get excited about in the near future.
Fun number: It took Jeff Bagwell 4,133 at bats before he hit his first grand slam. It took Josh Bell 2.
Major League Baseball did an excellent job last year revamping the Home Run Derby. We have a bracket, we have head-to-head elimination and most importantly, we have timed rounds. The new derby format was a success last year and the once stale event has been given new life.
But what about those who participate and those who decline?
I had an interesting conversation last week on MLB Whiparound with Hall of Famer Frank Thomas. Thomas, a two-time derby participant and 1995 winner, believes you have to be an All-Star to participate in the Home Run Derby.
This year two participants -- Giancarlo Stanton and defending derby champ Todd Frazier -- are not All-Stars. They're not the first non-All-Stars to be in the derby either. I disagreed with Frank, I think we want to see the best home run hitters in the game participate in the derby, regardless of whether or not they're All-Stars.
MLB Whiparound -- The Show, airs weeknights on FS1.