Yankees' pitching talented but fragile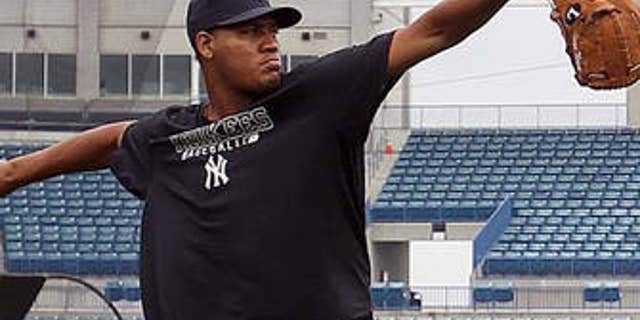 TAMPA, Fla. – Before issuing hosannas to the New York Yankees for building an enviable collection of young starting pitchers, let us pause for a quick reality check.
The Yankees' Phil Hughes and Joba Chamberlain once were as ballyhooed as Michael Pineda and Ivan Nova, not to mention Manny Banuelos and Dellin Betances.
As the Yankees and other teams can attest, young pitching not only is the most desired commodity in the sport, but also the most fragile.
Yes, the Yankees appear to be in terrific position as their pitchers and catchers prepare for their first workout Monday. But check back in a month or six months, and the picture could look entirely different.
"Exhibit A is the Boston Red Sox last year," Yankees general manager Brian Cashman said. "We go into spring training last year with not enough (starting pitching). They go into spring training armed and dangerous with more than enough."
Well, the Yankees were comfortable enough with their current cast to trade right-hander A.J. Burnett, who for all his faults averaged 33 starts in his three seasons in New York.
"The goal is to have as much talent as you could possibly have," Cashman said. "Look at the Minnesota Twins and Terry Ryan. They just rely on their feeder system and more times than not it winds up coming through for them."
Yet it's the Yankees' future that is even more intriguing.
Nova, 25, and Pineda, 23, are virtually certain to be in the Opening Day rotation. Hughes, who still is only 25, might be the fifth starter. And Banuelos and Betances, who will turn 21 and 24, respectively, in March, likely will open at Triple-A.
The Yankees' Triple-A rotation also figures to include Adam Warren, David Phelps and D.J. Mitchell, three other 25-and-under pitchers who have lower ceilings than Banuelos and Betances but project as back-end starters.
Other prospects are emerging at the lower levels -- most notably Brett Marshall, who will open at Double-A, and Jose Campos, who arrived with Pineda in the trade with Seattle for Jesus Montero and Hector Noesi.
For the Yankees, the timing could not be better -- and not simply because their group of young pitchers is superior to that of the Boston Red Sox and comparable to those of the Tampa Bay Rays and Toronto Blue Jays.
Consider:
- The Yankees, due to a series of powerful incentives in the new collective-bargaining agreement, want to be under the $189 million luxury-tax threshold by 2014.
- The CBA restricts spending on amateurs both domestically and internationally, preventing the Yankees from flexing their financial muscle in those markets as aggressively as in the past.
- Accomplished young pitchers generally sign contract extensions rather than become free agents, diminishing the availability of quality rotation help on the open market.
- Other positions will be more pressing for the Yankees in the near future. Right fielder Nick Swisher, catcher Russell Martin and closer Mariano Rivera are entering free-agent years, and second baseman Robinson Cano and center fielder Curtis Granderson are eligible to be free after 2013.
Thus, it's a good thing that the Yankees are "loaded" with young pitching in the estimation of Arizona Diamondbacks general manager Kevin Towers, who worked as an assistant to Cashman in 2010.
A rival scout who covers the upper levels of the Yankees' farm system agreed, saying, "They're in a hell of a lot better place than they were five years ago."
Cashman, in restocking the organization, did not necessarily forecast the changes in the CBA or fret over future free-agent classes. He merely wanted to make the Yankees as strong as possible, not only by developing starters, but position players and relievers, too.
Yankees reliever David Robertson, a 17th-round pick in 2006 who developed into an All-Star, is a case in point.
"I used to sign (Paul) Quantrill, (Steve) Karsay, Gabe White, all these veteran relievers," Cashman said. "Now, our bullpen, for the most part, is homegrown or low-risk guys like Cory Wade who we popped off the waiver wire. The bullpen has become a cheap thing for me."
Making the rotation a cheap thing isn't as easy. The Yankees, in their biggest offseason move, re-signed CC Sabathia for five years and $122 million. They also added Hiroki Kuroda on a one-year, $10 million deal. None of their other starters, though, will earn more than $4 million.
The immediate question is whether Nova and Pineda will be all that the Yankees envision. Nova went 16-4 with a 3.70 ERA last season but benefited from the third-best run support in the American League. Pineda made the All-Star team for the Mariners but had one win and a 5.12 ERA in the second half.
Cashman, in fact, already is downplaying expectations for Pineda, all but saying that the youngster will pitch at the back of the rotation. Sabathia, Nova and Kuroda all are ahead of Pineda, and Hughes and Freddy Garcia also are in the mix.
"He's hungry and wants to be the best he can possibly be," Cashman said of Pineda. "But there's a gap to close on things. He needs to better develop his changeup. It's a below-average pitch for him right now. I don't think there's a No. 1 or 2 starter in the big leagues with two pitches.
"Obviously, I'm dreaming on the guy. We're dreaming on the guy. But the fact of the matter is, there is work to be done still."
Not to mention, Pineda also must adjust to New York, where the pressure is greater than in Seattle and just about every other major-league city.
The same harsh scrutiny awaits Banuelos, who has made just seven starts at Triple-A, and Betances, who has made just four, plus one in the majors. The Yankees want both to refine their fastball command and finish their development in the minors. Betances, at 6-foot-8 and 260 pounds, ultimately might be more of a Lee Smith-type reliever, some scouts say.
The attrition rate for young pitchers is so high, it would be a shock if Nova, Pineda, Banuelos and Betances all fulfilled their potential. Then again, the Yankees should be deep enough overall to again avoid the top of the free-agent pitching market next offseason.
Better the Yankees hold off until after 2014, by which point they could realize the benefits of spending one season under the luxury-tax threshold and then dive into a market that could include Felix Hernandez, who will be 28, and Justin Verlander, who will be 31.
Then again, let's not jump too far ahead.
Nova has had one good season, Pineda one good half, and Banuelos and Betances one major-league start between them.
The right pieces are in place, but nothing is assured.