Xavier guard rides with the enemy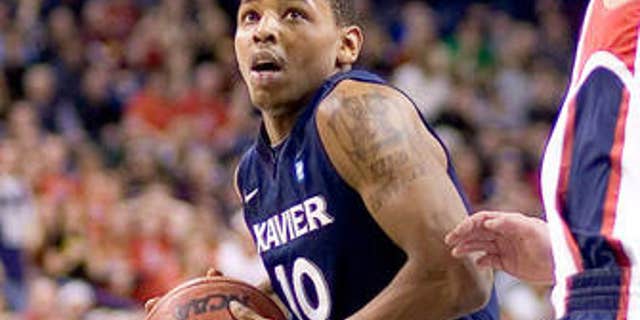 NEWYou can now listen to Fox News articles!
Xavier starting guard Mark Lyons was supposed to have a sidekick when he walked onto Albany's team bus for a very unusual and potentially awkward 12-or-so-hour trek that began at 10 p.m. Sunday night.
However, Musketeers star Tu Holloway couldn't get from Hempstead, N.Y. to Albany due to a major snowstorm that hammered much of the country. He was forced to return home for the night, meaning Lyons was flying solo on the Albany team bus en route to Cincinnati for Tuesday's game against Xavier.
"I didn't have much of a choice," Lyons told FOXSports.com shortly after getting on the bus. "It was a little uncomfortable at first."
Lyons and Holloway both had their flights canceled out of New York on Sunday , leaving Xavier coach Chris Mack and his staff scrambling for alternatives.
After researching all possible options, Xavier's coaches realized they had no choice but to seek help from an unlikely source; their next opponent.
Albany's flight had also been canceled and the team had decided to embark on an overnight bus trip immediately after Sunday night's practice.
"When Coach Mack called me and first told me about it, I said, `I can't do that," Lyons said. "But it was the only way to get back."
"I said 'no', also," Holloway added. "It's bad enough if I have to take a bus ride like that with my own team, but to do it with the team I've gotta play."
So Lyons, who lives about 10 minutes away from the Albany campus in Schenectady, N.Y, and Holloway -- who was coming from Hempstead, were supposed to meet on the Albany campus and ride in the bus with the enemy.
Xavier cleared it through the proper channels -- and compliance from both schools signed off on it.
"I was sitting in my office and my director of operations came in and said he had gotten an unusual request," Albany coach Will Brown said. "Then he told me that Lyons was stuck in Schenectady and Xavier wanted to know if he could travel with us on our bus."
Lyons is second on Xavier's team in scoring at 13.1 points per game and a key component to Xavier's success, but Brown didn't hesitate in agreeing to take the local kid along for the ride.
Then, an hour later, there was another knock on the door. This time it was whether Holloway, who is an A-10 Player of the Year candidate and averaging 21.8 points, 5.2 assists and 4.7 rebounds per game, could join Lyons.
"I was thinking, `You've got to be kidding me'," Brown laughed.
Brown's team has won six of its last seven, and without Holloway and Lyons, has an opportunity to get a huge victory for the Great Danes.
"It would be one of the biggest wins Albany has ever had," said Albany's leading scorer Logan Aronhalt, who happens to hail from Ohio. "But this is the right thing to do."
Brown joked about the possibilities, stuffing the pair of 6-foot with multiple Olive Garden entrees and giving them elbows anytime they began to nod off on the trip in an effort to deprive them of sleep.
"I'm ordering the whole menu for them," Brown laughed. "And they aren't getting off the bus until they eat all of it. I'm hoping by the time they get to Cincinnati they look like a power forward and a center."
But Holloway never made it to Albany -- even after he got a police escort from his home to the train station in Hempstead.
"If I was the Albany coach, I wouldn't have agreed to take us," Holloway said.
But Brown, who has never met Mack, placed the spirit of the holidays ahead of the win-at-all-costs attitude that so many coaches possess.
But that didn't stop him from having fun with the situation.
"I've got him in a headlock right now," Brown joked early on in the ride. "One bottle of water and no food for the 12-hour trip. We're letting him watch the movie with our team though, and I also gave him our scout on Xavier to study."
"It was obviously really, really nice of Will Brown to do this," said Mack.
"Hopefully, he doesn't get beat up on the way here," joked Mack.
Lyons actually received a warm welcome, a free meal and was able to watch The Town -- and when he takes the court Tuesday night, he'll owe it to the same guys who helped get him there.
"I wasn't happy about it at first," Lyons said. "But it's pretty cool."
"It's the right thing to do," added Brown. "This time of year, it's what it's all about."
That was certainly the case for a dozen or so hours -- until the two teams take the court on Tuesday night.