WWE sets rules for its brand-extension draft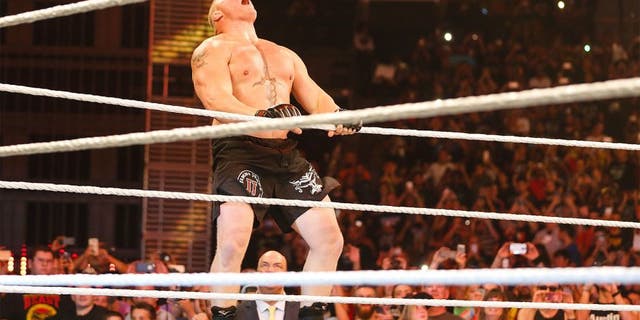 There have been many questions regarding the WWE's brand-extension draft to be conducted Tuesday, as SmackDown! moves into its new, live timeslot.
The company answered many of them on Sunday.
The playing field will not be level -- shock! -- as Raw will receive not only the first choice, but also three selections to every two made by SmackDown!
The "logic" behind the format is Raw is a three-hour show while SmackDown! runs in two hours.
For the rules via WWE.com
-- Raw has the first overall pick
-- Since SmackDown Live is a two-hour show and Raw is three hours, for every two picks SmackDown Live receives, Raw will receive three picks
-- Tag teams count as one pick unless a Commissioner/General Manager specifically only wants one member of the team
-- Six draft picks will be made off the NXT roster
As for those eligible to be chosen:
Male Superstars
AJ Styles, Alberto Del Rio, Apollo Crews, Baron Corbin, Big Show, Braun Strowman, Bray Wyatt, Brock Lesnar, Cesaro, Chris Jericho, Darren Young (w/ Bob Backlund), Dean Ambrose ; WWE Champion, Demon Kane, Dolph Ziggler, Erick Rowan, Jack Swagger, John Cena, Kalisto, Kevin Owens, Mark Henry, Neville. Randy Orton, Roman Reigns, Rusev (w/ Lana) ;€" United States Champion, Sami Zayn, Seth Rollins, Sheamus, Sin Cara, The Miz (w/ Maryse) ;€" Intercontinental Champion, Titus O'Neil, and Zack Ryder
Interestingly, Brock Lesnar is on the list of those who can be selected -- sans his advocate Paul Heyman. The Undertaker is not one of the Superstars available.
Tag Teams
Breezango (Fandango and Tyler Breeze), Enzo and Cass (Enzo Amore and Big Cass), Gallows and Anderson (Luke Gallows and Karl Anderson), Golden Truth (Goldust and R-Truth), Shining Stars (Epico and Primo), Social Outcasts (Bo Dallas, Curtis Axel and Heath Slater), The Ascension (Konnor and Viktor), The Dudley Boyz (Bubba Ray and D-Von Dudley), The New Day (Big E, Kofi Kingston and Xavier Woods) ;€" Tag Team Champions, The Usos (Jey and Jimmy Uso) and,The Vaudevillains (Aiden English and Simon Gotch)
Female Superstars
Alicia Fox, Becky Lynch, Charlotte ;€" WWE Women's Champion, Dana Brooke, Eva Marie, Naomi, Natalya, Paige, Sasha Banks, Summer Rae
It seems that Stephanie McMahon will have an overall edge in setting up the roster for Raw, the flagship show. Shane McMahon will be faced with a more difficult task in building up the SmackDown! brand, which in recent years has been far more challenged than the Monday show.