World Cup Preview: Mexico Faces Costa Rica & More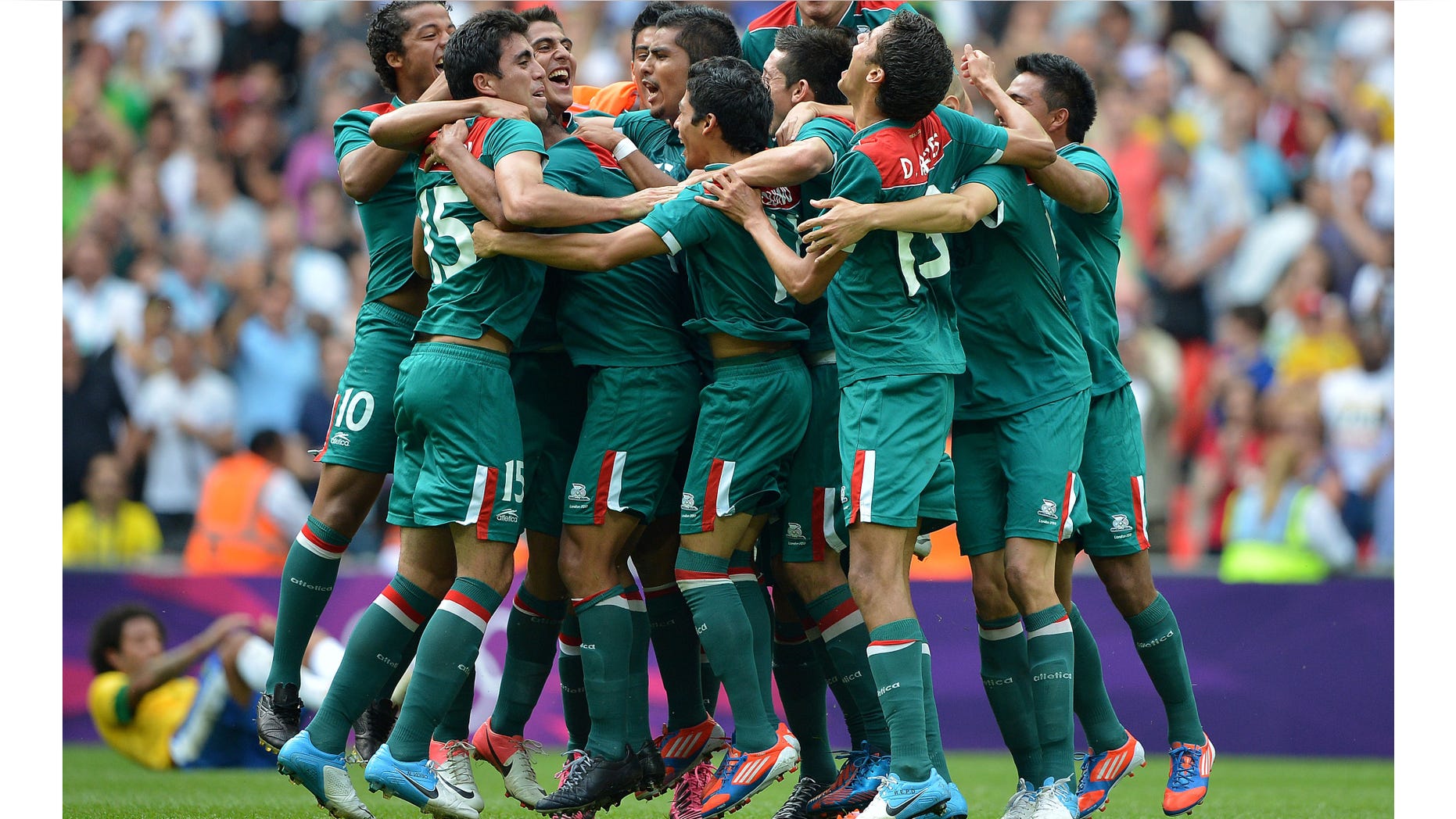 Mexico looks to be sitting pretty atop CONCACAF Group B these days, but El Tri still has several vital questions to answer as they prepare for its home-and-away series with Costa Rica of the World Cup qualifying semifinal round:
Can they overcome the loss of midfielders Pablo Barrera and Giovani dos Santos? Barrera suffered an ACL injury over the weekend, which could sideline him for as many as six months. Dos Santos, one of the heroes of the Mexicans' march to the gold medal at the London Olympic Games, has recuperated from an injury as he gets acquainted with his new Spanish team, Real Mallorca.
Can they put their 1-0 home loss to the U.S. in an Aug. 15 international behind them? The Mexicans' aura of invincibility at Azteca Stadium took a major hit, even if it was an international friendly.
And can striker Javier Hernandez be Chicharito and get back into his lethal scoring former despite being a bench warmer for his English club side, Manchester United this season?
Even with these questions facing this CONCACAF powerhouse, Mexico could solidify its hold on the group lead after opening with a pair of victories over Guyana and El Salvador.

In fact, the Mexicans could clinch a spot in next year's hexagonal round if they beat Costa Rica twice, regardless how the El Salvador-Guyana series fares.

Coach Jose Manuel de la Torre has fortified his squad with eight members of the gold medal team, which should push the veterans for starting jobs. That includes three regulars from the National Team -- goalkeeper Jose Coruna, defender Carlos Salcido and striker Oribe Peralta, who struck twice in the 2-1 gold-medal victory over Brazil.

For the first time in CONCACAF history, teams are playing home-and-away series against the same foes. All the series will be played on Friday, Sept. 7 and Tuesday, Sept. 11. The Mexicans will visit San Jose, Costa Rica Friday.

Midfielders Bryan Ruiz and Christian Bolaños and strikers Joel Campbell and Álvaro Saborío are the keys to the attack if the Ticos and coach Jorge Luis Pinto want to take some points away from their foes.

The second confrontation will be held Tuesday at Azteca Stadium in Mexico City, where El Tri is virtually invincible. But if there is one team capable of toppling the Mexicans at home, it is the Costa Ricans. They accomplished that feat with a rare and stunning qualifying triumph in in 2001.

In the other Group B series, coach Juan de Dios Castillo knows what El Salvador (0-1-1, one) must do to keep its cup hopes alive -- win three consecutive matches. That starts with a home match vs. Guyana on Friday and away to their foes on Tuesday. Los Cuscatlecos also must defeat Costa Rica at home on Oct. 12. The first two games are within reach. But if the Salvadorans fail to win all three, they probably can kiss their World Cup dreams goodbye.

Guyana (0-2-0, zero), coached by former Trinidad & Tobago international Jamaal Shabazz, cannot afford to lose any more points as well. Led by captain and Puerto Rico Islanders defender Chris Nurse, the South American-based country will be out to limit the Central Americans' goals if it wants an upset.

Here are how the other two other groups look:

Group A

The United States (1-0-1, four) enters its showdown with Jamaica (1-0-1, four) with just about one foot just about tied behind its collective backs. Midfielder Landon Donovan, the National Team's all-time leading scorer, and central midfielder Michael Bradley, whose tenacious play make him one of the best holding midfielders in the confederation, are out with injuries. Midfielder-forward Clint Dempsey, the Americans' most dangerous threat, does not have match fitness. Coach Juergen Klinsmann will have to mix and match and hope for some of the younger players to put their best feet forward – literally and figuratively.

As it turns out, both teams will be trying to break long winless streaks in either Kingston, Jamaica Friday or in Columbus, Ohio Tuesday. The Americans have never won a World Cup qualifier in Jamaica, going 0-0-4, with three scoreless draws and one goal scored. The Jamaicans, on the other hand, have never beaten the Americans in any time they have met, going 0-10-8.

A quirky and interesting statistic: Jamaica has more players on its roster from Major League Soccer (nine) than the U.S. (five) has from its own domestic league for this phase of the competition. The Reggae Boyz will pin their hopes on veterans Ryan Johnson, Dane Richards and newcomer Darren Mattocks.

Guatemala (0-1-1, one) needs at least four points, if not six, against Antigua & Barbuda (0-1-1, one) to continue to vie for one of the two top spots. Veteran striker Carlos Ruiz and midfielder Marco Pappa, who last week was transferred from the Chicago Fire (MLS) to Heerenveen (Netherlands) are among those coach Juan de Dios Castillo will rely on to boost Los Cuscatlecos  back into the fray.

All things considered, Antigua & Barbuda has acquitted itself well in reaching the semifinals for the first time, in its 3-1 away loss to the U.S. and securing a scoreless home draw with Jamaica. The Benna Boys have 17 players from the Antigua Barracuda FC side that finished in last place in the USL PRO league and failed to make the playoffs. Not participating in the post-season has allowed coach Tom Curtis to focus on Guatemala.

Group C

This is the confederation's Group of Death because three teams deserve to move into next year's six-team finals. Unfortunately, only two will go. September's results will go a long, long way in deciding which teams will go through.

Panama might have a perfect 2-0-0 record and six points, but the Central Americans are taking nothing for granted. They visit Canada in Toronto Friday before hosting their foes in Panama City Sept. 11.

"There is still a long way to go," goalkeeper Jaime Penedo told FIFA.com. "We've taken important steps towards our goal, but we have achieved nothing yet."

The Canadians (1-0-1, four) are off to a decent start, but coach Stephen Hart knows his team must secure points to have a chance to secure a hexagonal position.

The Maple Leafs know Panama all too well as they were eliminated from the group stage by the Central Americans in last year's CONCACAF Gold Cup via a 1-1 draw on a stoppage-time goal by Luis Tejada. Tejada and Blas Perez give the Panamanians one helluva one-two punch up front that is difficult to stop.

Hart called Panama "a consistent squad in terms of the players selected and how they play. They have not deviated much from that. They're a very disciplined team that has grown up together. They have two very interesting strikers, arguably two of the better strikers in CONCACAF."

No argument here.

Midfielder Roger Espinoza, one of Honduras' Olympics heroes, will miss the first game of the Cuba series on Friday because of a red card he earned in the quarterfinal defeat to Brazil. There is little doubt the Hondurans (0-1-1, one) need to sweep the series to keep their hopes alive.

"Those six points are crucial," Espinoza said. "We're going to worry about the first game first and then the second game. That definitely could mean us going through or not."

The same thing goes for Cuba (0-2-0, zero), which desperately needs a three-point home win or watch its qualifying hopes fritter away. The 1-0 defeats from June define the Cubans' plight. They will give the opposition a game, but they have problems finding the back of the net. A cardinal win in soccer: you can't win and accrue three points without scoring.