World Cup contender Iceland emerges as 2018's Cinderella story: What to know about the team
Standing on the Madrid field last year with his arms outstretched, Iceland soccer captain Aron Gunnarsson paused and looked up toward his fans in the stadium, all standing in a same stance, arms waiting high in the air. Slowly, his arms straight, Gunnarsson waited until two drum beats sounded before bringing his hands together over his head, grunting as the "thunderclap" reverberated throughout the stadium.
Together, fans and Icelandic players alike, continued the chant, getting faster and louder with each repetition.
2018 FIFA WORLD CUP: WATCH LIVE MATCHES STREAMING ON FOX SPORTS FROM JUNE 14 TO JULY 15
Iceland defeated Kosovo in October 2017 in the European Championship to solidify its spot in the 2018 World Cup, becoming the smallest team to do so. And when the major soccer tournament kicks off on June 14, it will be the first time ever Iceland has ever competed in the storied World Cup.
Earlier, in the Euro 2016, Iceland stunned soccer fans as it defeated England, a huge embarrassment for the European team. And that was when that "Viking chant" became famous.
Read on for a look at the Iceland team and how it got to be this year's Cinderella contender.
A look at the team
A movie director, goalkeeper Hannes Halldórsson is the No. 1 player for Iceland, his film career put on hold for now. But he was behind a climatic World Cup Coca-Cola commercial with the thunderclap sounds very evident.
"We wanted to make an advertisement that touched the people," he said in a statement to the Reykjavik Grapevine, an Icelandic magazine. "An advertisement that would remind everyone that we're on this journey together. There may be only 11 players on the field, but we never feel alone -- we feel that all Icelanders are standing behind us."
Standing beside Halldórsson on the Icelandic team is defenders Ragnar Sigurðsson and Kári Árnason -- who travelled around Thailand together in the summer of 2015. At midfield for Iceland is captain Aron Gunnarsson, Jóhann Berg Guðmundsson and Gylfi Sigurðsson, who also comes in sometimes at forward.
Guðmundsson, too, has a creative side outside of soccer: he plays guitar in a rock band.
WORLD CUP TEAMS TO WATCH, FROM GERMANY TO ICELAND
The team is coached by Heimir Hallgrímsson, who also runs a dental surgery clinic in a small Icelandic town. At the Euro 2016, Hallgrímsson was assistant coach but was promoted to lead the team ahead of the World Cup.
A unique coach, Hallgrímsson is known for meeting up with fans at a Reykjavik bar before home games to talk strategy.
But the team fandom isn't complete without Guðmundur Benediktsson. He's not a coach or player -- currently -- but his enthusiasm and commitment to the team was evident after the commentator went viral for his shrieks of excitement after Iceland scored in a 2016 win over Austria.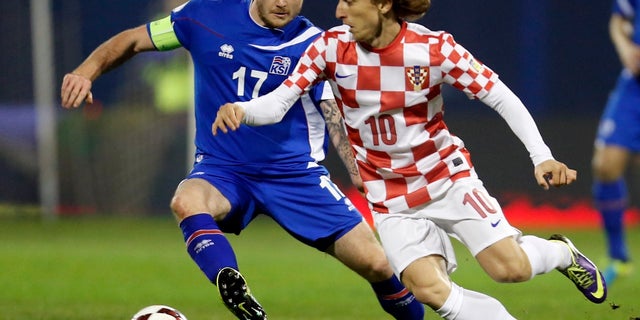 "This is done! This is done! We are going to Paris! Did you see that? Did you see that? Never wake me from this amazing dream," Benediktsson shouted, according to a translation from The Guardian.
"Boo as you like England! Iceland is going to Stade de France on Sunday. France Iceland! You can go home. You can go out of Europe. You can go wherever the hell you want," he said.
Ranked No. 22 by FIFA, this is Iceland's first World Cup appearance, representing a country of only about 330,000 inhabitants who are used to living in a snowy climate for much of the year. It also debuted new kits -- or jerseys -- for the tournament.
"We can never go back on saying, 'Oh, we're too small to go to the World Cup,' or, 'We're too small to get to the Euros.' Because we've done it," Gunnarsson has said, according to The Los Angeles Times. "And once you do it together, anything is possible in football."
"You don't get tired of the questions," he continued. "It is how it is. We know where we stand. We know what we are. You have to earn the right to play football. And that's what we are doing at the moment."
2018 FIFA WORLD CUP: FULL MATCH SCHEDULE
It was more than 20 years ago when officials with Iceland's national soccer federation toured a Norwegian training center and took notes to copy the program, The Los Angeles Times reported. By 2011, it had completely overhauled its coaching program, and the team headed to the UEFA league's Under 21 Championship in Europe, the newspaper reported.
"We go into the competition with the belief that we deserve to be there, like anyone else," said Hallgrímsson. "Why should we think something else? We have belief in ourselves. We know what we're about."
He continued, "And that's the strength of the squad: they know exactly what we're about. We're not trying to be something else. And in the end, that will be our strength."
In its first match of the tournament, Iceland will face Argentina.
American fandom 
Without Team USA competing in the World Cup, American bars and soccer fans have "adopted" Iceland as its team. Denver's Celtic on Market pub has said it will be the "hub for the Iceland national team" throughout the tournament as it partners with a variety of Icelandic products, including: Reyka Vodka, Icelandair and Icelandic Glacial Water.
According to the Denver Post, when Iceland qualified for the World Cup last year, winning the hearts of many soccer fans, the Celtic tavern's general manager Noel Hickey actually reached out to the Icelandic consulate.
"A lot of teams have kind of fell in love with them, and I was one of them," Hickey said, noting that so many other teams have adopted Iceland's iconic Viking clap celebration.
"These guys, they were out fishing two years ago, and now they're in the World Cup. It's absolutely an incredible story," he said.
Reyka Vodka, too, is attempting to win over Icelandic fans in the U.S. with a variety of watch parties in Manhattan during the team's games. The parties will include cocktails and trivia -- and when Iceland takes on Nigeria on June 22, supporters can mingle with Vikings at Legends pub.
"The U.S. can really get into it based on the fact that it's the underdog story," Reyka Vodka spokesman Trevor Schneider told Fox News.
The Associated Press contributed to this report.