WORLD CUP 2014: 5 Iran players to watch at the World Cup in Brazil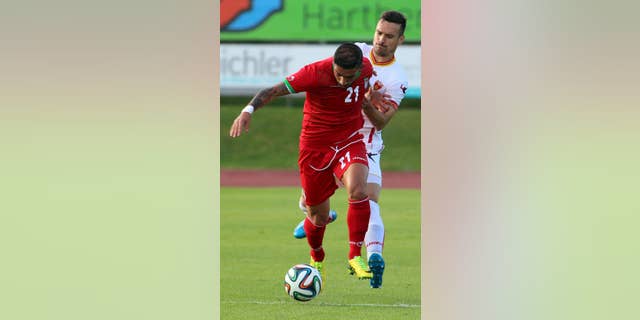 NEWYou can now listen to Fox News articles!
With several European-based players in the squad, Iran will be heading to the World Cup with plenty of top level international experience.
Forward Reza Ghoochannejhad was born in the Netherlands and plays in England, while winger Ashkan Dejagah was raised in Germany and spent much of his career in the Bundesliga before moving to Premier League club Fulham. Goalkeeper Daniel Davari is another, born in Germany and playing in the Bundesliga.
Combined with Javad Nekounam, the team's captain and one its most experienced players, Iran will need to come together as a team to have any chance of making it out of Group F.
Here are five players to watch:
___
REZA GHOOCHANNEJHAD
Reza Ghoochannejhad is a relatively recent addition to the team — visa issues delayed the debut of the Dutch-born player — but the fleet-footed Charlton forward played an important role in Iran's successful qualification campaign, scoring three goals in his first three qualifiers.
He has now scored nine goals in 11 games.
A January move from Standard Liege to Charlton in England's second division has increased his playing time ahead of the World Cup and now the player dubbed "Gucci," who has become one of Iran's biggest stars, should arrive in Brazil fit and ready for action.
___
JAVAD NEKOUNAM
Long-serving Iran captain Javad Nekounam has been a mainstay of the national team since making his international debut in 2000.
The dynamic Al-Kuwait midfielder has a habit of coming up with a goal just when his team needs it most and has found the target 37 times in his 136 international appearances.
Now 33, Nekounam does not cover as much ground as he once did but he reads the game as well as any.
This year's tournament is likely to be his last World Cup.
___
MASOUD SHOJAEI
Although talented attacking midfielder Masoud Shojaei can be inconsistent, the Las Palmas midfielder can also make a difference. When he plays well, Iran plays well.
Injuries have prevented him from showing Spanish fans his best, but there have been enough flashes to demonstrate an eye for an unexpected pass and a fancy flick.
Shojaei doesn't score as many goals as he possibly should, but he can make things happen for others.
___
DANIEL DAVARI
German-born Daniel Davari could make or break Iran's chances in Brazil, although with only three international appearances to date there is still something of a question mark hovering over the Eintracht Brauschweig goalkeeper.
Davari's European experience is one reason why Iran coach Carlos Queiroz holds him in high esteem. While Eintracht Brauschweig may not be in the Bundesliga for much longer, being a goalkeeper for the bottom team at least results in plenty of practice.
Davari made a positive initial impression on the international stage but made some major mistakes against Guinea. He still has much to learn, but if he can settle with the defense before the World Cup, he could be what Iran needs.
___
ASHKAN DEJAGAH
Fulham forward Ashkan Dejagah can play on the right side or as the main striker.
Dejagah came to prominence in Germany with Wolfsburg, making 150 appearances for the Bundesliga team before moving to the Premier League and Fulham in August 2012.
It took Dejagah, now 27, time to settle in England but he has since showed his value with direct running and the ability to take on defenders and chip in with regular goals.
Injuries curtailed his first season in the Premier League but if he can stay fit, Dejagah will have a major part to play for Iran in Brazil.