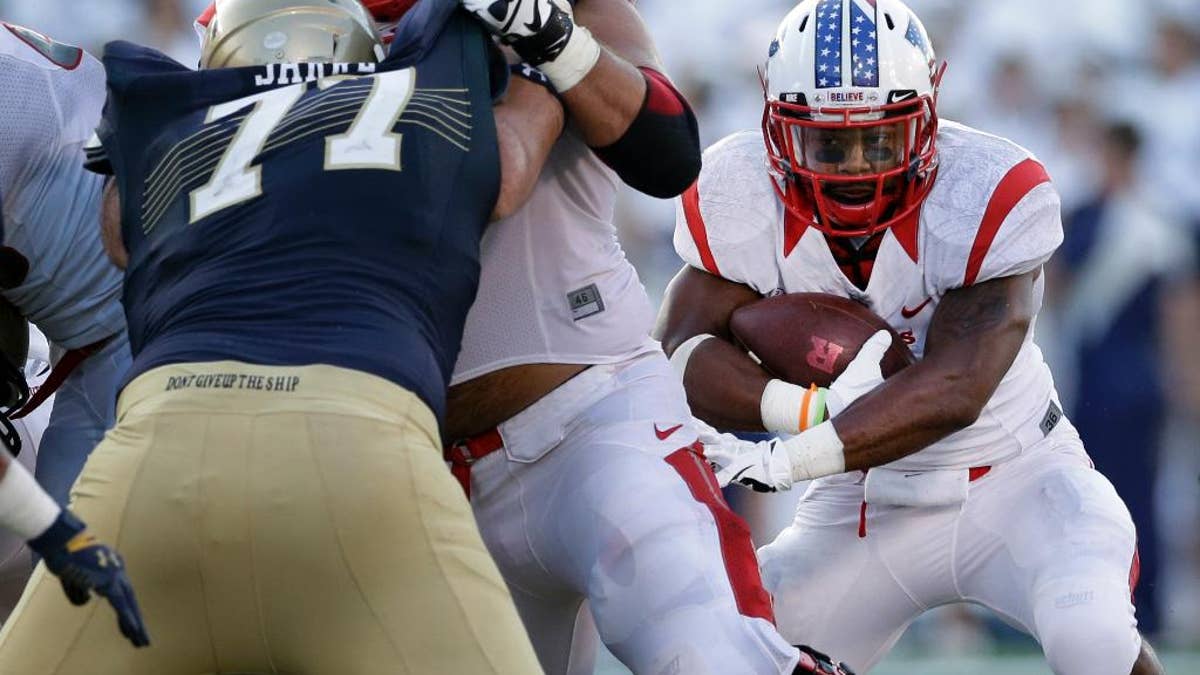 PISCATAWAY, N.J. – With halfback Paul James out for the season with a knee injury, Rutgers is looking for its most improved offensive player this spring and a running back who was switched to defense in training camp to pick up the slack.
Meet Desmon Peoples and Justin Goodwin, who can expect the bulk of the carries against Tulane (1-3) on Saturday.
Peoples has been James' backup this season. Goodwin, who got most of carries when James went down with a leg injury last season, is carrying the ball again after a brief stint as a cornerback.
"It's a tough loss. P.J.'s a great player. It's sad to see him go down like that," Goodwin said. "But it just means me and Desmon have to step up."
James tore the anterior cruciate ligament in his right knee on Saturday in a 31-24 win over Navy. He had 363 yards rushing and five touchdowns on 63 carries and four catches for 120 yards and two touchdowns in the first four games for the Scarlet Knights (3-1) .
After James left in the second quarter, Goodwin and Peoples did the job. Goodwin, who was switched from cornerback to a running back two weeks ago, ran for 104 yards, while Peoples added 84 yards.
Rutgers ran for 284 yards, the most in a single game since 2007-08, when Ray Rice rushed for 280 yards against Ball St. in the International Bowl.
"Really nothing changes," quarterback Gary Nova said. "Those guys are going to do a great job. Obviously you want a guy like P.J. on the field, but we just got to keep moving forward."
To do so, they'll have to have to continue to get the production they have been getting from the offensive line. While much of James' yards came after breaking tackles, the veteran offensive line had also opened up the holes needed to get to the second level.
The line isn't dwelling on losing its top rusher.
"Paul's hurt. That's part of the game," guard Kaleb Johnson said. "We have guys in there who are going to go in there and compete. Goodwin's played in games for us before and he's produced and a guy like Peoples who has been playing all season for us and I feel very confident in what we have right now, so I'm excited."
So is Peoples. While Goodwin is reliving a similar role from James' injury last year, running for 521 yards and five touchdowns as a freshman, Peoples only appeared in two games last season.
"Since the first day I got here, this is what I wanted," Peoples said. "So I'm pretty happy."
Of course, Peoples was quick to point out he didn't want to see an increased workload due to a teammate's injury. But he's excited for a bigger role.
Peoples and Goodwin have different running styles.
At 5-foot-8 and 175 pounds, Peoples' stature helps him hide from linebackers behind his offensive line. The 6-foot, 200-pound Goodwin is bigger and stronger.
"He's more of a power back and I'm probably the opposite. I am strong. I can run between the tackles, but I'm a little shiftier," Peoples said. "I feel like we can get it done. We complement each other well and I just feel like it's going to be fun."