With home calling, Brewers' veteran 3B Ramírez says this 'probably' is final season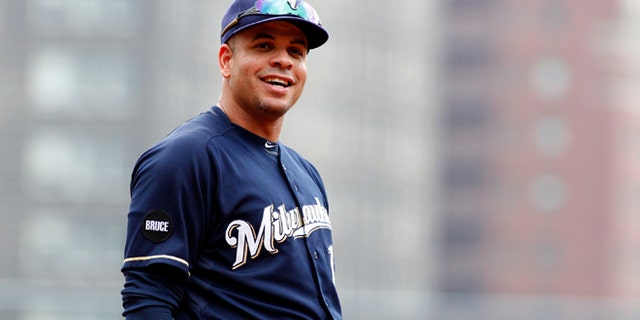 NEWYou can now listen to Fox News articles!
PHOENIX (AP) – It's never easy for a baseball player to leave his family for six weeks of spring training, no matter how nice the weather is in Arizona.
This year, though, was harder than most for Milwaukee Brewers third baseman Aramis Ramírez. And on Friday, he said he wouldn't be doing it anymore.
"When I was leaving this year, I don't think I can do that again," he said Friday. "I promised my daughter this is the last time I'll leave her."
Ramírez decided to return for an 18th and most likely final season on Nov. 3 when he picked up his end of a $14 million mutual option instead of going on the open market.
"I didn't want a multiyear deal," Ramírez said. "I wasn't looking forward to that. I'm comfortable (in Milwaukee). I'm going to play this year and probably be done after this year."
"It's a family thing. I've got three kids, I've been playing for a long time and away for a long time. Sometimes, it's just time to do something else," he said.
Ramírez turns 37 in June. After dealing with leg injuries the last two seasons, he knows that he'll have to allow for more time off than he's used to as the Brewers try to get the most out of him over the course of a 162-game season.
Playing 140 to 145 games would be the ideal situation, but Ramírez admitted it would be a difficult adjustment.
"You want to be out there every day," he said.
Manager Ron Roenicke "knows I don't like to sit the bench, but I'm going to have to. I'm 36. I'm going to be 37 this summer. It doesn't get any easier," Ramírez said.
"I'm going to take a break here and there. He's good about it. We talk about it. He's pretty good about it," he said.
Ramírez played just 92 games in 2013 and 133 a year ago as a pair of leg injuries sapped not only his offensive production but also his defensive abilities. Still, he comes into the season with some impressive career numbers.
He is sixth all-time among third baseman with 369 home and enters the season with a .285 career average, 464 doubles and more than 2,000 hits.
Ramírez hit exactly .285 last year, too, with 15 homers and 66 RBIs.
"He's definitely one of the best," Roenicke said "If he played another two or three years, he's got a chance to be a Hall of Famer."
Those numbers put him very close to another former Cubs third baseman, Ron Santo, who was elected to the Hall of Fame in 2012 — something, Ramírez says, his friends back in the Dominican Republic mention to him frequently.
"He's the first one they bring up," Ramírez said. "They pull out Hall of Fame numbers from third baseman and tell me I have better numbers but I don't really pay attention to that. I have one more year here and I want to focus on that."
Ramírez has spent his entire career in the NL Central.
Signed at age 16 as an amateur free agent by the Pirates in 1994, he made his big league debut in 1998 and spent five-plus seasons in Pittsburgh before being dealt to the Cubs.
Ramírez made a name for himself in Chicago, where he batted .294 with 239 home runs and 806 RBIs, earned two All-Star selections and made the playoffs three times.
He signed a three-year, $36 million deal with Milwaukee in December 2011.
Like us on Facebook
Follow us on Twitter & Instagram