Will the Giants shut down Cain?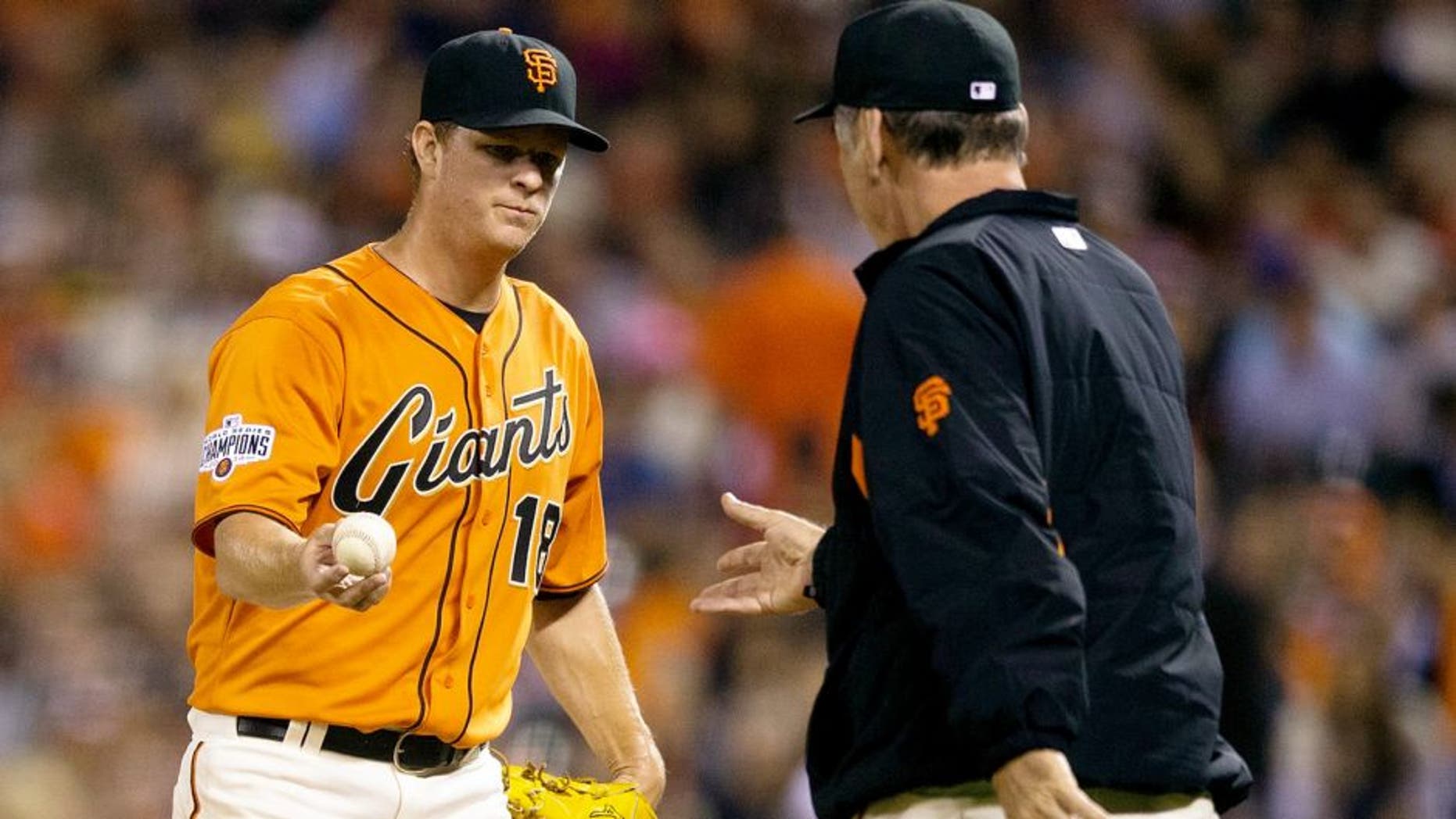 The Giants have a dilemma on their hands, and it concerns a cornerstone player.
Matt Cain, who has delivered for the Giants for over a decade, is struggling mightily and hasn't been able to win games.
Starting the season in July due to a flexor tendon injury, the 30-year-old righty is 2-4 with a 6.15 ERA, 1.58 WHIP, and .311 opponent batting average in 10 starts.
While Cain produced a couple quality starts in July, he has unraveled in August, in which he is 0-2 with a 8.03 ERA, 1.86 WHIP, and .350 opponent batting, and has surrendered seven home runs in five starts, all but one of which have led to losses for the Giants.
In his most recent start, Cain was rocked around for six earned runs and eight hits, including two home runs, over five innings.
"We'll talk about Matty [Wednesday] and see where we are," manager Bruce Bochy said after Cain's start on Tuesday in the Giants' 8-5 loss to the Cubs.
While Cain has been a fixture in the Giants' rotation for the past decade, and was a key member of San Francisco's World Series titles in 2010 and 2012, his value to the team has diminished substantially in the past two seasons.
After winning eight or more games in six consecutive seasons, Cain has won a collective four games in 25 starts over the past two years.
Because of his late start to the season, August has been Cain's de facto May. However, that footnote has little bearing on the pennant race.
"I think it's fair to say that he's not quite where he's going to be," Bochy said. "We know what Matt's done for us and he's not there yet."
After Cain's loss on Tuesday, the Giants stood 2 ½ games back from the Dodgers in the NL West after Los Angeles had only won its first of six games.
With their chances of punching a wildcard ticket diminished due to a prolific NL Central division this year, the Giants' will almost certainly need to win the division if they are to make the postseason.
"That's kind of what this game comes down to. If you make big mistakes like that, hanging breaking balls to guys who can leave the yard, they're going to take advantage of you," Cain explained of his most recent start.
As the Giants continue their quest to defend their third World Series title in five years, they'll have to assess whether their choice to keep Cain in the rotation is a hanging breaking ball.
(h/t MLB.com)