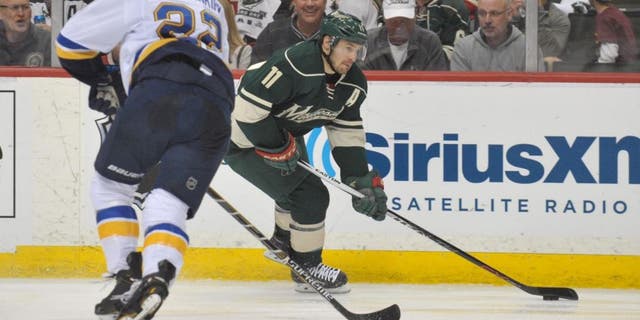 NEWYou can now listen to Fox News articles!
The Minnesota Wild's top offensive season in franchise history translated to their most successful year under Mike Yeo, the final highlight being an unexpected series win over one of the top teams in the Western Conference.
This season started in promising fashion offensively, though they'll likely need a better showing in their own zone Saturday night with the visiting St. Louis Blues targeting the team that sent them home in the first round in April.
The Wild finished tied for 12th in the NHL last season with 2.77 goals per game, which might not sound like much, but it topped their previous high of 2.76 from 2005-06. They finished fourth in the Central Division, but did so with 100 points for their best mark since finishing '06-07 with 104.
It took a few periods, but the scoring again came in Thursday's 5-4 win in Colorado. The Wild fell behind 3-0 after the first and 4-1 by the end of two, then completed a span of four unanswered goals in just over five minutes midway through the third on Zach Parise's third of the game.
"We weren't on for sure," Yeo said. "It looked like the type of game you play after a weeklong break after you play a couple of, I hate to say it, easy exhibition games. We pretty much kind of slept-walked through the first two periods. It felt like once they got up they really tried to run at us and that kind of woke our guys up."
Minnesota eliminated St. Louis in six games last season before bowing out to Chicago in the West semifinals and went 6-3-1 in the overall season series.
Parise also had a big hand in closing out the Blues, scoring twice in Game 6 to give him seven goals and five assists in his last 13 games in the series.
The Blues kicked things off with a more conventional victory, beating Edmonton 3-1 at home Thursday. Vladimir Tarasenko evened the game in the second period before newcomers Robby Fabbri and Troy Brouwer scored in the third. Fabbri, a 19-year-old rookie playing his first NHL game, got the winner.
Coach Ken Hitchcock saw the team evolve out of preseason form somewhere in the second period.
"All the talk that you have, all the preparation that you have for exhibition, you don't really know the level until you experience it," Hitchcock told the team's official website. "I thought where we turned the game around a little bit was in the second half of the second period.
"We started to really check and create turnovers and really got after them a little bit and started to put a bunch of shots up. We really started to check in the second period and that kind of turned the momentum for us a little bit."
Tarasenko scored six goals in the playoff series and has nine with four assists in his last 12 contests against Minnesota.
The last eight of those goals have come against Devan Dubnyk, who wasn't quite as sharp in the opener as the Wild would hope with four goals allowed on 23 shots.
Dubnyk, who assertively took control of the goaltending job in the second half of last year, went 6-3-0 with a 2.42 goals-against average and .915 save percentage against a St. Louis team that averaged 2.88 goals -- including the playoffs.
Brian Elliott made 23 saves against the Oilers, but it was Jake Allen who played almost all of the playoff series and will face Minnesota again. Allen was 3-4-0 with a 2.24 GAA and .909 save percentage in eight games against the Wild last year.