Why the female bantamweight division's fluidity is a good thing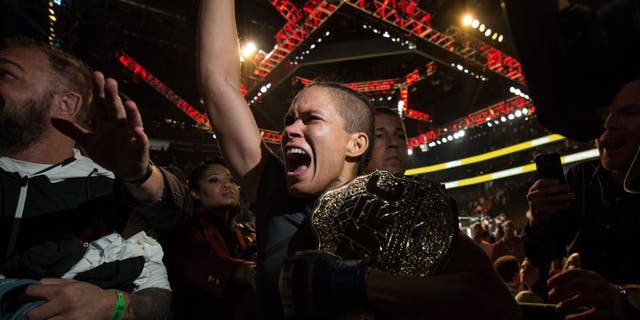 NEWYou can now listen to Fox News articles!
There is a viewpoint in the fight world that consistency at the top is needed for a division to grow and fans to be added. One of the medics attending UFC 200 Saturday night at the T-Mobile Arena tried to advance that perspective during a good conversation outside of the tent where the post-event press conference was being held.
"It is crazy," he said, speaking of the shocking main event that saw Amanda Nunes submit Miesha Tate to become the new bantamweight world champion in the first round.
"It is crazy because we had Ronda Rousey be champion for so long and now there have been three new champions in the last three title fights."
Rousey lost the belt to Holly Holm in November who then went on to lose to Miesha Tate in March, and now Nunes has beaten Tate. He went on to imply that he didn't really feel such high champion turnover was good for the division.
That got me thinking about a couple of things. First off, should we even discuss what is "good" for a division, in this way?
To me, the idea that we talk about what may or may not be a "good" storyline is a peculiar thing. Fights are so immediately exciting precisely because of their liberal rules and unpredictability.
Do we have some craving to script things in MMA because we confuse it with professional wrestling? Or, is it more of a general manager fantasy complex that prompts such discussion, as if we were trying to grow the business of the UFC like an executive in the company?
Maybe we all aspire to be business reporters with pet prescriptive theories to the problems we cover. The first two possibilities are probably more likely, but only the last one has any real redeeming value in my mind.
Even if I were to suppose that determining what was "good" for a division --€" if I were to pretend to be a promoter --€" recent developments in the women's bantamweight division are rich with possibility and marketability.
The particular tumult at 135lbs is exciting and could very well be good for the UFC's business. Let's start with the most basic consideration --€" the fights.
The past three bantamweight title fights were all thrilling to watch, with clear winners. Holm's domination of Rousey shocked the world.
Holm provided the division with a stark contrast to Rousey. She is a striker to Ronda's grappler, is quiet to Rousey's rowdiness.
Fans had their choice between juggernauts, and I can personally testify to fans responding very well to stories about Holly. Holm pieces "click" exceptionally well here at FOX Sports -- at near Ronda Rousey levels.
Then, Tate's desperate come-from-behind win over Holm perfectly exemplified the guts and skill that she's become so loved by fans for. That win completed Tate's star's ascent in a poetic way.
Tate stories also produce a lot of web traffic, but you can also just listen to the reception she always gets at weigh-ins and during her walks to the cage. Heck even after her loss Nunes on Saturday, the Vegas crowd showed her lots of noisy support.
Certainly, one way to make money is with a dominant champ that everyone fears. Rousey supplied that for years, in a very Mike Tyson-esque way.
Great rivalries amongst a group closely-matched and with very different fighters is good for business as well, however. In two title-fight upsets, the UFC ended up with three major female stars at the top of the bantamweight division where they once just had one.
The third upset, by Nunes, only opens up the possibility of another superstar emerging who a more diverse group of fans can better relate to. It also does nothing to dimish the champions before her.
Ronda Rousey is still popular enough to headline any UFC event for the next two years if she decides to return to competition. Tate's millions of fans will want to see her rebound once more and make an historic third world title-run.
Holm is already back on the horse, headlining a network television card later this month. The more fans see Amanda Nunes kick butt, the more they will be in awe of her.
The more they learn about her inspiring story, the more they will relate to her.
Change itself is often exciting, and it is promising to see that all of these women are still poised for future success and acclaim. Let's forget business --€" it speaks well of society's progress regarding female athletes that we're not just buzzing about "that woman fighter," but instead, "those women fighters."
I believe that plurality is strength. At the very least, it is certainly encouraging.
Of course, none of this discussion included mention of the emerging strawweight and flyweight women's divisions, the parity there, exciting rivalries engaging fans, that featherweight champ "Cyborg" Justino is an international star, or the fact that on the biggest week in the UFC's history, two of the three cards were headlined by women. Some people may lament that there is no longer just one, clear, baddest woman on the planet.
I won't. I'm excited that the world is finally getting to see that the globe is filled with many, many bad-ass women.
So, bring on the upsets, send more uncertainty our way. I'll gladly watch more women get the credit and opportunities they deserve, produce more great fights, and turn into stars.