Why running backs could dominate the 2017 NFL Draft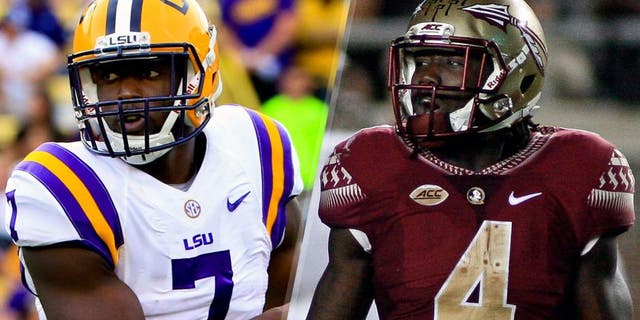 NEWYou can now listen to Fox News articles!
In each of the past two drafts, a running back has been taken in the top 10. First it was Todd Gurley going 10th overall to the (now) Los Angeles Rams, and then it was Ezekiel Elliott being selected fourth by the Dallas Cowboys on Thursday. Does this mean running backs are "back in style?"
Not just yet, but the 2017 draft could certainly change the "devaluing" narrative. Next year's class is littered with rare talents at the position, and as surprising as it sounds, running backs could actually dominate the draft.
So long as the top prospects stay healthy, there could wind up being as many as four running backs taken in the first round. That would be the most since 2008 when five went in the first round, led by Darren McFadden at fourth overall.
Here are the names to watch, all of which could potentially go in Round 1 next year.
For most of the 2015 season, Fournette was the Heisman front-runner and likely would have won it had it not been for team's stacking eight-plus defenders in the box due to LSU's inability to throw the ball. Because of his sheer dominance last season, he's a surefire first-rounder. So much so that some are encouraging him to sit out the 2016 season to avoid injury. Fortunately for LSU fans, he won't do that and is one of the favorites to win the Heisman after putting up 1,953 yards in 2015.
Possible fits: Cleveland Browns, Miami Dolphins
From Gurley to Chubb, the Georgia Bulldogs didn't see much of a drop-off in production at running back. Taking over for the injured Gurley as a true freshman in 2014, Chubb rushed for 1,547 yards on just 219 attempts. In 2015, he played six games and rushed for 747 yards before suffering a severe knee injury, which ended his season. If Chubb is able to return to his pre-injury form, he's another sure bet to go in Round 1 -- possibly in the top 15. He's a complete back with power and speed, much like Fournette.
Possible fits: Detroit Lions, New York Jets
Many believed McCaffrey was snubbed in the Heisman voting a year ago, but he's alongside Fournette on the shortlist to win it this season. He's not the biggest back, but he's a rare talent along the lines of Reggie Bush. His agility and shiftiness are second-to-none in this class, which will make him a hot commodity in next year's draft. McCaffrey can contribute on special teams as a return man, too, which further improves his value. So long as he stays healthy, he could wind up being the second or third back off the board in the first round.
Possible fits: New England Patriots, New York Giants
Quite possibly the most underrated of the top running backs, Cook was outstanding for the Seminoles in 2015. He averaged a ridiculous 7.4 yards per carry, racking up 1,691 on the ground to go along with 19 touchdowns. He's a more complete back than McCaffrey given his size and strength, which could push him above the Stanford star when it's all said and done. If he stays out of trouble off the field, Cook will be a stud at the next level.
Possible fits: Pittsburgh Steelers, Indianapolis Colts
Gallman was overshadowed by star quarterback Deshaun Watson en route to Clemson's national championship appearance, and with good reason. Watson is the leading candidate to go No. 1 overall next year, but Gallman played a big role on offense in 2015. At 6-foot-1, he's a taller back but could stand to add weight down the road (215 pounds). His speed jumps off the tape, and if he's able to add a bit more power, he could end up in the Round 1 conversation. Gallman is the least likely of the bunch to go in the first round, but it's not out of the question.
Possible fits: Kansas City Chiefs, Oakland Raiders