Who has the psychological advantage?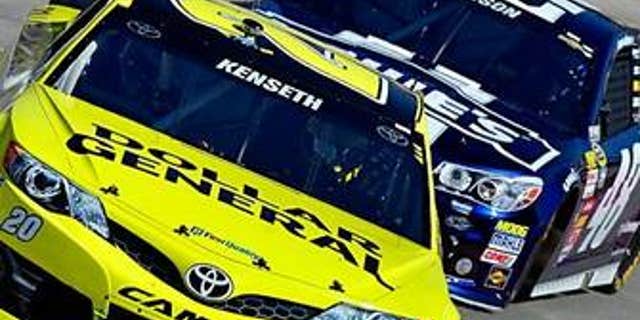 Last Sunday at Martinsville, both Matt Kenseth and Jimmie Johnson had chances to win but didn't. Matt did finish ahead of Jimmie at the track that is clearly one of Jimmie's best all-time tracks. Martinsville, as we told you all last week has never been that great for Matt.
Matt also came back and tied the points up as we head to Texas Motor Speedway this weekend. Even though they are tied, I still have to believe that Matt has the psychological advantage this weekend. Let's face it, Jimmie has won eight times at Martinsville and Matt never has, but he came out of there in better shape. Matt also led the most laps Sunday. That simply had to be a big victory for the No. 20 camp to be able to do all that.
You have to give the nod to Matt for this weekend and at Homestead because they are both mile and a half tracks that are his bread and butter. Sandwiched in-between both those races is Phoenix where I believe you have to give the nod to Jimmie.
I just bet NASCAR has to be thrilled to see how this is playing out. This is how they envisioned the Chase format to work where we head into these last races with two guys dead even and don't forget, you have Jeff Gordon now lurking in the wings.
Last Sunday saw a lot of cautions and some upset folks after the race. Hey guess what? That is short track racing and particularly Martinsville short track racing at its finest. Looking at our Chase drivers from Sunday, we had one win the race and had eight of the 13 finished in the Top 12.
I have to say I was a little surprised how Kyle Busch really faded there at the end to 15th spot. I think we can safely say, despite only being 36 points behind that Kyle's first NASCAR Sprint Cup championship hopes have faded for 2013. With only three races left, Kyle would have to leap-frog four drivers and I just don't see that happening.
If I were to do a color chart today of our 13 Chase drivers, I would put everyone from Kyle Busch and back in red. I'd put Jeff Gordon and Kevin Harvick in yellow because they are 27 and 28 points back. To be honest, Kevin's sixth place finish Sunday was a surprise to me. The best he ever was all weekend leading up to the race was in qualifying. He struggled in all the practices. Give them credit though, that sixth place finish still keeps them on the fringe of this thing should something happen to both Jimmie and Matt in these last three races.
The original article can be found at FOXSports.com: Who has the psychological advantage?.