What time does the NFL Draft start?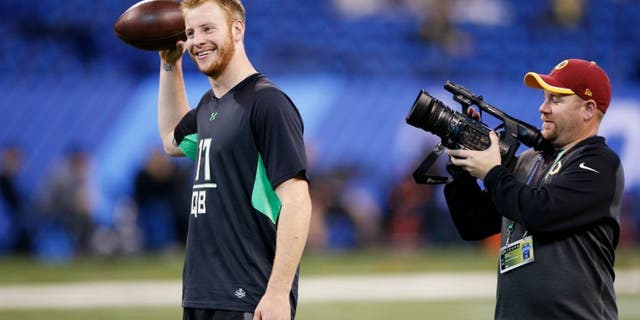 NEWYou can now listen to Fox News articles!
One of the biggest days of the NFL year is finally here. The best young football players in the country will gather in Auditorium Theatre in Chicago Thursday night to find out where their NFL careers will begin.
So when should you tune in?
You can stream the NFL Draft online or on a mobile device by using the WatchESPN app. Pre-Draft coverage will begin at 7:00 p.m. on ESPN.
Teams will have 10 minutes to make their selections in the first round, and it commissioner Roger Goodell will open the draft a few minutes into the show. Not every team will use the full window, and things tend to speed up as the round progresses. Based on last year's broadcast, we've loosely approximated what time your team will pick Thursday.
Pick order:
1. Los Angeles (8:15 p.m. ET)
2. Philadelphia (8:25)
3. San Diego (8:35)
4. Dallas (8:45)
5. Jacksonville (8:55)
6. Baltimore (9:03)
7. San Francisco (9:11)
8. Cleveland (9:19)
9. Tampa Bay (9:27)
10. New York Giants (9:35)
11. Chicago (9:43)
12. New Orleans (9:50)
13. Miami (9:57)
14. Oakland (10:03)
15. Tennessee (10:09)
16. Detroit (10:15)
17. Atlanta (10:21)
18. Indianapolis (10:27)
19. Buffalo (10:33)
20. New York Jets (10:39)
21. Washington (10:45)
22. Houston (10:51)
23. Minnesota (10:56)
24. Cincinnati (11:01)
25. Pittsburgh (11:06)
26. Seattle (11:11)
27. Green Bay (11:16)
28. Kansas City (11:21)
29. Arizona (11:25)
30. Carolina (11:29)
31. Denver (11:34)