What are the odds the Pirates trade Andrew McCutchen? Probably good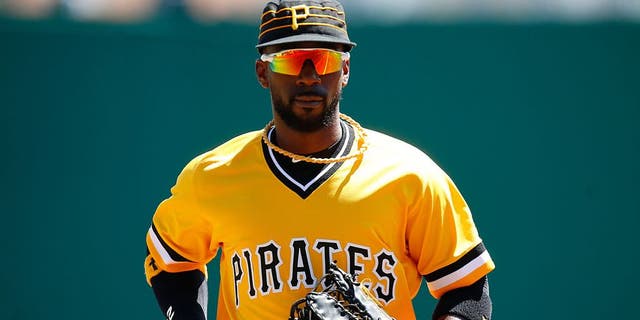 NEWYou can now listen to Fox News articles!
What are the odds that the Pirates trade Andrew McCutchen?
Im guessing good.
Go back to July 30, the day that the Pirates sent reliever Mark Melancon to the Nationals for left-hander Felipe Rivero and minor-league lefty Taylor Hearn.
The Pirates were in contention then, just three games out of the second wild-card spot. Their current position buried in the wild-card race, six games back in the NL Central is worse. And they just lost two of three to the expected division champion, the second-place Cubs, whom they trail by 3 games.
Its not out of the question that the Pirates will rally in the six weeks leading to the non-waiver deadline. More likely, though, they will be in roughly the same position as they were last year, when they traded Melancon and left-hander Francisco Liriano in moves that seemed curious at the time, but in combination with the acquisition of right-hander Ivan Nova demonstrated impressive foresight.
McCutchen, the former MVP who sparked the Pirates renaissance, is more of an institution in Pittsburgh than Melancon was. But the Pirates discussed McCutchen in trades last offseason; the shock value of dangling him is gone. And now that McCutchen has revived offensively producing a 1.157 OPS in his last 90 plate appearances after spending two days out of the lineup and dropping from third to sixth in the batting order hes starting to look like this years Melancon.
Then again, the Pirates might keep McCutchen, 30, if they come to view themselves as a legitimate contender, even pick up his $14.5 million option if he finishes strong theyve carried other players to free agency before, most notably catcher Russell Martin and righty A.J. Burnett.
Indeed, the case for holding McCutchen is not without merit, considering the uncertainties the Pirates face in their outfield.
Starling Marte, 28, is scheduled to return from his 80-game suspension for performance-enhancing drugs shortly after the All-Star break, but the Pirates wont know by the deadline if he will be the same player as before. Gregory Polanco, 25, has produced only a .679 OPS this season, but some of his regression might be due to his .271 batting average on balls in play. Top prospect Austin Meadows, meanwhile, has only a .676 OPS at Triple A, though he just turned 22.
Still, the Pirates almost certainly will continue betting on Polanco and Meadows. Theyve got Marte under control through 2021 at salaries that will be reasonable even if he becomes a lesser player. And they know that they actually improved after their deadline trades last season they were a half-game out of a playoff spot on Aug. 28 before injuries wrecked them in September.
If they traded McCutchen, they would not necessarily be conceding they could replace him with Meadows or perhaps someone they acquired in a trade, maybe another outfielder, maybe an infielder who would allow Adam Frazier and/or Josh Harrison to play more outfield.
Again, go back to last years deadline.
Nova proved a revelation, and the Pirates re-signed him to a three-year, $26 million free-agent contract. Rivero emerged as a top reliever, one the Nationals could use right now. Even the most controversial deal Liriano and two prospects to the Blue Jays for righty Drew Hutchison has worked to the Pirates advantage.
Escaping Lirianos $13 million commitment for 2017 not only saved the Pirates from a pitcher who currently has a 5.36 ERA, but also created the flexibility for them to re-sign Nova, extend third baseman David Freese and sign free-agent reliever Daniel Hudson.
The rest of the deal, to this point, is a wash. Hutchison, currently at Triple A, has not been what the Pirates envisioned, but the prospects who went to the Blue Jays, catcher Reese McGuire and outfielder Harold Ramirez, are struggling at Double A.
The Pirates did not tear down a year ago, and even if they trade McCutchen they do not intend to tear down now, according to sources with knowledge of their thinking. Hence, they are unlikely to trade right-hander Gerrit Cole before the deadline, not when they control him for two seasons after this one.
Cole, Nova and righty Jameson Taillon will give them a formidable top three through at least 2018, and theyve got any number of young pitchers who might fill the other two spots Tyler Glasnow, Chad Kuhl, Trevor Williams, Steven Brault, Nick Kingham.
The formula has not worked this season, in part because the Pirates lost Marte and third baseman Jung Ho Kang, in part because McCutchen barely contributed for two months, in part because Cole produced four straight miserable starts in late May and early June.
Doesnt mean it wont work in the future. Doesnt mean it wont work without McCutchen.
Ron Chenoy/USA TODAY Sports
ARRIETA CONCEDES EFFECT OF WORKLOAD
Cubs right-hander Jake Arrieta acknowledged to me Friday what a lot of people have been thinking: That his workloads the past two seasons have taken a toll on his pitching.
As much as we dont want to say that it carries over from season to season, throwing almost 500 innings over the past two years, I think it did have some effect, said Arrieta, who threw a combined 468 1/3 innings in 2015-16, including postseason.
Im not hurt or injured. Its just that I think my body has reacted accordingly and its taken a little bit longer to regain the form that I would like to be in.
Only one pitcher, Max Scherzer, has thrown more innings than Arrieta since the start of 15. Scherzer, however, has experienced no decline in performance, and hes more than two years older than Arrieta, who turned 31 on March 6.
Hall of Fame pitcher John Smoltz, after I mentioned Arrietas remarks during Saturdays Cubs-Pirates broadcast on FOX, said that too much emphasis is placed on innings in todays game, and correctly noted that Cubs manager Joe Maddon protected his starters as much as possible during the 2016 regular season Arrieta threw 197 1/3 innings, down from 229 the year before.
Still, Arrieta started Games 2 and 6 of the World Series and warmed up for a potential relief appearance on zero days' rest in Game 7. While most starting pitchers rest in October, the ones who reach the World Series work not only for an extra month, but at maximum effort the entire time.
Each of the Cubs principal starters is performing worse than he did last season, and righty Kyle Hendricks currently is on the DL with right hand tendinitis. The Indians starters who pitched in the World Series also have regressed, and ace righty Corey Kluber earlier missed nearly a month with a lower back strain.
Arrieta, a free agent at the end of the season, has a 4.64 ERA after 14 starts. His average fastball velocity is down from 93.6 mph to 91.8, according to Fangraphs. He said he is learning to pitch differently, placing a greater emphasis on command, changing speeds, disrupting hitters timing.
Thats just another facet of the game that you have to try and perfect, using information that hitters give you vs., Ok, Ive got 95 to 97, lets throw a sinker, middle down, and see what happens. Arrieta said.
I can still do that quite a bit. But there are two or three guys in each lineup where it doesnt matter how hard you throw, if its in the area theyre looking, theyre probably going to do some damage.
Its trying to pitch away from guys slug, knowing where their hot zones are, pitching accordingly. But at the same time, if I have three or more pitches working that day, it still doesnt matter that much.
The delivery is close to where Id like it. Im really commanding the ball glove-side, fastballs to my glove side, whether its in to lefties or away to righties. With my delivery, if I command that pitch, itll make it difficult on guys.
MORE ON ARRIETA
Arrieta, in our conversation Friday, also revealed that he has been dealing with a difficult family matter about two weeks ago, his mother-in-law, Debbie Andrews, underwent her second brain operation in six months.
The first surgery removed a tumor; the second, which took place at the Mayo Clinic in Scottsdale, Az., repaired an aneurysm. The good news, according to Arrieta: Debbie recovered extremely well.
Arrieta said he rented a house in Arizona so his wife, Brittany, and two children could be close to Debbie, and he joined them on an off-day June 1 when the Cubs were traveling between San Diego and Chicago.
The situation, he said, did not affect his pitching in any way.
Not at all, Arrieta said. Did I think about it? Did I worry about it a lot? Yes. But I was still able to separate I have to train, I have to prepare, I have to scout, I have to go pitch.
A lot of my day was concerned with (Debbie). But while I was here I was able to focus on certain aspects of the game. Its something we have to do … Thats what this game calls for. Sometimes you have to be mentally tough enough to put some things out of your mind.
Jake Roth-USA TODAY Sports
PADRES SHOWING THEIR HAND
One rival executive says the Padres are looking for a Will Smith-type return for left-handed reliever Brad Hand, who is under control for two-plus seasons.
Such an ask might appear aggressive -- Smith was under control for three-plus seasons at last years deadline when the Brewers sent him to the Giants for minor-league right-hander Phil Bickford and catcher Andrew Susac.
Hand, though, is performing better than Smith was then, with 48 strikeouts, 12 walks and a 2.84 ERA in 38 innings. Hand also has been healthy all season; Smith missed the first two months of 2016 due to a torn LCL in his right knee.
In any case, the Smith trade has been a disappointment for both clubs.
Smith underwent Tommy John surgery in April. Bickford, the 18th overall pick in the 2015 draft, is serving a 50-game suspension after testing positive a second time for a drug of abuse. And Susac, who twice has been on the disabled list this season, is batting .151 with a .504 OPS at Triple A.
AP/Copyright The Associated Press. All rights reserved.
THE FREAK (EAST COAST VERSION)
Orioles third baseman Manny Machado is still batting only .217 with a .715 OPS, but his brother-in-law, Athletics first baseman Yonder Alonso, said not to worry.
When Manny gets hot, he gets hot, Alonso said. I dont worry about too much about him. Hes such a freak.
The things he does, nobody else does. I cant do things he does. He tells me things in the batting cage that I should try. Im just like, I just cant do those things. Im not 6-3 (Alonso is 6-1). I dont have long arms. Your wingspan is humongous. I dont have that.
You should see him on the basketball court. He does windmills and dunks it. He does a 360 and dunks it. Im like, How do you do that?
AROUND THE HORN
*Dont expect the Cubs to give up any of their young major-league hitters in a trade, knowing that they could be making a major mistake if they overreact to a few bad months from any one player.
The bottom line is that prospects do not always follow a linear progression, and some of the Cubs youngsters are remarkably inexperienced, even though all but Ian Happ played in the World Series.
Kyle Schwarber has 533 regular-season plate appearances, Willson Contreras 489, Albert Almora Jr. 259 and Happ 118.
*The Pirates Rivero on the reception he received in Pittsburgh after arriving in the Melancon trade:
At first, the fans were tough, he said. People were asking, Who are you? I was like, Man, people dont know me here. What am I doing here? But after two or three weeks, after I started pitching, they were excited about what they got. This year, theyre crazy about me. Im home right now.
*Want a comp on Rockies rookie right-hander Jeff Hoffman, who has a 2.25 ERA in 32 innings?
Cubs catcher Miguel Montero offered a good one: Josh Beckett.
Hoffman is 6-foot-5, 217 pounds; Beckett at the end of his career was listed at 6-5, 230.