West Ham United inflict another away defeat on Liverpool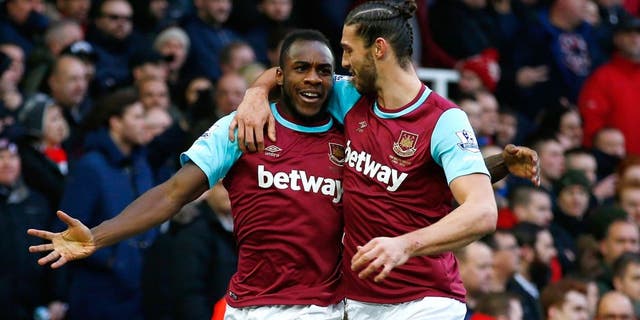 If there was any doubt before, it has gone now. If there is to be a Jurgen Klopp miracle at Liverpool it will not happen overnight. After successive 1-0 wins there were perhaps thoughts of a surge through the second half of the season in a division that has been defined by inconsistency but this was the performance of a mid-table side.
West Ham United, which is now unbeaten in seven games, albeit the first five of them draws, clambered two points above Liverpool in the table. With Dimitri Payet fit enough to play the final 25 minutes, it perhaps may think a serious challenge for Europa League qualification is on.
This was Slaven Bilic's side's best performance for some time, intelligent on the break and enlivened by crossing of sustained excellence. Two of those deliveries produced goals, the first for Michael Antonio after 10 minutes, the second by the former Liverpool striker Andy Caroll after 55.
For Liverpool it was a third defeat in four away league games since the 4-1 win over Manchester City: the league is getting no more explicable. Here, it wasn't quite as badly outfought as it had been at Watford, but there was still the sense of a soft center without the lungs of Jordan Henderson or James Milner. Perhaps there is no great shame in being dominated in the air by Carroll who, when he is on his game, is as good as unplayable. But the frequency with which West Ham worked dangerous counters and created space for crossing opportunities must be a concern.
West Ham had already threatened with one transition, Antonio dragging his shot wide after Mark Noble had one possession, when it took a tenth minute lead. Antonio didn't just score it, heading in Enner Valencia's cross, but began the move, making a (probably illegal) stretching sliding tackle on Alberto Moreno near his own corner flag.
With the left-back lying injured having been caught by Antonio's trailing leg, Cheikhou Kouyate charged into the space he'd vacated before feeding Valencia.
If Liverpool could feel aggrieved about that, they could hardly complain about going in behind at the interval. Manuel Lanzini, who was later forced off with a muscular injury, hit the post with a swerving shot and it took a fine parry from Simon Mignolet to deny Valencia after a swift counter.
There was, at the start of the second half, the suggestion of a Liverpool fight-back, but it was ended 10 minutes in. Kouyate and Antonio linked well to create space for Mark Noble, and his cross was powered into the corner by a characteristic header from Carroll. The striker very nearly added a third after 69 minutes, meeting another superb ball in, this time from Payet, with a plunging header, but Mignolet was able to block with his legs.
The talk about whether Christian Benteke, who scored Liverpool's winners against both Leicester City and Sunderland, fits Klopp's system is legitimate enough, but here he just played badly. His first touch was often heavy, his movement sluggish and he ballooned a number of shots high over the bar. He wasn't the only one. Emre Can can be a sumptuous passer of the ball, and he gave an indication of his class with the sidefoot effort from the edge of the box that struck the bar in first-half injury-time, but here he just looked slow, too often beaten by a simple jink which in turn put pressure on Lucas.
Philippe Coutinho, meanwhile, was simply bypassed, a flickering creative presence whose lack of defensive running was a contributory factor in the opening goal. He always seems far more dangerous playing in a central position, nit just because he is more involved, but because on the left he offers so little protection to Alberto Moreno, a full-back whose attacking nature means he needs protection.
Roberto Firmino, who played high, almost alongside Benteke, remains the most enigmatic of players. Against Manchester City he was brilliant, but other than that he's underwhelmed. Its still not entirely clear what he does: is he a center-forward - as he was against City - or is he a player who prefers drifting around looking for space? Like Benteke, he was often let down by his technique here, and that's a real source of worry: a strike-pairing brought in in the summer at a cost of around £65m ($96m) who both looked dreadfully out of sorts.
Lucas did have a header cleared off the line by Noble, and Joe Allen headed just wide during a period of late Liverpool pressure, but West Ham had its chances on the break. This was another comprehensive defeat on the road for Liverpool. The euphoria of Klopp's appointment is over and the hard work of building a team that might next season finish in the top four must begin.