Weaver aims for first win as a Padre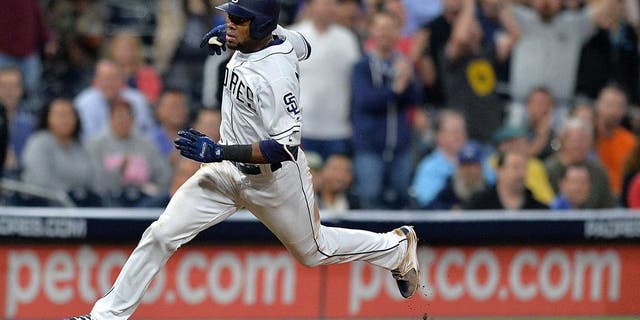 SAN DIEGO -- When the Rockies and Padres square off Wednesday for the second contest of their three-game series, Colorado manager Bud Black will see a familiar face on the mound for San Diego.
Black was a special assistant to the Los Angeles Angels' general manager last season in Weaver's final campaign in Anaheim.
Weaver is shooting for the Padres' second win in the series but faces a daunting Rockies lineup, one that got better with the return of Ian Desmond.
The former All-Star made his Rockies debut Sunday after recovering from a fractured left hand.
In Desmond's first game back, he started in left field. On Tuesday, he played first base for the first time in his career before ending the game in left field.
Where Desmond plays Wednesday remains to be seen, but he will be playing somewhere.
"With Ian, he's going to be in our lineup," Black said. "He's a good player. We went after him this winter so he could play and play a lot."
Desmond, a former shortstop, saw action in mostly left and center field for the Washington Nationals last year. however, with the Rockies' crowded outfield and with Trevor Story a fixture at shortstop, Desmond likely will find a home at first.
"His versatility and his athleticism allows us to do certain things with our lineups as it relates to him and to others," Black said. "I don't know if there's a philosophy, but this is baseball and he is a baseball player and he likes to play and contribute to a winning effort in every game.
"He will do whatever it takes, whatever we ask, and with him being one of our leaders, that is great. It's good to have him back. He's a big part of what we are trying to do."
The Rockies' task is getting to Weaver (0-2, 4.71 ERA), who makes his sixth start as Padre, opposing Antonio Senzatela (3-1, 2.81).
Weaver has thrown a minimum of five innings in each of his starts and gone at least six innings in three of the outings.
"It's easy to love the guy and love his competitiveness," Padres manager Andy Green said. "He won't yield no matter what."
What Weaver has been yielding is the home run ball, as rivals have gone deep 10 times among their 25 hits in 28 2/3 innings against him.
"It's one of the strangest stat lines I have ever seen a guy have," Green said. "He really hasn't been hit unless it has been a home run, which is an incredibly rare thing only to give up home runs."
Weaver has compensated in other ways. With runners in scoring position, opposing hitters are 2-for-16. Overall when there are runners aboard, Weaver is holding opponents to a .182 average.
"He has kept us in ballgames and given us an opportunity to win," Green said. "The guy knows how to pitch, and he knows exactly what he is doing when he is on the mound. He knows what pitch is going to work and when it is going to work. When he executes it, which he has done very consistently, he can be effective still."
Even with a fastball that seldom sees the upper 80s.
"I mean, I think he would be the first person to tell you he would love to be throwing harder now," Green said, "but he's savvy enough to know how to get hitters out. He has added the right kind of veteran presence to this team as well."
In Senzatela's lone career appearance against San Diego, he pitched seven innings of two-run ball for a 3-2 win on April 11 in Denver. His mound opponent that day was Weaver, who got a no-decision after giving up two runs in six innings.
Weaver is 0-0 with a 2.77 ERA in two career starts against the Rockies.