WATCH: Steelers WR Martavis Bryant goes deep for Vick at practice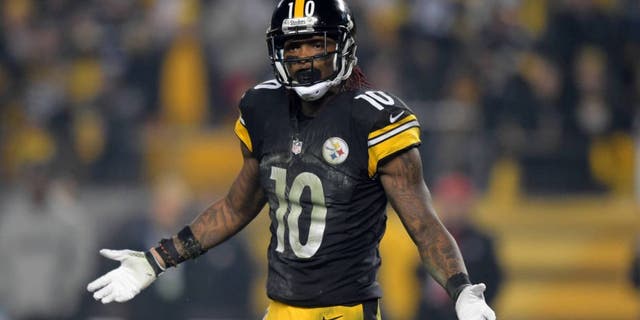 NEWYou can now listen to Fox News articles!
Steelers receiver Martavis Bryant seems set to make his 2015 debut this Sunday. Kirby Lee-USA TODAY Sports
Steelers receiver Martavis Bryant appears ready to make his season debut this Sunday against Arizona.
Bryant was not listed on the team's injury report after Wednesday's practice. On Thursday, the Steelers tweeted video of Bryant running a deep corner route for Michael Vick at full speed, showing no ill effects of the knee injury that kept him out of Monday night's game against San Diego. Bryant was eligible to return from his four-game suspension, but the Steelers decided to hold him out one more game because of the injury.
Bryant's ability to stretch the field turn should give the Steelers a boost in the passing game, which has struggled with Michael Vick in place of the injured Ben Roethlisberger. Bryant, who caught eight touchdowns in 10 games as a rookie last season, displayed instant chemistry with Vick in the preseason, connecting on a 63-yard long ball on Vick's first throw as a Steeler.