WATCH: Stanford's Owusu makes TD catch of the year behind defender's back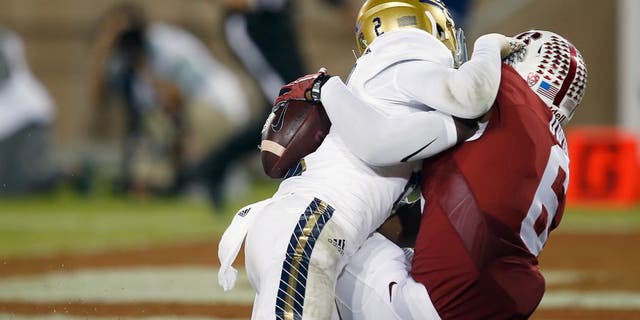 Stanford WR Francis Owusu deserves a trophy of some kind for the touchdown catch he made against UCLA on Thursday night in Palo Alto.
Leading 35-17 in the third quarter, Stanford decided it was time to pull a trick out of the bag. Setting up from the wildcat, Chrisitan McCaffrey took the snap, handed it to RB Barry Sanders, who then flipped the ball to QB Kevin Hogan. Hogan launched a deep 41-yard pass over the middle to Owusu ... and then this happened:
That's not just the catch of the night, that's the catch of the year, folks. Game over.
Stanford head coach David Shaw's reaction to the catch pretty much sums it up.