Watch Sidney Crosby accidentally throw a water bottle on the ice during play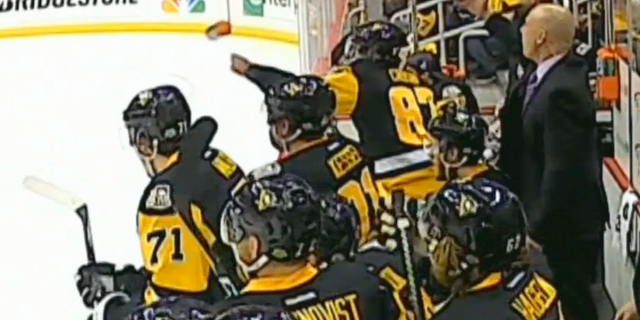 NEWYou can now listen to Fox News articles!
Thursday's Game 5 of the Stanley Cup Final was an eventful one for Sidney Crosby.Not only did the Penguins starrecord three assists and add another chapter to his rivalry with P.K. Subban, he also got in a bullpen session.
During the second period of the blowout, a water bottle came flying from the Penguins bench and landed on the ice during play. Replays later revealed thatCrosby was responsible, sending the bottle onto the ice as heappealed to officials for a penalty call ona slash from Predators defenseman Mattias Ekholm.
The Pens scored a goal shortly after so the water bottle never actually interfered with play, andCrosby was lucky to escape the incident without a stoppage and a penalty. (He was a pretty lucky guy overall on Thursday.)
Did Crosby actually intend to chuck the bottle on the ice in protest? Well, it depends who you ask. If it's Crosby, the answer -- of course -- is no. At least that's what he told officials in the aftermath.
It's worth noting that the throw came with Crosby's left (off) hand and it lookslike it could have slipped out of his hand, so maybe it was an accident.
But he also swung the arm forward, let the bottle go and hada little bit of follow-through, so who really knows?!
Either way, it's a dang water bottle and it didn't affect play at all, so who really cares?