Watch: Rangers' Andrus catches Padres napping with straight steal of home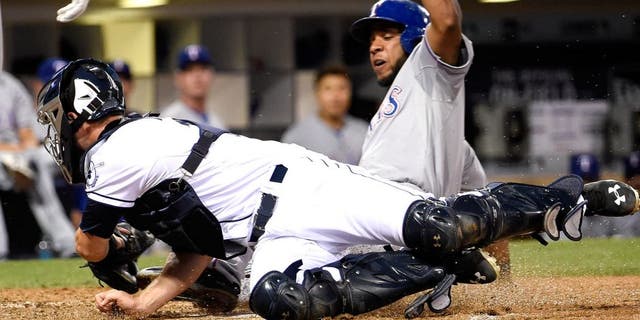 NEWYou can now listen to Fox News articles!
Texas Rangers shortstop Elvis Andrus had himself quite a night on Tuesday.
In the seventh inning, the Rangers were up 7-4 on the Padres with Andrus on third and Kevin Quackenbush on the mound for San Diego.
Andrus decided to attempt a straight steal of home plate, guessing that Quackenbush wouldn't react in time...and Andrus was absolutely correct!
Swiping home plate off a right-hander seems like something that would require a big mental lapse by the pitcher, considering righties tend to have a great vantage point of third base. And yet, Andrus' hunch was correct. Check it out again:
Not only did Andrus pick up a big run-scoring single in the game as well, he also was a star on the defensive side of the field, making a particularly slick sliding grab and jump throw look easy:
The word 'dynamic' comes to mind when describing Andrus' efforts on Tuesday night, and they had to make the Rangers pretty proud of their young, talented shortstop.