Watch Kevin Durant's photo get ripped down from the Thunder arena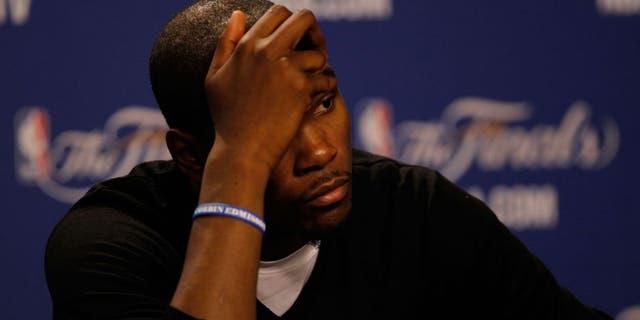 NEWYou can now listen to Fox News articles!
We're just about 24 hours removed from Kevin Durant's shocking decision to join the Golden State Warriors, giving the team that won 73 wins last season one of the most frightening lineups in NBA history. A lot has happened since his announcement, including outrage from Thunder fans and excitement from the Warriors.
Now, Durant is no longer a part of Chesapeake Energy Arena as his photo was sadly torn down on Tuesday. ESPN's Royce Young captured the removal of Durant in what was a moment worthy of tear shedding.
Just yesterday, Thunder fans were taking photos in front of Durant's banner before it was ripped down.
They knew it was coming down sooner or later. But it wouldn't be a sad sports moment without Crying Jordan, because of course someone already photoshopped the overused meme behind Durant's photo.
Too soon, internet.