Watch Draymond Green stop a Blazers fastbreak all by himself with an emphatic block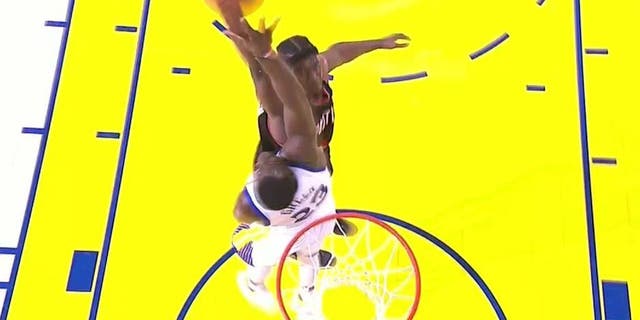 NEWYou can now listen to Fox News articles!
The Golden State Warriors were locked in a back-and-forth struggle with the eighth-seeded Portland Trail Blazers on Sunday and appeared to be in need of an emotional boost.
Cue Draymond Green. The do-everything power forward provided the lift the Warriors so desperately needed but not with a 3 or a nice pass.
The Blazers looked like they had an easy two-on-one break in the third quarter after Damian Lillard stole the ball from Klay Thompson. As Lillard pushed the ball up the floor, Green was the only Warriors player back on defense.
Green stopped Lillards drive but the All-Star guard fired a pass to a trailing Noah Vonleh, who looked like he would get an uncontested dunk. Green had other ideas.
Green wasn't done sending shots back. In the fourth quarter he got the best of Lillard on another dunk attempt.
Green finished with 19 points, 12 rebounds, nine assists, five blocks and three steals in the Warriors 121-109 win. Its no wonder Green is considered one of the most versatile defensive players in the league and is in the running for Defensive Player of the Year.