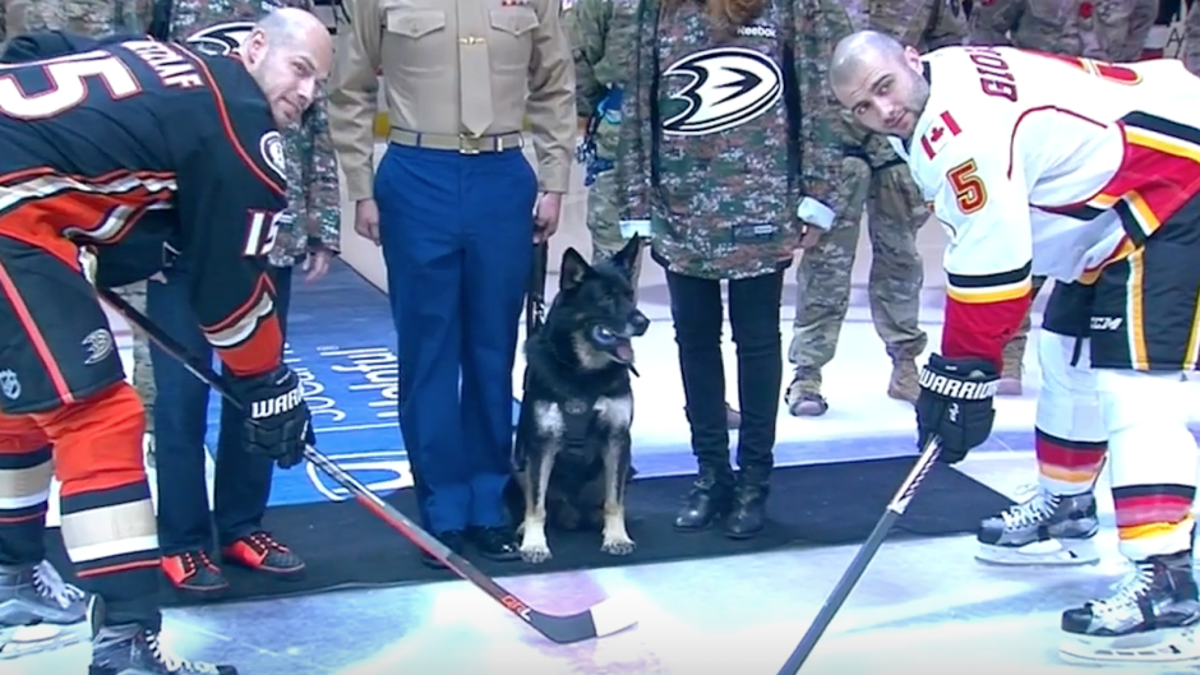 The Anaheim Ducks hosted Military Appreciation Night on Sunday as they took on the Calgary Flames, which meant that the team paid tribute to the United States armed forces in various forms.
In addition to wearing special warmup jerseys that resembled military fatigues, the Ducks also invited and honored a number of servicemen/women and had a bomb-sniffing dog drop the ceremonial first puck before the game.
That's Corporal Nero, who was welcomed to center (along with his human handler Lance Corporal Brandon C. Benningfield) by Ducks owners Henry and Susan Samueli before the game. Corporal Nero managed to perform an excellent puck drop for Ducks captain Ryan Getzlaf and Flames captain Mark Giordano.
After the face-off, Getzlaf showed Corporal Nero gratitude by giving him a nice little head rub before shaking hands with the rest of the military personnel. Giordano shook hands with the military members as well, but it appears that he forgot to show Corporal Nero some love.
So, to make up for Giordano's transgressions, it's time to recognize this great pup in the only appropriate way.
WHO'S A GOOD CORPORAL, NERO? YOU'RE A GOOD CORPORAL.