Washington Nationals' lack of offseason moves is head-scratching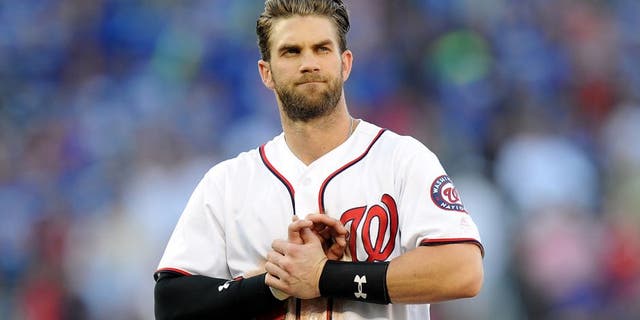 Owners maintain the right to spend or not spend, make arbitrary decisions on personnel -- essentially, do whatever the heck they want.
Owners also maintain the right to decline comment to reporters who seek explanation for their strategies, leaving fans to wonder what the heck is going on.
The Nationals' owners cannot be called cheap, not when they supported the game's fifth-highest payroll as recently as 2015. Their decision-making, though, is oddly inconsistent for a team that was nine outs away from advancing to the NLCS last season, and is potentially two years away from losing Bryce Harper as a free agent.
Urgency is warranted, and the free-agent market has been a buyer's market all off-season, full of opportunity. Yet the Nats barely have stirred, proving far less resourceful than say, the low-revenue Indians, far less aggressive than big-spending NL rivals such as the Dodgers and Mets.
Ownership, through a team spokesperson, declined a request for an interview. General manager Mike Rizzo declined comment. But those who work for Rizzo repeatedly have expressed frustration that the GM -- - whose trading record is among the game's best -- - must fight ownership to get the players he wants.
"He has the hardest job in baseball," one Nationals official says, "with what he has to go through to get things done."
That might be overstating it - -- no top baseball executive is exempt from ownership input; nor should he be. But the Nationals' entire off-season, to this point, consists of the controversial trade for outfielder Adam Eaton, a trade for catcher Derek Norris and the one-year, free-agent signings of infielder Stephen Drew for $3.5 million and outfielder Chris Heisey for $1.4 million.
Rizzo and ownership representatives have mentioned the impact of the Nationals' ongoing battle with the Orioles over how much the Nats should receive in television rights fees from MASN, the two-team network in which the Orioles hold a majority interest. The dispute, which remains tied up in court, is turning into baseball's version of the 100 Years War.
Ed Cohen, a Nats principal owner, said in a sworn affidavit that the team's baseball operations are "significantly" impaired by the lower TV rights and could get worse with more legal delays, according to the Washington Post. Then again, Nats managing principal owner Ted Lerner is the 11th wealthiest owner in American sports and second wealthiest in baseball behind the Tigers' Mike Ilitch, according to Forbes.
If Lerner wanted to spend more - -- even with the Orioles withholding money, at least some of which the Nats eventually will receive -- he could.
And now would be the time.
The Nationals' season-ending, 40-man roster payroll dropped from fifth highest in the majors in 2015 to 11th in '16, according to Cot's Baseball Contracts. Their Opening Day payroll for '17 currently projects to $153 million, 13th highest in the majors, fifth in the NL, according to Rosterresource.com. Not terrible, relatively speaking. But not enough to where the Nats should be comfortable with the projected on-field product.
The primary rub with the Nats is that they still lack an established closer after losing out on free agents Mark Melancon, Kenley Jansen and Greg Holland. The Nats reportedly bid more than $50 million for Melancon, who went to the Giants for $62 over four years, and offered Jansen more than the Dodgers, who kept him for $80 million over five years. But Washington's only bullpen additions -- Joe Nathan, Matt Albers, Tim Collins, Vance Worley, Neal Cotts -- have been on minor-league contracts.
That might change soon; the Nats continue to discuss a trade with the White Sox for closer David Robertson, according to major-league sources. Robertson is owed $12 million this season and $13 million next season, creating an all-too-typical Nats obstacle. The team does not want to absorb Robertson's entire obligation, and does not want to move additional prospects after parting with three young pitchers for Eaton, sources say.
Yet, the addition of Robertson would go only so far to address the Nationals' deficiencies. Dave Cameron, in a recent article for Fangraphs, contended that while the Nats' top 10 players project to be as good as the Cubs' and Dodgers', the rest of their roster is suspect.
"In fact, it's hard to find a legitimate contender with as weak a group of reserves as the Nationals," Cameron wrote. "While most of the focus of late has been on their bullpen and whether they'll acquire a new closer, the Nationals' bench is the more glaring weakness."
Cameron went on to point out that a number of the Nationals' regulars are physical questions. The same, of course, is true of right-hander Stephen Strasburg, who has been on the DL four times in the past two seasons, as well as righty Joe Ross, who made only three starts after July 2 due to shoulder inflammation.
The Nats will spend big, occasionally very big, particularly for Scott Boras clients. They spent lavishly on Strasburg and Max Scherzer, and also awarded contracts of $100 million or more to first baseman Ryan Zimmerman and outfielder Jayson Werth; Boras represented all but Zimmerman. But ownership's penchant for deferring money in major contracts proved harmful in the 2015-16 off-season in pursuits of outfielders Yoenis Cespedes and Jason Heyward; the Nats also lost out on second baseman Ben Zobrist and others.
Over the past year, the owners occasionally have loosened the reins. The deferrals in the Nationals' free-agent offer to Jansen were relatively minimal, sources said, and the team boosted its payroll by nearly $3 million at the trading deadline to add Melancon. Ownership in previous seasons required Rizzo to make such deals cash-neutral, forcing the GM to give up better prospects.
Rizzo resisted giving Melancon a bigger offer in free agency, and also will back off other players when he believes the market over-values them. Ownership cannot be blamed for those decisions. Still, the approval for Rizzo to spend comes and goes, often without rhyme or reason.
Ownership need not offer an explanation. Ownership can to operate however it wants. But the Nats have yet to win a postseason series in their 12-year history, suffering first-round defeats in three of the past five years.
You'd think ownership would want a different outcome.