Warriors stay unbeaten behind another big night by Curry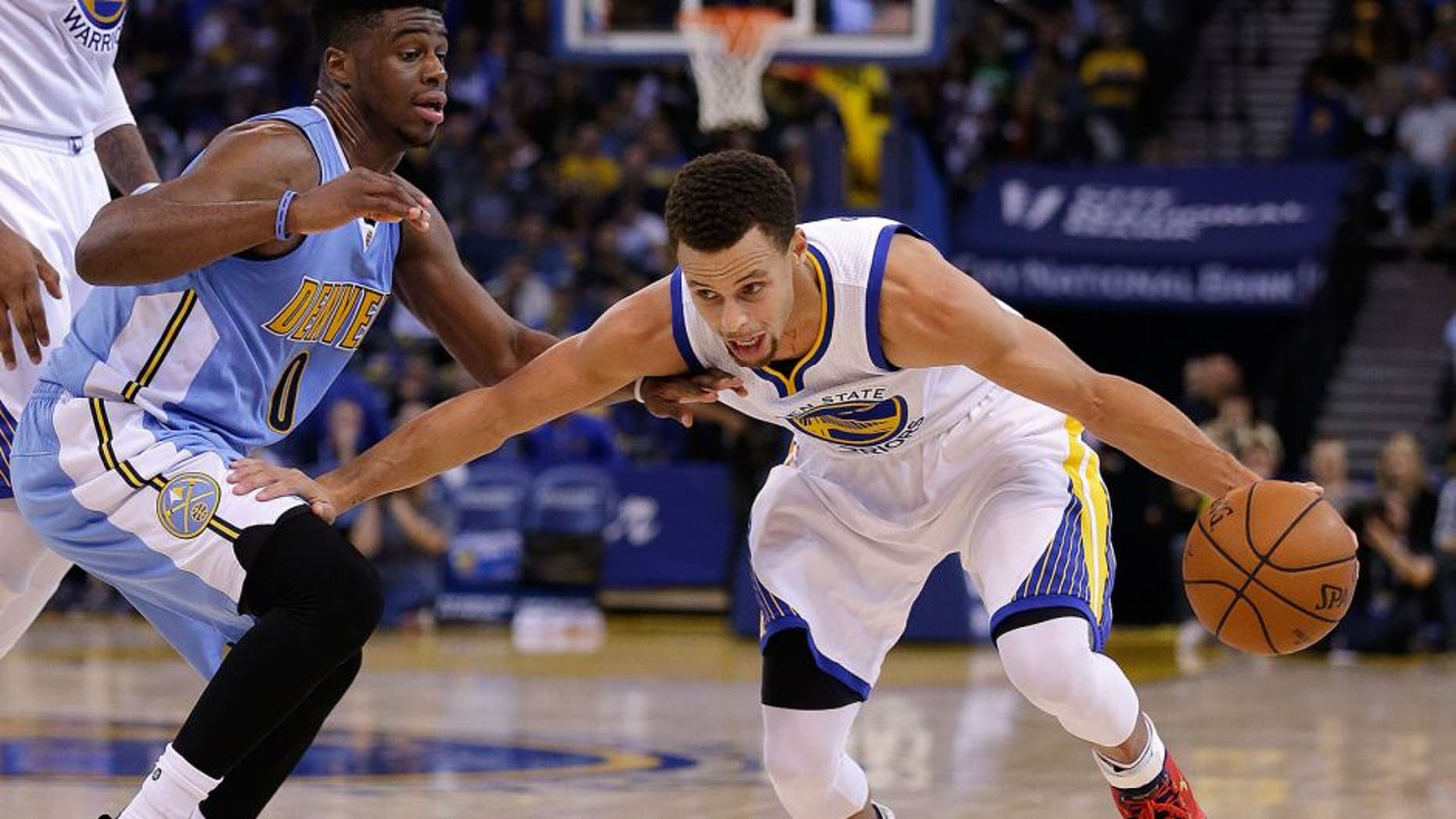 OAKLAND, Calif. -- Stephen Curry led the way once more with 34 points and 10 assists, his supporting cast did plenty to take the pressure off, and the defending champion Golden State Warriors beat the Denver Nuggets 119-104 on Friday night to stay unbeaten.
Harrison Barnes scored 21 points for Golden State and Festus Ezeli had a career-high 16 points to go with seven rebounds and two blocked shots.
At 6-0, Golden State is off to the franchise's best start in its West Coast era dating to 1962-63. The Warriors are three victories from tying the Philadelphia team's 9-0 start in 1960-61.
Klay Thompson added 18 points, six rebounds and five assists and Draymond Green added 12 points, nine rebounds and eight assists as Golden State extended its franchise-record home unbeaten streak to 22 games.
Danilo Gallinari led Denver with 25 points, nine on free throws in the Nuggets' third straight loss at Golden State and sixth in nine games.
Jameer Nelson's jumper with 3:44 left pulled Denver within 10 points after the Warriors had led by as many as 32.
Ezeli, filling in for the injured Andrew Bogut, dunked on two straight second-quarter possessions with a blocked shot in between and the Warriors' 28 first-half assists were a franchise record for any half.
This team has been tested just once so far, in Wednesday's 112-108 win against the Clippers, and certainly looks like a group poised for another special season, even if this one's not even two weeks old.
NBA MVP Curry has 30 or more points in five of his first six games, the first Warriors player to do so since Hall of Famer Rick Barry in 1974-75. Hall of Famer Chris Mullin was the last player with 25 or more in each of the season's first six games (1990-91).
Curry made a 3-pointer in his 79th straight game, matching Michael Adams for the third-longest streak in NBA history.
Curry knocked down 8 of 15 3-pointers for Golden State, which had opened defense of its title with five straight games against Western Conference playoff teams from last season.
Denver beat Golden State at Oracle Arena 114-103 in the preseason on Oct. 13, but the Nuggets lost their fourth in five under former Warriors assistant and first-year coach Michael Malone.
LETDOWNS
Interim coach Luke Walton figures it won't always be going quite this smoothly for the reigning champs.
Golden State showed that in the second half.
''It's just natural to have a letdown, and I'm sure at some point throughout this long season we'll have one,'' Walton said. ''It's up to the staff to help prepare the guys for everything and it's up to the players to want it just as bad as they did last year. From my view, they do right now. They talk about it all the time, they want more championships. They're not happy with just the one that we have.''
BOGUT'S PROGRESS
Warriors center Bogut missed his fifth straight game after sustaining a concussion in the Oct. 27 season opener against New Orleans. He participated in the full shootaround Friday but still must go through contact before being medically cleared from the NBA concussion protocol, which could happen this weekend.
TIP-INS
Nuggets: C Joffrey Lauvergne missed his third straight game with a lower back strain and Denver missed his 6-foot-11 presence, getting outrebounded 17-5 in the first quarter and 53-43 overall. ... Will Barton had 19 points, eight rebounds and five assists in his first start of the season as Denver went small.
Warriors: After its third 40-point quarter this season in the first, Golden State had 17 assists on 19 baskets early in the second. ... It has scored 100 points in each of the last 38 home games. ... Golden State's home winning streak is longest ever by the Bay Area professional teams in the four major sports, topping the NFL's Raiders and 49ers, baseball's Oakland Athletics and San Francisco Giants and the NHL's San Jose Sharks.
UP NEXT
Nuggets: Host Portland on Monday.
Warriors: Visits Sacramento on Saturday.