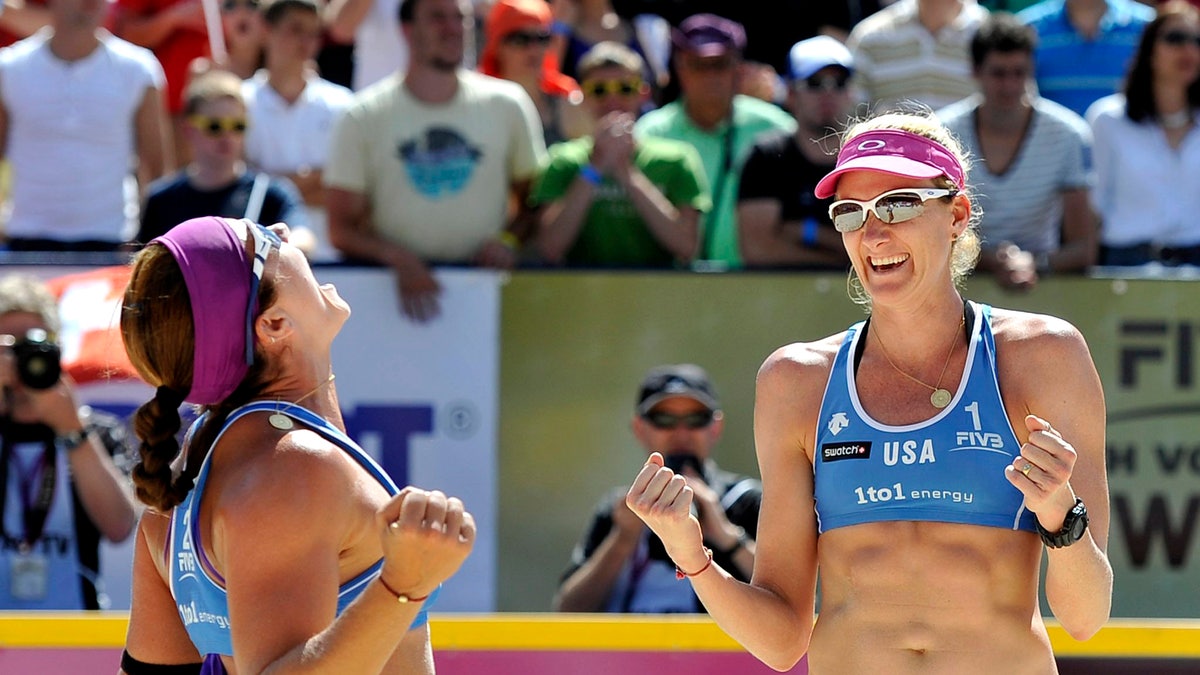 LONDON – In Sydney, she was still just Misty May.
Her mother was seriously ill and her beach volleyball career was still maturing when the daughter of 1968 Olympian Butch May finished fifth in her Olympic debut. By the Athens Games, Barbara May had died of cancer. Misty memorialized her with an angel tattoo on her left shoulder and scattered some of the ashes on the sand before winning the gold medal with Kerri Walsh.
Beijing brought more change: She was married now, to ballplayer Matt Treanor. Her name had grown and so had her goals, and she talked of children and retirement and all the other things she wanted do when her beach volleyball career ended. A second gold medal came as smoothly as the first.
As it turned out, Walsh had the children and May-Treanor came out of TV's "Dancing with the Stars" with a repaired Achilles tendon but also a renewed desire for another Olympic run.
The two are together again and heading to London, a fourth Olympics for each and their third as a team. And as they try for an unprecedented third consecutive victory -- no athlete had ever won even two beach golds before -- they can look back at one of the most successful partnerships in the history of the sport.
"We understand fully -- maybe too much -- how special our journey is," Walsh said. "We know that London is our last tournament together for the rest of our careers. That's a really big deal after an amazing ride.
"There is an emotional toll to it, putting yourself out on the world's biggest stage. It's not a grieving process, but it's almost like that. And we're working through that."
May-Treanor, who will turn 35 while she's in London, has said she will retire from international competition following the games, a decision that opens a coveted spot as Walsh's future partner and creates a new dynamic in the sport. With young teams from the Netherlands, Italy and China -- including 2008 bronze medalists Xue Chen and Zhang Xi -- the Americans see themselves as part of an older generation that helped the sport grow from an Olympic also-ran into one of the most popular events at the games.
"When we started, we were girls," May-Treanor said. "The older players, you idolized them; you want to be like them but you don't really understand the process. And now, kind of, we're here. We're where the players we looked up to were. We've been through a lot of life's transitions."
You can fit a lot into an Olympiad, the four-year gap between the games that feel like an extended offseason in a sport like beach volleyball.
The 33-year-old Walsh got started right away.
Nine months after winning the gold in 2008 she gave birth to her first son. Another son was born less than a year later. After each pregnancy she took time off before returning to the sand, usually with Joey and Sundance in tow.
"I feel like more life has been lived in these past four years than ever in my life," said Walsh, whose husband, Casey Jennings, is also a professional beach volleyball player. "As you get older, more profound things happen to you. I'm a mother of two now, and with that comes so much love. We've just been living life as 30-year olds, mid-30s. It's way different than when you just turn 30, or when you're 26 in Athens."
After missing most of the 2009 season recovering from her torn Achilles tendon, May-Treanor spent part of 2010 watching her husband, a backup catcher, play in the World Series for the Texas Rangers. When she decided to return to the sand, recreating the delicate chemistry that made her and Walsh so dominant was more of a struggle than expected.
"I definitely feel older," May-Treanor said. "Kerri won't say this, but I definitely feel older."
Having swept through the qualification process for Beijing and winning gold a second time without losing an Olympic set, the Americans head to London ranked No. 3, behind Xue and Zhang and the top-ranked Brazilian team of Larissa and Juliana that was thwarted in `08 when Juliana injured her knee.
The other U.S. team of April Ross and Jennifer Kessy, first-time Olympians, is right behind them at No. 4.
"Misty has been through so much, with her Achilles injury and rehab," Walsh said. "We had a really terrible start to this year. We've played not our style of beach volleyball; we've played tentatively and we're thinking too much. It's just the mental aspect that we're having problems with.
"That's a terrible position to be in, where you're crossing the finish line and you feel like you're pulling back. That's not how we want to go out."
The top American men, the other half of the U.S. gold medal sweep in Beijing, are also plotting an exit strategy.
Although Phil Dalhausser is only 32, partner Todd Rogers is 38 and noticing that it takes more time to recover from injuries, or just plain workouts. Heights that were once within jumping distance are now beyond reach. And the travel on the international qualifying circuit doesn't have the allure it once did, especially when he has to leave the kids behind.
"I am missing stuff more," he said. "From April through the end of summer, I'm really not around. I really want to be involved more in their lives.
"They're going to start getting into their own things, and doing their own things. I want to be around while they still want me to be around."
Rogers' daughter, Hannah, 13, and son Nate, 11, will be going with him to London; he had decided they were too young for Beijing. Like May-Treanor, Rogers is planning to stop playing internationally after these Olympics and hoping to retire to a rejuvenated domestic tour that would allow him to spend more time with his children.
"They understand it now," he said. "When the kids were about 5 and 7, they just didn't have the full comprehension of why Daddy was gone for so long. My son wouldn't even talk to me on the phone. He was bitter. He was an angry kid, and my daughter responded by crying. It's tough to deal with that."
With its bikini-clad athletes and beach party atmosphere, no Olympic sport projects more of a youthful attitude than beach volleyball. Tanned and toned bodies frolicking in the sand are always a hit for spectators at the Olympics and television viewers back home.
This year's venue, Horse Guards Parade, could attract royal visitors from nearby Buckingham Palace, Parliament Square and even 10 Downing Street, the prime minister's residence.
But for the first time, some athletes might be playing down the sexy side of the sport: The international volleyball federation has given women permission to abandon the traditional bikini for a more expansive uniform -- an attempt to encourage athletes from more modest cultures to participate.
It is not yet clear whether any will take them up on the offer, but a change in the qualification process has democratized a sport that has been dominated by American and Brazilian teams. Combined, they've won seven of eight gold medals, and 16 of 24 overall. With two spots still remaining in the 24-team men's and women's fields, there are already three countries that will compete in the Olympic beach volleyball tournaments for the first time: Poland, Mauritius and Venezuela.
Dalhausser was just 28 and still relatively new to international competition when he and Rogers won gold in Beijing. He expects his Olympic experience will take some of the pressure off and give them an advantage against top-seeded Brazilians Emanuel and Alison, the bronze medalists in Beijing, and fellow Americans Jake Gibb and Sean Rosenthal, who finished tied for fifth in 2008.
"I think I'm going to take a more relaxed approached to the Olympics this year," Dalhausser said. "We've already won the gold, so anything we do this year is really the cherry on top.
But then he quickly added: "Obviously, the goal is to win the gold. I don't want to you get the wrong idea. We're still hungry to win the gold."
So is May-Treanor.
And she's equally hungry to see what comes next.
"This is my last Olympics. The Olympics is my last tournament," she said. "I think it's selfish if you don't want to pass the torch to the younger players. That's the only way the sport