Vigneault shocks hockey world by starting Schneider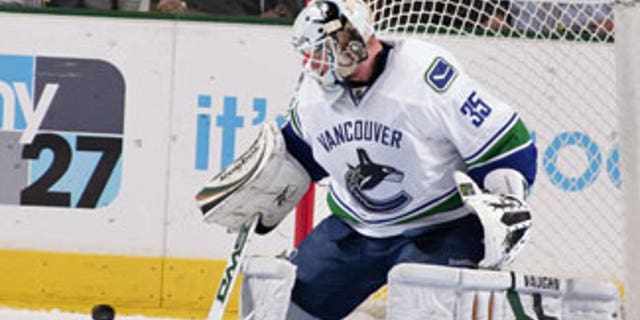 CHICAGO – Alain Vigneault thought some things needed to change for his Vancouver Canucks after they'd been blown out by the Chicago Blackhawks in two straight playoff games.
So, he practically changed everything before Sunday night's Game 6 of this Western Conference Quarterfinal series at the United Center, which the Hawks wound up winning 4-3 in overtime.
Vigneault had his team warm up with tennis balls instead of pucks at Saturday's off-day practice. He wore blue jeans to the press conference that day – and shorts to a media session on Sunday morning. The buttoned-down Canucks even went helmetless in the pre-game warm-ups at the United Center.
It was the first Canuck to take the ice for warm-ups, however, that caused the biggest stir – and was the biggest change Vigneault debated in his head on the flight from Vancouver following a 5-0 loss in Game 5 at Rogers Arena.
Backup goalie Cory Schneider started instead of star Roberto Luongo – who'd been shelled by Chicago in both of the losses – and it took pretty much everybody by surprise. Vigneault, however, stuck strongly by his decision after the game.
"Sometimes you've just gotta go with your gut," he said. "Sometimes the book is overrated and the gut told me it was the right thing to do."
Vigneault informed both goalies of his decision on Saturday afternoon, so it wasn't a surprise to them or their teammates – but just about everybody else watching was stunned, including the Blackhawks.
"Coming out for warm-ups, we were surprised," Chicago coach Joel Quenneville admitted afterward. "We thought it would be Luongo."
Instead it was Schneider, who made 17 saves against 20 shots played decently until leaving the game early in the third because of what the team is calling muscle cramps in his leg. Schneider had just been beaten on a penalty shot by Michael Frolik at the 2:31 mark of the third to tie knot the game 3-3 when Luongo was summoned for relief duty.
"It just cramped up really bad," he said of his leg, which he appeared to struggle putting weight on leaving the ice. "The whole leg just completely seized up."
Luongo, who said there wasn't room on the bench for him, was watching on television in the locker room. After an athletic trainer told him to get loose, he stretched and did "a couple jumping jacks" and headed for the ice – to a stadium full of jeering fans chanting "Lou!"
Thanks to some stellar play by the team in front of him, Luongo only had to make two saves in the 17:29 that remained of the third period, which he was thankful for.
"Once I got in there, I thought the boys really tightened up defensively and didn't give up much the rest of the period," Luongo said. "It gave me a chance to get into the game."
He got through most of the overtime, as well – making several key stops to allow the Canucks to keep attacking at the other end. The only problem was Hawks rookie Corey Crawford – whom Luongo has skated with in summers past – was just as good at the other end.
Ultimately, Smith potted a rebound of a shot by Niklas Hjalmarsson with just 4:30 left in OT and surely broke the hearts of Canucks fans. It didn't break the spirit of Luongo – who fielded a lot of questions afterward as calm as if he'd won.
Was he shaken by Vigneault's decision?
"No, why would I be?" he said.
How disappointed was he when informed he wouldn't start?
"You know what? It's a team game,' Luongo said. "We had the best goaltending duo all year long. I put the team ahead of myself first. I wanted to win this game just as much as anyone."
Did he understand Vigneault's logic in going to Schneider, after Luongo had allowed 10 goals on 40 shots in Game 4 and Game 5 combined?
"That's up to the coaching staff," Luongo said. "As a professional athlete, you're dealt all kinds of situations in your career and you learn to deal with them."
How about Game 7? Will he be as team-oriented and understanding if Schneider gets the call again?
"Me and Schneids are the best goaltending duo in the NHL this year," Luongo said. "He's just as good as I am and it doesn't matter who's in net."
No sense in asking Vigneault, either. He's not sharing anything about his decision on goalie for Game 7 and said it'd probably be pointless if he revealed anything anyway.
"If I tell you who I'm going to play, are you going to believe me now?" he said, drawing laughter.
As for Schneider's health, Vigneault was insistent it was just a bad cramp. He said Schneider was dehydrated, got an IV in the training room and felt OK after the game. That means he might have another tough decision to make on the flight back home.
For what it's worth, Luongo said he's ready for the pressure of a series-deciding game.
"I've played in a Game 7 before," he said. "I've seen a lot, but obviously it's a big one. No doubt about that. It's a great challenge for us. We've got to take advantage of it and also enjoy it. It's fun to be part of a Game 7."