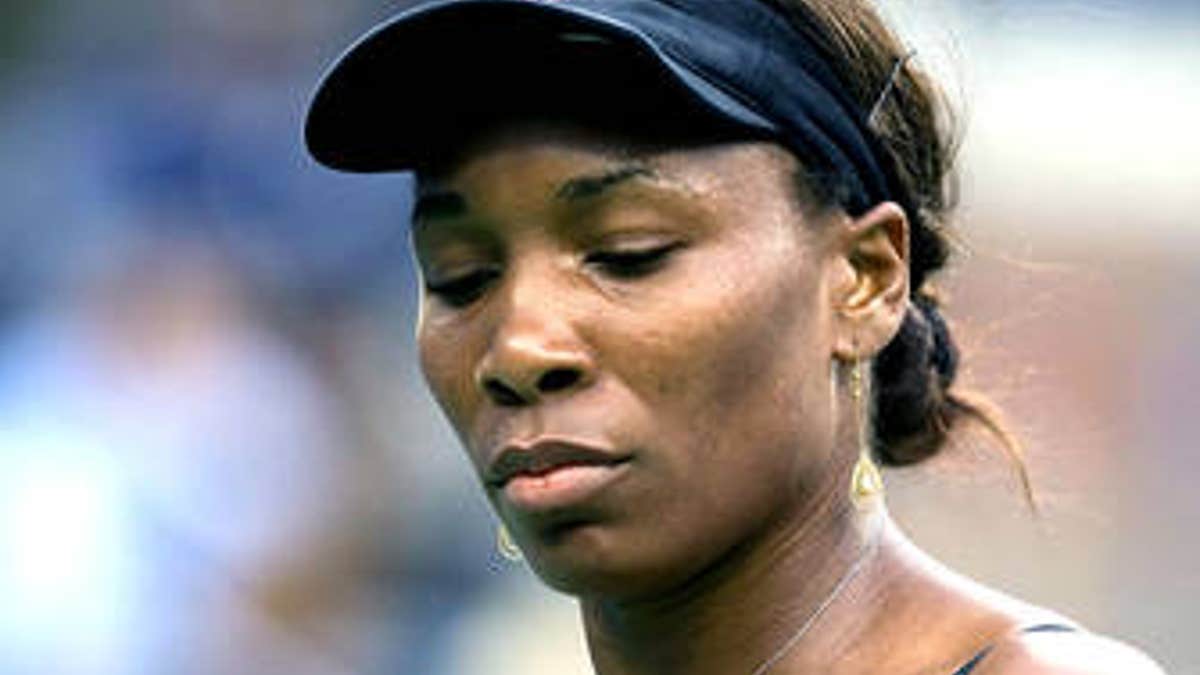 This isn't the way the Great American Tennis Story is supposed to go.
Venus Williams' story isn't over yet, but it looks like it's going to have the wrong ending. You'd like for it to end with a bang, with some kind of glory. She has meant a lot to a lot of people.
"I don't know if I will ever feel normal again," she told me this week at the US Fed Cup victory in Worcester, Mass.
Ever?
"I don't know if I will."
Roughly half a year since she last played on tour, since she finally was diagnosed with Sjogren's syndrome and began treatments, Williams is about to try to come back.
She hopes to get into this summer's London Olympics, but she will have to grind her way through the most physically demanding part of the season even though she doesn't know how she will feel tomorrow.
Maybe the glory is in the way she's fighting the disease that has stolen so much of her energy. She has changed to a vegan diet, and she says the medicines slowly are making her feel better.
But what does "normal" mean for Williams? She has been fighting this new normal for seven years, and has won Wimbledon with the disease.
That's how far back she believes she can trace symptoms of Sjogren's, which takes a notoriously long time to diagnose. It is an autoimmune disease related to lupus. Basically, the immune system goes haywire and attacks the wrong things. White blood cells attack the moisture-producing glands. It can lead to fatigue and joint pain.
So maybe she can return to the normal that she had played through and been successful with. Williams went public with her disease last year at the US Open. What's new, is that, six months later, there still is so much uncertainty. This is not a typical sports injury that heals with time and therapy. It's the unknown.
Tennis is a test of nerve and mind. It can break the strongest, even when they are 100 percent physically. Imagine playing, and winning, major championships when you are not yourself. That's what Williams has faced for several years.
But she isn't 24 anymore. She will turn 32 in June, and her body is starting to have other problems, too -- the usual hip, muscle, etc., injuries of a tennis player her age. She has played just 12 matches on tour in nearly a year and a half.
Not 12 tournaments. Twelve matches.
"The big push for me is the Olympics this year,'' Williams said.
"If I'm healthy, I'm not worried about my ranking (being high enough to qualify). I think I can hit the ball. It's just about my body cooperating. It's about being able to play matches in a row. Right now, I'm not sure how much I can do with that, but we'll see."
Williams plans to play a few more years but is having trouble getting onto the court at all. She skipped the Australian Open, the year's first major, as well as a warmup tournament in New Zealand.
What symptoms does she still have?
"I'm still fighting fatigue," she said. "I'm getting better. I mean, it just takes a while to kind of find the right medicines that work, to get stronger. ...
"I mean, some of them take six months to set in, then you just have to find what works best, similar to a lot of stuff. It's definitely a real-life experience, for sure. My life is going to be different, but I'm glad to know what's wrong with me so I can get better."
This is a courageous fight for Williams, who easily could justify walking away now. She has the money. She has five Wimbledon championships and two US Open titles. She has fought behind the scenes to get equal pay for women on tour. She has been one of only a few consistent role models for girls in sports. And she came from Compton into a traditionally white, rich sport.
None of that goes away when she leaves.
But keep in mind that while Williams was talking about her health, she was smiling. She is seeing improvement. And she had just left the court in Worcester, where she and Liezel Huber, the No. 1 doubles player in the world, had demolished a doubles team from Belarus. It was Williams' first sanctioned match since the US Open.
Williams played well, moved well, served well. But she played doubles only, not singles.
"It felt great," she said. "It felt great to win the first service game. It felt great to come back from those love-40 games, down 2-love.
"It felt good to be able to move the ball. It felt good when Liezel helped me out. It was everything I expected."
Williams still can play at a top level. The question is whether she can do it several days in a row, especially when she doesn't know from one day to the next what her energy level will be. She has described it as feeling as if she has a bad cold all the time.
Reaching the Olympics, then, will be tricky. Her world ranking has fallen to 133rd, and she'll need to get into the top 56 by June to get an automatic bid to the Olympics.
That means she won't play her best event, Wimbledon, before the US team is finalized. There are other ways into the Games, including possibly just as a doubles player. The International Tennis Federation has six wild-card entries to give, basically, to anyone it chooses.
But time is short now, and Williams is going to have to play singles tournaments to get her ranking up. She is scheduled to play in the Family Circle Cup, starting March 31 in Charleston, S.C.
"I'm not sure what my plans are," she said. "Honestly, I'm going to play next week in terms of going home and start training, really try to hone in on my singles games, see how I'm covering the court, that kind of thing. For me, it's kind of week by week, just see what happens."
Williams is optimistic, despite not knowing what normal she'll get back to. She says she has heard from so many people with the same disease, people with much more severe symptoms.
They are all cheering for her now, with so many others, to get the right end to her story.