US Soccer wants women's national teamers at home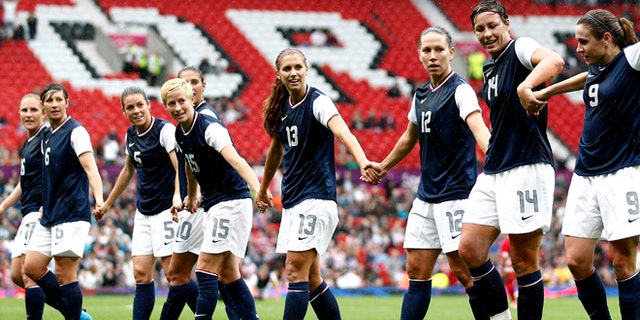 U.S. Soccer would prefer to have Hope Solo, Alex Morgan and the rest of the players on the women's national team playing at home rather than abroad. The hard part is figuring out the best way to make that happen.
U.S. Soccer Federation President Sunil Gulati said Wednesday that the failures of the WUSA and the WPS over the last decade shows that a women's league of full-time professionals isn't yet sustainable.
"Look, it's pretty simple," Gulati said. "An economic model of the sort we've had the last two rounds hasn't worked."
Among the alternatives being discussed: enhancing one or more of the various semipro leagues in the U.S., or having an extended residency program for the U.S. national team players with a schedule of 25-30 games per year. Both have their pros and cons, related to development of talent both short-term and long-term.
The Americans play Japan for the Olympic gold medal Thursday and will have a celebration tour back home afterward -- around 10 games if they win gold, maybe three or four if it's silver -- but afterward the women's soccer calendar hits a major void. It's three years until the next World Cup, and the folding of the WPS earlier this year has prompted several players to talk openly about joining leagues in Europe or Japan.
Gulati countered that "across the world, there is no situation where you've got a fully functioning league where the players are making a living across the board." His said his talks with the players' representatives indicates that they, too, would prefer to remain Stateside, where they are more marketable.
"There aren't many leagues around the world that are paying a lot of money, and especially in a situation like this, where this tournament has gone well and the players are in the limelight, their opportunities off the field are much greater in the United States than they are anywhere else in the world," Gulati said. "If we can make it sensible soccer-wise, and have a league that plays at a high enough level, it's in their interest, it's in our interest in terms of developing the game. So in an ideal world, we want them in the U.S."
Gulati pointed out that the U.S. hasn't had a topflight league for 15 of the last 21 years, and the national team has done just fine, winning three Olympic gold medals and two World Cups. The challenge has been to convert those feel-good successes into a desire to follow a domestic league week-in, week-out. Gulati said great moments -- such as Monday's extra-time win over Canada in the semifinals -- are just part of the puzzle.
"There are lot of things that generate emotion that you can't commercialize and make financially successful," he said. "It's hard to build a business around being a rock star -- unless you can sing really well and lots of people want to listen to you."
Gulati said he's proud that the U.S. team has continued to set the standard for the rest of the world, even as other countries have worked to close the gap. While he said it's impossible to "maintain dominance forever," he noted that the American women have finished in the top three of every world championship event ever played.
"If we've run the first 4-minute mile, everyone else is at 6," he said. "We're running at 3:50, but everyone now is at 4:10 or 4:05, and some days they run in 3:45.
"I am happy if we run 3:50, and everyone else runs 3:51."
Because he didn't want to distract from preparations for the Olympics, Gulati said he has had no talks with coach Pia Sundhage about remaining with the team after the four-year cycle that ends with the Summer Games. Later this year he'll talk to Sundhage to see if she wants to stay, and also determine whether it's time for the team to have a new leadership voice.
Sundhage has been the coach since November 2007, taking over when Greg Ryan was ousted after a third-place finish at the World Cup that included his infamous decision to bench goalkeeper Solo for the semifinals. Sundhage led to the U.S. to the gold medal at the Beijing Games in 2008 and a second-place finish at the World Cup last year.
"What we do on Friday and beyond, so to speak, doesn't depend only on what happens tomorrow," Gulati said. "Pia's had a great run with the team."