US Open: Dominican Tennis Player To Make History At Grand Slam Tournament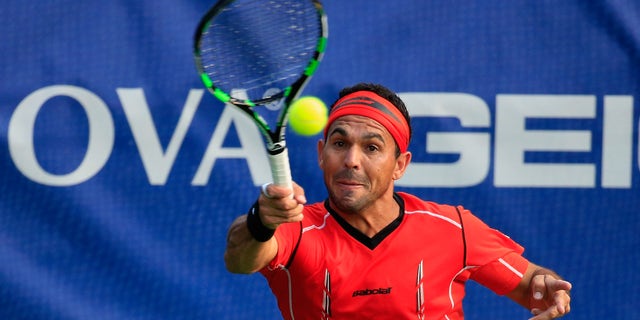 NEWYou can now listen to Fox News articles!
NEW YORK – When Victor Estrella Burgos steps onto the court at this year's U.S. Open tournament in Flushing Meadows, New York, he will make history – twice.
At 34, Estrella Burgos will be the oldest person to make his debut at the highly coveted Grand Slam tournament. He will also be the first Dominican to play in the match.
"For me it's something very special," he told Fox News Latino in Spanish after his first practice in Queens last week. "I have been coming here for many years, but falling short in qualifiers. It will be equally special to play in New York because there are a lot of Dominicans here that will be watching me."
Estrella Burgos will play Dutch player Igor Sijsling in the first round. He is expected to make his debut as early as Tuesday.
There are a few Latino tennis players who have made it to the top 100 – an elite crop of the world's best players – but Estrella Burgos is first from the Dominican Republic, a Caribbean country more known for producing some of the world's best baseball players.
The Dominican tennis star was first introduced to the game when he was around 8 years old. He began as a ball boy at a country club in his hometown of Santiago, in the northern section of the Dominican Republic. While there, he had the opportunity to start taking lessons and, once he got a racket in his hands, he never looked back.
Estrella Burgos' career, though, seemed to go in reverse – it was when he became a coach that he found his stride as a player.
After going pro 12 years ago, he took a break from tennis and turned to coaching. He returned to tournament play in 2006, winning 18 titles on the Futures circuit before moving to the Challenger level. An injury to his right elbow made him consider retirement in 2012, but he didn't let the setback stop him.
In March, he broke the top 100 after winning the ATP Challenger Tour title in Salinas, Ecuador – becoming the first Dominican to do so.
"I will always remember that night," Estrella Burgos said. "It was a very special night."
Since then, he has played in Roland Garros (French Open) and Wimbledon. He enters the U.S. Open ranked 81st in the ATP rankings.
A player peaking in his 30s is a rarity – and he attributes it to his lengthy experience both as a player and coach. He said every day he feels more confident to play the best players in the world.
"It's been a tough road, but I have worked hard – breaking down barriers and opening doors for Dominicans playing tennis," said Estrella Burgos, who hopes his success in the tournament will motivate more people in his home country to play. "I have gotten a lot letters from fans back home, but it is still a complicated subject because we are a country that follows baseball more."
As he looks into this week, Estrella Burgos said he is feeling confident about his level of play and is excited to get back on the court – especially since it will feel like a home crowd to him.
"New York will be a very special tournament for me," he said. "There will be more Dominicans in the stands than there were in Roland Garros or Wimbledon. And I have those two Grand Slams under my belt."
He said this time, he's coming in at another level.
"I am going to play," he said, "with less pressure (this time around)."
Follow us on twitter.com/foxnewslatino
Like us at facebook.com/foxnewslatino