Uruguay's Luis Suárez's World Cup Biting Incident Is Latest In String Of Offensive Behavior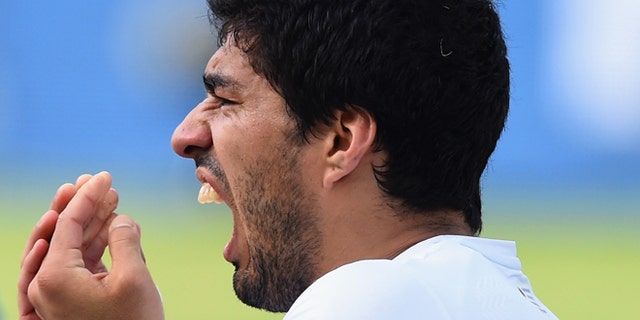 NEWYou can now listen to Fox News articles!
If you were watching Tuesday's World Cup match and happened to catch the moment when Uruguay's Luis Suárez ducked his head and, maybe, clamped his teeth down on Italian defender Giorgio Chiellini's shoulder, you might reasonably have been surprised or even shocked at the strange spectacle.
But you probably shouldn't have been.
After the game, Suárez told reporters, "These situations happen on the field. I had contact with his shoulder, nothing more, things like that happen all the time."
Sure they do. To Suárez.
In Nov. 2010, Suárez was the star striker and captain of Ajax in the Eridvisie in the Netherlands. In a league match against PSV Eindhoven, during a break in play in which a number of players were pleading to the referee, Eindhoven midfielder Otman Bakkal was passing in front of Suárez, saying something.
Suárez leaned in quickly and bit him in the lower neck, upper shoulder. Bakkal immediately pulled his collar down, much as Chiellini did on Tuesday, to show the ref.
The Uruguayan received a 7-game suspension and a catchy nickname from a German newspaper: The Cannibal of Ajax.
While serving the suspension, Suárez was sent to Liverpool, but Ajax won the Eredvisie championship that year, and the Uruguayan left on good terms with the club, having scored 111 goals in 159 matches.
Three years later, on April 21, 2013, in a Premier League match between his Liverpool and Chelsea, Suárez lost control of the ball thanks to defender Branislav Ivanovic.
With both his hands on the Serb's right arm, Suárez took the opportunity to sink his teeth into Ivanovic's forearm.
For that, the English F.A. gave him a 10-game suspension, but it took less than a year for Suárez to ingratiate himself with seemingly all of England again, winning the Premier League player of the year for the season concluded in May.
And biting isn't the only tricky trick Suárez knows.
At the 2010 World Cup, during overtime of a quarterfinal match, Suárez prevented Ghana from scoring the winning goal with an intentional hand-ball. The move—dubbed "The Hand of the Devil," after Diego Maradona's 1986 "Hand of God" goal—earned him a red card and allowed Uruguay to win the game in a penalty kick shootout.
During an October 2011 game, Suárez got into a heated exchange with Manchester United's Patrice Evra, during which he was determined to have taunted Evra with racial epithets.
Suárez also pinched him on the left forearm.
After a seven-day hearing, the F.A. handed down an eight-game ban and fined Suárez nearly $70,000.
The following February, when Liverpool next played Man U after Suárez had served his suspension, the Uruguayan refused to shake Evra's hand during the traditional lineup greeting between teams before the game.
But if you want to discover the first instance of Suárez's bad behavior, you have to enter the land of myth, and Uruguay.
There is an oft-reported incident from the time when Suárez was a gangly teen, about him losing his temper at a youth game and head-butting the referee. Leaving him, as the press accounts would have it, bleeding "like a cow."
Trouble is, few details of the event survive.
ESPN's Wright Thompson undertook a search for that youth league referee that he recounts in a recent article. While he never finds him, he does speak (through an intermediary) to Suárez's youth team coach.
"It was not a headbutt," Thompson was told. It was bad luck. As Suárez protested a call, he fell accidentally and his head hit the referee's face.
Something like how his mouth fell suddenly into Giorgio Chiellini's shoulder.
See?
Suárez isn't a biter, he's just cursed with bad luck.