Urijah Faber laughs at Dominick Cruz and T.J. Dillashaw's new bromance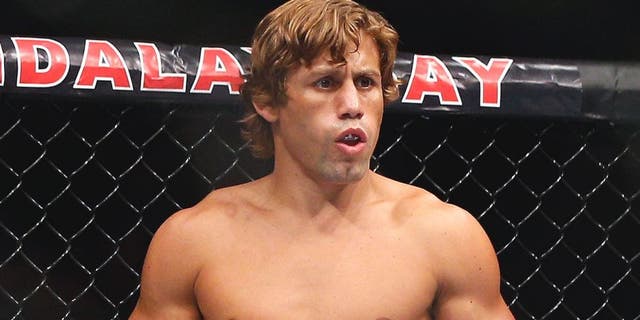 Urijah Faber has no problem speaking his mind about Dominick Cruz or T.J. Dillashaw, but somehow his recent comments have the former rivals teaming up against him in the media.
It all started during the early promotion for UFC 199 when Faber made reference to both Cruz and Dillashaw undergoing body transformations after the United States Anti-Doping Agency began ramping up drug testing in the sport.
In the fallout from that original statement, Faber has taken heat from both Dillashaw and Cruz in several interviews.
In fact, Cruz has defended Dillashaw, and Dillashaw has done the same for Cruz. And it all makes Faber laugh out loud at how much harmony he's caused between two former opponents just by making an offhanded comment about each of them.
"[Cruz is] all hurt about that. It's freaking awesome," Faber told FOX Sports on Wednesday. "You know what's funny? I never said anything about steroids or anything like that. I said this guy's coming in looking skinny-fat with love handles and floppy boobs and he's all pissed off about that.
"I said T.J. looks like a pre-teen and they've taken that and become best friends and it's brought them closer. It's pretty freaking funny the way they're reacting to that."
Dillashaw reacted to Faber's comments on "UFC Tonight" and "FOX Sports Live" on Wednesday night, saying his former mentor was "crossing the line".
Meanwhile, Cruz has stated that Faber pulled a "scumbag move" by going after Dillashaw with his comments about his alleged body transformation.
A few months ago, Cruz and Dillashaw were at each other's throats leading into their title fight in January. Now, Faber can't help but be amused by the way they seem to be taking up each other's causes.
Dominick's defending T.J. They're in this club together. I'm so happy that my pointing out the back fat and how skinny T.J. looks has brought them into a great friendship. We'll see how that pans out. -- Urijah Faber
Faber says he really doesn't pay much attention to what Cruz or Dillashaw have to say about him -- he's too busy to search the internet to find out comments that any opponent, past or present, have to say about him.
Occasionally, Faber finds out what other people are saying about him, like in a recent preview show being filmed ahead of UFC 199. But none of it really bothers him.
"They showed me the 'Countdown' show and they showed me what Cruz was saying. He was saying, 'I can't believe Urijah would be such a dirt ball that he would insinuate something about T.J., who was his boy.' I'm like, bro, don't try to figure out my life," Faber said. "Just do your thing, you look like a skinny little twerp now and let's fight. That's it."
Faber said he doesn't back down from his previous statements. He also promises that he'll be in peak physical condition when he steps into the Octagon on June 4 to battle for the bantamweight title.
"The truth is those guys' bodies are deteriorating, my body's getting [expletive] better and I'm older," Faber said.
It sounds like this battle pitting Faber against Cruz and Dillashaw isn't going to slow down any time soon.