Urijah Faber documents shoving match with Conor McGregor on 'The Ultimate Fighter'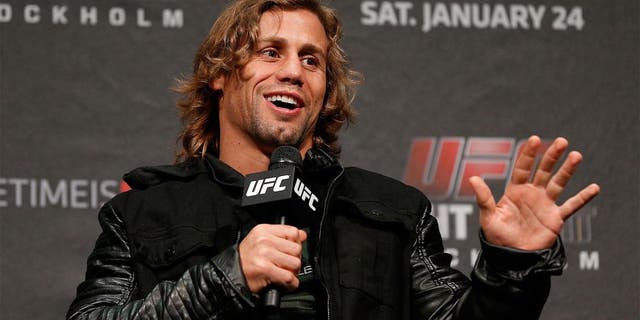 NEWYou can now listen to Fox News articles!
Urijah Faber will coach against Conor McGregor on the upcoming season of "The Ultimate Fighter" but the former WEC featherweight champion isn't giving up hope on fighting him one day, especially after a couple altercations between the two fighters got physical.
The first incident happened just before McGregor's fight with Chad Mendes at UFC 189 when Faber was in the backstage area using the bathroom and had a run in with the outspoken Irishman.
The two fighters passed each other as one exited and the other entered and before long they were engaged in a grappling match in the middle of a hallway at the MGM Grand Garden Arena.
"He said like 'what's up little man' and patted me on the head and I felt his ribs, which he felt emaciated and horrible and I was asking if he was going to be able to survive. I think it was kind of playful at first but then it escalated," Faber told FOX Sports while filming at "The Ultimate Fighter" gym in Las Vegas.
Considering Faber and McGregor were matched up just days later as the new coaches for the reality show, there was some speculation that the backstage incident was staged just for the sake of creating a rivalry where one didn't really exist.
Faber shoots down that theory, however, and says the run in with McGregor was absolutely real although he's still not sure how the two of them ended up in a grappling match just before the UFC 189 weigh-ins.
"It wasn't a huge altercation but it was real 100-percent," Faber said.
For further proof of the disdain shared between the two fighters, Faber says the same thing nearly happened again during the first couple of days of filming on "The Ultimate Fighter" this season.
The two coaches stayed in Las Vegas after UFC 189 ended as filming for the show began and the first episode was barely beginning before Faber and McGregor had to be separated from nearly coming to blows again.
"It actually happened yesterday, too. We were giving each other crap a little bit, start testing the waters, and next thing you know we're in a full pushing match," Faber revealed.
As of now, McGregor's next fight is against Jose Aldo at UFC 194 in Las Vegas on Dec. 12 while Faber is still waiting to find out on an opponent as he hopes to return before the end of 2015 as well.
Faber isn't letting go of the possibility of one day getting to punch McGregor in the face, especially after spending six weeks with him while filming this latest season of "The Ultimate Fighter".
"I feel like it's a fight that could definitely happen in the future," Faber said.
The new season debuts on Wednesday night, Sept. 9 on FOX Sports 1.