Upon further review: Wisconsin vs. Illinois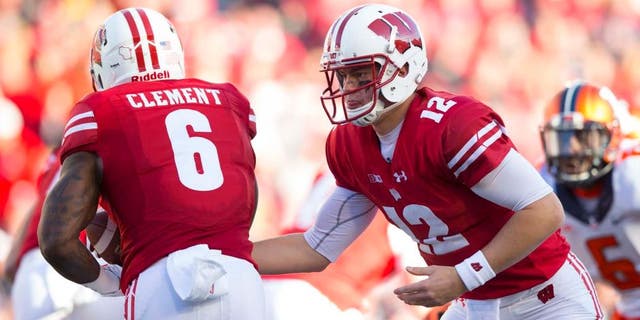 Wisconsin and Illinois entered their game headed in opposite directions.
The game itself would bear that out as well.
The Badgers controlled play throughout, rushing for a season-high 363 yards, holding the Illini to just 200 yards and intercepting four passes.
Even that doesn't perfectly sum up the game, which Wisconsin won in a laugher 48-3. So read on.
A recap of Saturday's game:
CLASS LESSONS
-- Wisconsin always wants to establish the run, but against Illinois really made it a priority, running on each of its first five plays. Overall, the Badgers rushed 64 times in the game and threw only 14 passes. Corey Clement had 25 carries for 123 yards, Dare Ogunbowale ran for 103 yards with only seven carries and Bradrick Shaw had 19 rushes for 80 yards. The Badgers finished the game by running on 29 of their final 30 plays, including an 11-play, 70-yard touchdown drive which was all runs. UW ran for 5.7 yards per carry (5.9 if you take away two Alex Hornirbook runs).
-- The Badgers had a lot of success running up the middle, often on draws (or delayed draws) or a fake jet sweep and going with the inside handoff. The biggest was by Dare Ogunbowale, who ripped off his 48-yard run -- a career long.
-- Wisconsin was only credited with two quarterback hurries, but should have had more. In the first quarter, Vince Biegel pressured Jeff George Jr. into an incompletion while T.J. Watt caused George to hurry his throw high with Leo Musso picking it off. In the third quarter, it was Watt again who pressured George, who then threw over the middle where linebacker Ryan Connelly came up with the interception.
-- Down 14-0 and already in chip shot field-goal range, Illinois decided to run the ball and kick a field goal. This is what losing teams do.
-- Some great play designs and execution by Wisconsin resulted in a number of easy touchdowns. Clement ran in untouched on one. On another, Houston faked a handoff to the left, fooling the entire defense as Kyle Penniston went to the right side and was as wide open as one could be in hauling in a 7-yard TD pass. In the fourth quarter, UW blockers parted Illinois defenders to allow Clement to reach the end zone.
-- Hornibrook didn't need to do much and completed 7 of 12 passes for 85 yards with a touchdown. But he's still a work in progress. With Wisconsin in field-goal range, on a third-down play Hornibrook scrambled and then threw one up for grabs in the end zone (not to mention he was over the line of scrimmage when passing). UW was fortunate the pass fell incomplete and didn't lose any points. Well, technically speaking as this game would still be a blowout, but Hornibrook needs to make better decisions.
-- Both teams used two quarterbacks. Of course, Wisconsin's was more by choice as Houston got in a couple of series, but only threw the one pass. Illinois saw George complete five passes in the first half and throw four interceptions, so the Illini went with Wes Lunt in the second half. He was just 2 for 8 for 22 yards in the second half.
-- The Badgers called timeouts both in the first quarter and third quarter. In a game like this it didn't make much of a difference but in a close game it could become an issue. I've said it before, but timeouts are gold. A 5-yard penalty isn't necessarily a big deal.
-- For some reason, Wisconsin had many starting players on the field late in the game, including three-fifths of the starting offensive line (most notably Ryan Ramczyk), tight end Troy Fumagalli and linebackers T.J. Watt and Vince Biegel. The latter, responding to one of my tweets questioning why he was in, said he was playing because he wanted to be in the game. He later explained in a postgame interview that he and Watt want to set the tone for the younger players. That's all well and good. But in a 48-3 game there's no way significant players should be on the field. All it takes is one hard hit, a knee planting in the turf, etc. -- i.e. an injury -- to have large consequences for the rest of the season. Did it happen against Illinois? No. But that doesn't mean it was the right decision. Look, players are going to want to play. They are competitors. But that's when a coach needs to step in and do what is best for the team. Wisconsin coaches failed in this regard Saturday.
DULY NOTED
-- Wisconsin scored more than 23 points in a game for just the third time this season. The Badgers had 31 points at the half, which was the second-most points UW had in a game this season.
-- Natrell Jamerson was back in the lineup as the kick returner and nickel back. He finished with two tackles -- one as a gunner on punt return when he flattened the returner as soon as the ball was caught -- and a pass broken up.
-- Running back Taiwan Deal had his first carry since the Georgia State game on Sept. 17.
-- Garret Dooley pulled off a fake punt for a first down. He and Joe Schobert are the only Wisconsin linebackers with a run since 2008.
-- On the first of Jeff George Jr.'s four interceptions he faked a handoff to the wrong side. George faked left but the running back was to his right. Then he threw a high liner right to D'Cota Dixon, who now leads UW with four interceptions.
-- Wisconsin attempted to have Corey Clement throw a pass back to the quarterback, it was incomplete as Bart Houston slipped. This was the first pass attempt by a Badgers running back since James White in 2012. Since then, linebacker Chris Borland and punter Drew Meyer were non-QBs to attempt a pass.
-- Illinois ran just 16 plays in the second half. Wisconsin had three drives of 11-plus plays in the final two quarters.
WHAT IT MEANT
Wisconsin showed it can get its offense going and blow out a team that quite frankly it should have beaten soundly. Also, the Badgers didn't show any letdown coming off its tough schedule. And, of course, UW maintained its course to win the Big Ten West.
PLAYER OF THE GAME
Corey Clement hasn't had the season he's wanted -- blame it on the offensive line, Clement not being the Clement we've seen, tough defenses, whatever -- but he was on his game Saturday. There was little doubt the Badgers could run on Illinois and Clement's play was a big reason we knew that early. He finished with 123 yards, his third-highest rushing total of the season, with three touchdowns, tying his career high, which he also did against Rutgers on Oct. 31, 2015.
DON'T FORGET ABOUT ME
You could choose a number of defensive players, but I'm going to go with T.J. Edwards, who seems like the forgotten man on this year's team. Edwards had five tackles, including two for a loss, and now quietly leads the Badgers in tackles on the season. One of his better plays was when he sniffed out a zone read out of the wildcat, but Edwards is just a solid, solid player who goes unnoticed. He deserves some kudos.
THAT MOMENT
It's hard to say there was a key play in a 48-3 blowout, but back in the first quarter with Wisconsin ahead 7-0, Illinois struck for a big 39-yard reception from Jeff George Jr. to Desmond Cain. However, a chop block penalty erased the play, which would have put Illinois at the Wisconsin 37-yard line. Instead, the Illini were moved back to their own 12 and two plays later George was intercepted by D'Cota Dixon, who returned it to 8. The Badgers scored two plays later and this game was never close again.
THIS NUMBER
0 -- third-down conversions for Illinois in nine attempts. Wisconsin hadn't hung a goose egg on opponent third-down conversions since 1998.
THEY SAID IT
"It's very frustrating when you have to win games by seven or 14, and it kind of gets old. I would like to get back to this style of football to where we can close out the game." -- running back Corey Clement
"When we play Illinois, this is the expectation we have. That's no disrespect to them. That's just the expectation we have." -- linebacker Vince Biegel
"They dominated us in all of the categories that decides who wins the football game." -- Illinois head coach Lovie Smith
"I love Dare. And he means a ton to this team and certainly on the field, but off the field it's a guy that everyone knows in the locker room they can go to, that Dare has their back. . . . And I thought that he ran with a real purpose today. But the number of things that he does that aren't on a stat sheet and what he brings to this team, it's huge." -- head coach Paul Chryst
"I just went in and tried to knock the ball down. I've watched a lot of Ronaldo highlights playing FIFA. Just kicked it to my homie. I'm happy for him." -- cornerback Sojourn Shelton on Leo Musso intercepting a pass which Shelton kicked to him
WHAT'S NEXT
Wisconsin plays its final road game of the season, traveling to 3-7 Purdue. The Boilermakers have lost five straight games, allowing 40-plus points in four of those.
Dave Heller is the author of the upcoming book Ken Williams: A Slugger in Ruth's Shadow as well as Facing Ted Williams Players from the Golden Age of Baseball Recall the Greatest Hitter Who Ever Lived and As Good As It Got: The 1944 St. Louis Browns