Upon further review: Badgers vs. Alabama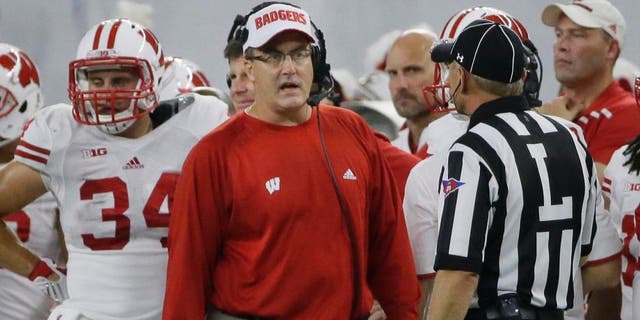 Paul Chryst's first game as Wisconsin head coach was far from a gimme. Certainly no one thought the Badgers would have an easy time against Alabama and a lot had to go right for UW. As it turned out, however, a lot went wrong as UW fell to the third-ranked Crimson Tide 35-17.
It actually all started before the game even started, well before. Corey Clement apparently hurt his groin during practice week and wasn't in full health against Alabama. Wide receiver Tanner McEvoy also was limited and during the game itself linebacker Leon Jacobs got banged up and, worse yet, defensive team leader safety Michael Caputo left with a head injury after three plays and never returned.
Alabama used a strong running game, efficient passing attack and aggressive defense (especially when they got a good lead) to dash any of Wisconsin's dreams of victory. The Badgers were clearly overmatched in this one.
The good news for the Badgers is that the schedule is all downhill from here.
Here's the breakdown from Saturday's season opener:
CLASS LESSONS
-- There has been concern about Wisconsin's offensive line, with its three new starters, various injuries and lack of depth. Turns out, these were not unfounded. Badgers running backs had few holes to run through while quarterback Joel Stave was often under pressure (and was sacked three times).
-- Speaking of Stave, even playing against a tough Alabama defense he looked like a more confident quarterback compared to last year. Yes, he missed a couple of throws but overall was accurate and had good zip on the ball.
-- We knew Caputo was one of Wisconsin's most indispensable players and when he went out with his injury, suddenly the middle of the field opened up for Alabama. D'Cota Dixon (eight tackles) filled in admirably but the Badgers missed Caputo's leadership and know-how on the field.
-- Sojourn Shelton had a rough 2014 but made a couple of nice plays on deep passes. Alabama's biggest gains came on short passes with a lot of yards after catch.
DULY NOTED
-- While the running game went nowhere -- RBs had 17 carries for 49 yards -- the backs were heavily involved in the passing game, totaling 14 receptions. Dare Ogunbowale led the way with six catches, the most by a Wisconsin running back since James White had six on Nov. 9, 2013 vs. BYU.
-- Stave's passer rating was 127.57. He had five better game ratings in 2014.
-- Wisconsin's defense has now allowed 400-plus yards in four of its last five games after allowing none in the previous 10.
-- Conor Sheehy had a tough first game as starting nose tackle. He had a missed tackle on Derrick Henry's first touchdown, a 37-yard run, then had a bad 15-yard penalty after a sack when he dove in late on Alabama QB Jake Coker. He barely touched the quarterback and perhaps a flag shouldn't have been thrown, but when a QB is down just stay away.
-- On Robert Foster's 17-yard touchdown reception in the second quarter, he ran a crossing route right past two Wisconsin linebackers. Leon Jacobs let Foster go by perhaps assuming a defensive back was behind him, but two DBs chased the same wide receiver and Foster was wide open and had a clean path to the end zone.
-- Wisconsin fans have been waiting for Rob Wheelwright to break out for two years. He had the Badgers' first reception by a wide receiver and finished with two catches, which tied his career high -- for a season.
WHAT IT MEANT
A win certainly would have been better, of course, but a loss really doesn't affect Wisconsin from a long-term point of view. This defeat has nothing to do with getting to the Big Ten championship game, and if you still have dreams of college football playoff spot, keep in mind Ohio State lost an early game last year, too. On a team level, Stave assuaged fears but depth concerns at safety, inside linebacker, running back and offensive line might remain for a while, especially if some injuries don't clear up.
PLAYER OF THE GAME
After giving up 35 points it might seem a bit strange to put a defensive player here, but Joe Schobert helped keep Wisconsin in the game early and played a solid four quarters. He finished with a game-high 13 tackles (seven in the second half) along with four tackles for loss and two sacks.
DON'T FORGET ABOUT ME
Joel Stave is under a microscope for his play and is oft-criticized. But against Alabama, with a leaky, inexperienced offensive line, he played well, completing 26 of 39 passes for 228 yards with two touchdowns and an interception, which came at the end of the game with things already out of hand. Inside linebacker T.J. Edwards shouldn't go unnoticed, either. While the redshirt freshman had a few miscues, he had 12 tackles, one tackle for loss and a pass breakup.
THAT MOMENT
Wisconsin was down 14-7 when Derrick Henry burst through the line nearly untouched -- safety Leo Musso dove at him but really had no chance -- en route to a 56-yard touchdown. With the way Alabama's defense was playing, a two-touchdown lead seemed more than safe and even if the Crimson Tide didn't score again that TD would have been enough.
THIS NUMBER
25. This represents not only the number of yards for Wisconsin's leading rusher -- Alex Erickson, who did it one carry -- but also the Badgers' longest play by, of course, Erickson. Alabama had three touchdowns that went longer.
THEY SAID IT
"Certainly (we) gave up too many big plays and offensively just never got the rhythm, struggled running the football. And I thought there was some good things, but never got into a rhythm." -- Wisconsin head coach Paul Chryst
"I was hoping that the pain would subside during the game. I really couldn't push it . . . I had to be smart." -- Wisconsin running back Corey Clement
"Toughest game I've ever played." -- Wisconsin safety D'Cota DIxon
WHAT'S NEXT
Wisconsin comes home to Camp Randall to face Miami (Ohio), which won just two games last season and beat FCS Presbyterian in its opener, 26-7.