UFC Fight Night Phoenix: Rodriguez vs Penn (Live updates)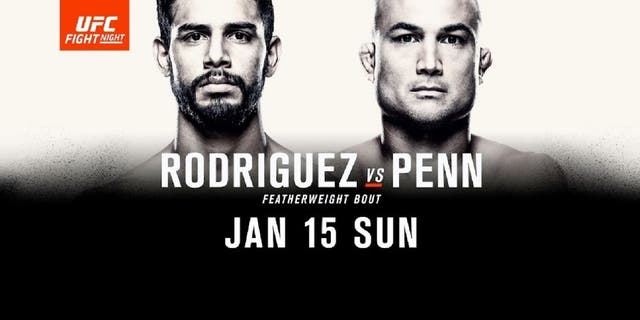 NEWYou can now listen to Fox News articles!
We will live update as the fights take place. The most current results will be at the top of the page.
UFC FIGHT PASS PRELIMS (ONLINE ONLY)
Jocelyn Jones-Lybarger vs Nina Ansaroff (Strawweight bout)
Jocelyn Jones-Lybarger starts the bout off fast and forward moving while Nina Ansaroff is about patience and picking her spots. After a few exchanges, Ansaroff lands a coupe of strong leg kicks and gets Jones-Lybarger to the dround. As the round ends, Ansaroff lands a few big punches to the head of Jones-Lybarger.
At the start of Round two, Jones-Lybarger lands two big strikes but Ansaroff counters with another sweeping low leg kick and is able to get Jones-Lybarger on the ground again early. Jones-Lybarger looks like she's in trouble but is able to roll to her side to avoid the choke. After two more attempts at a choke by Ansaroff and two more escapes by Jones-Lybarger, the round ends on the mat again.
Jones-Lybarger is instantly in trouble again as she attacks and drops again. Ansaroff takes control and finally gets the submission victory.
WINNER: Nina Ansaroff, Round 2, Submission via Rear Naked Choke
Walt Harris vs Chase Sherman (Heavyweight bout)
Two very quick moving heavyweights. Walt Harris comes in strong with a few body hits which instantly turn red. Chase Sherman tries a few head kicks but Harris blocks each time. Harris lands three giant punches which gets the crowd into it. Aggressiveness leads to a a few good hits from Sherman landing, but also opens him up to bigger counterstrikes from Harris - eventually causing Sherman to bleed.
Big exchanges from both guys throughout the entire round. It's a back and forth of huge hits from both fighters. It ends with Sherman dropping after a left hook, clench, right knee, right hook, and left hook from Harris.
WINNER: Walt Harris, 2nd round, KO
Bohan Mihajlovic vs Joachim Christensen (Light Heavyweight bout)
Joachim Christensen patiently on the attack. Bojan Mihajlovic keeps moving in and lands a big right hand but Christensen comes in quick and lands his own right which drops Mihajlovic. Christensen takes control but can't get fully mounted. After almost two minutes of no progress, the referee steps and and stands both fighters back up. Mihajlovic goes in fists blazing and gets caught by a huge uppercut and another big right hook by Christensen as the round ends.
For taking as many big hits as Mihajlovic did in the first round, he still seems pretty steady. After a few minimal exchanges from the two men, Christensen kicks Mihajlovic squarely in the groin and causes and stoppage. Short spurts of punches from both guys, but nothing substantial as the round ends.
Third round starts with both fighters calling for applause and claps from the crowd. Christensen pushes Mihajlovic to a corner of the octagon and Mihajolovic pushes him away and catches Christensen with a big knee. Christensen comes back and off another advance catches Mihajlovic with a right hook to the chin, causing Mihajlovic to go to sleep on his feet.
WINNER: Joachim Christensen, 3rd Round, TKO Stoppage
Dmitrii Smoliakov vs Cyril Asker (Heavyweight bout)
Dmitrii Smoliakov with an early barrage of body punches, but catches Cyril Asker in the eye and causes a stoppage. Right off the restart, Asker goes right into Smoliakov with body nches and scores a take down. After a few quick hits from the bottom from Smoliakov, Asker takes full control on top and continues to attack with punches and elbows to Smoliakov to foce the TKO stoppage.
WINNER: Cyril Asker, 1st Round, TKO Stoppage