UFC Embedded: Holly Holm puts her fist in Ronda Rousey's face at the weigh-ins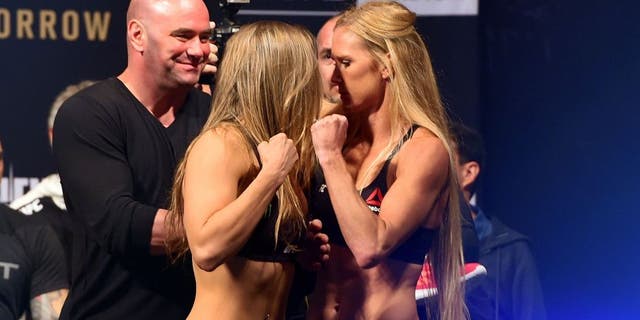 From media day to the UFC 193 weigh-ins, Ronda Rousey and Holly Holm went from respected competitors to fierce rivals as the two bantamweights got nose-to-nose before UFC president Dana White intervened.
In the latest episode of UFC Embedded, cameras go behind the scenes for ultimate media day where Rousey and Holm were very respectful towards each other even during the customary face off for photos.
Things turned volatile, however, just 24-hour later when Rousey came off the scale after weighing in at 134-pounds as she got nose to nose with Holm on the stage.
As Rousey put her first up, Holm put hers over top of the champion's arm as the two fighters nearly got into a scuffle.
Rousey began shouting and pointing at Holm who stood her ground just a few feet away while never breaking her stoic stare with the champion.
Rousey and Holm face off in the UFC 193 main event on Saturday night from Melbourne, Australia's Etihad Stadium with more than 70,000 fans expected in attendance.