UFC champ Ronda Rousey in new Carl's Jr. commercial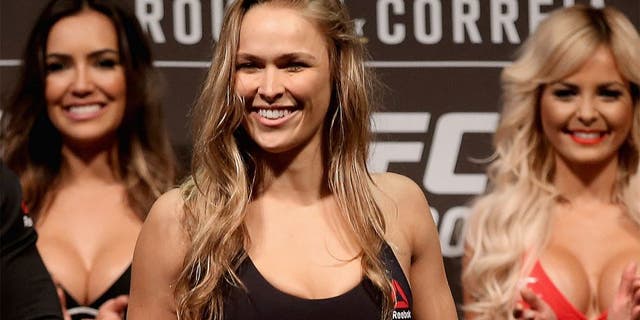 Carl's Jr. is known for its commercials with various comely models eating hamburgers with more sloppy enthusiasm than high school freshmen experimenting with French kissing. Their latest commercial features a much different type of pretty model, acting much differently from the typical, dare we say, "DNB."
UFC champion Ronda Rousey is the latest Carl's Jr. spokeswoman, and though she appears in a new commercial (above) eating a sandwich, it looks as though she actually enjoys chomping away on it because of its taste, as opposed to being strangely sexually attracted to it. Also, the commercial shows Ronda working out, which is good because it reminds kids that they'd better exercise plenty to burn off calories from those delicious, delicious biscuits or jalapeno poppers from Carl's Jr. or they'll never actually look like Ronda Rousey.
All in all, this ain't a bad commercial, as far as these things go. And we're happy that "Rowdy" has another sponsorship to hopefully move her higher up on the Forbes' highest-paid athletes list, next year.
After watching Ronda eat breakfast, feel free to check out one of her favorite ways to burn calories - armbarring fools, below: