UCLA primed as College Football Playoff dark horse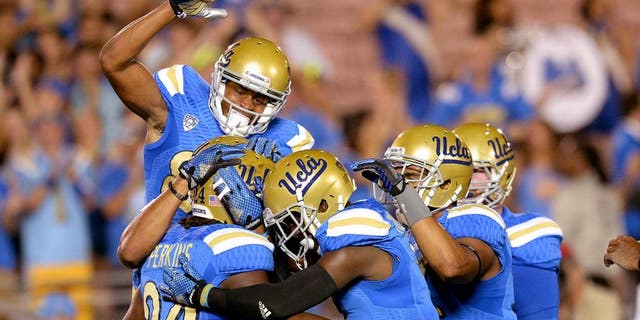 Remember all the hype UCLA was getting last season when national pundits predicted the Bruins as one of four teams to make the inaugural College Football Playoff?
All that hype seemed to do more harm than good as UCLA played inconsistently from week to week. The Bruins got off to a 3-0 start, but by then nobody was convinced UCLA was going to be a force with which to be reckoned. Sure, the Bruins finally showed their prowess in a demolishing of Arizona State on the road, but with home losses to Utah and Oregon nobody was sure which Bruins team would show up moving forward.
UCLA has gone on record to say the hype might have gotten to them. The Bruins reeled off five straight victories before a devastating loss at home to Stanford for a shot at an appearance in the Pac-12 championship game. Bruins fans won't make 2014 that much of an issue, considering they did beat USC for a third straight season and finished the 2014 campaign with a dominating win over Kansas State at the Alamo Bowl. The victory was a sign of things to come.
If UCLA can solve its quarterback issue then there's a solid chance the Bruins can make another run this year. But unlike last season, not everybody is talking about the Bruins running the table. Still, their potential has not gone unnoticed.
During a segment on SportsCenter, ESPN college football reporter Travis Haney was one of three panelists asked who they they thought would be a dark horse team in the College Football Playoff.
"There' always going to be some sort of surprise," Haney started off. "TCU and Baylor were good examples that narrowly missed it.
"I'm going to say UCLA. Post-hype, last year UCLA was hyped as maybe that team. A lot of attention [is] at USC this year. A lot of expectation there. UCLA just kind of flying under the radar, Diddy not withstanding this offseason. I think they're positioned pretty well in that division as difficult as it is."
To be fair, the other two panelists chose Oklahoma and Stanford, respectively.
Nevertheless, UCLA is getting some attention, albeit much less than last year. And that can be a good thing for the Bruins.
Managing expectations is a lesson learned.
(h/t ESPN)
Photo Credit: Jayne Kamin-Oncea, USA TODAY Sports