Two straight flying bats narrowly miss clobbering Javier Baez in on-deck circle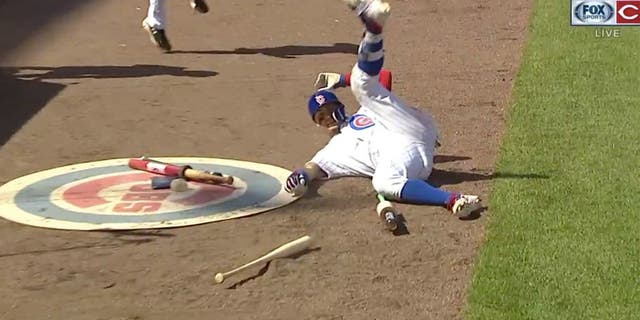 The Cubs haven't exactly found their expected stride yet after last season's historic World Series win,standing at 21-19 and third place in the NL Central.To their list of struggles, we cannow add flying bat attacks of their star second baseman.
Javier Baez was just minding his own business in the on-deck circle in the seventh inning of Chicago's win Thursday over the Reds when batter, teammate and former friend-who-wouldn't-hurt-a-fly Addison Russell lost the grip on his bat on consecutive pitches, sending Baez scrambling for cover. You can see that in the video above.
The second of the two sent Baez theatrically hurtling to the ground. It's a good thing Russell's aim was off.
Baez famous for his repeated defensive brilliance had a better moment earlier in the game, launching a first-inning grand slam that fueled the Cubs' 9-5 win.
Coincidentally, Cubs manager Joe Maddon had just commented albeit sarcastically the other day about this very issue in the middle of a fun rant about potential new safety rules:
Not a bad idea, as it turns out. We're glad you're OK, Javy.
Brad Penner-USA TODAY Sports | Brad Penner