Tussle at top of East highlights Tuesday's schedule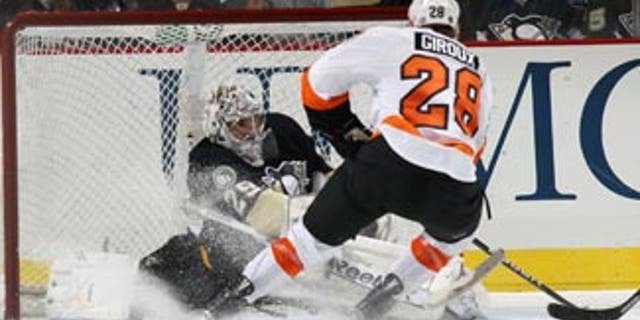 With 13 days left in the regular season, the playoff races in each conference are still on fire. Almost every game has added significance, with points at such a premium, as teams jockey for positioning. NHL.com is here to give you a Down the Stretch daily that will highlight what you need to know about the games that directly can impact the playoff races.
Here is the installment for Tuesday, March 29:
PHILADELPHIA (45-20-10, 100 points) at PITTSBURGH (45-23-8, 98 points)
Where they stand: Philadelphia is first in the East; Pittsburgh is fourth in the East
What's at stake: Pittsburgh can move within a tiebreaker of taking over first place in the Eastern Conference on Tuesday with a regulation win. Philadelphia has a game in hand on the Penguins and six more non-shootout wins. The Flyers can expand their lead on the Penguins to four points, which could be difficult for the home team to overcome with only five games left in the season after Tuesday.
How's it going: The Flyers were beaten by Boston on Sunday, 2-1. It was their first regulation loss since March 6, but they've won only five of their past 10 games (5-1-4). Rookie goalie Sergei Bobrovsky responded well after getting pulled in a 5-4 shootout loss to Washington last Tuesday by making 30 saves in a 2-1 shootout loss to the Penguins two nights later. Bobrovsky was also in net for Philadelphia's 4-1 win against the Islanders on Saturday.
Pittsburgh has won an NHL record four games in a row by the shootout. While shootout wins do not help the Penguins' cause should there be a tie-breaker scenario, the eight points in four games has allowed them to inch closer to the Flyers. Goalie Marc-Andre Fleury, recently named the Penguins' MVP, has been red hot. Fleury had a club record shutout streak of 150:14 snapped on Sunday when Florida's Ryan Carter beat him.
Upcoming: The Flyers come home to play Atlanta on Thursday and then head up the New Jersey Turnpike to play the Devils on Friday. The Penguins travel to Florida after the game and will play the Lightning on Thursday and Panthers on Saturday.
CHICAGO (41-26-8, 90 points) at BOSTON (42-23-10, 94 points)
Where they stand: Chicago is eighth in the West; Boston is third in the East
What's at stake: Chicago can move closer to clinching a playoff berth while the Bruins can move closer to clinching the Northeast Division title. The Blackhawks have a three-point cushion between themselves and the ninth-place Flames, who are idle Tuesday. Dallas is four points back in 10th, but in action Tuesday. Boston leads Montreal by seven points and has a game in hand.
How's it going: The Blackhawks picked up a huge win in Detroit on Monday thanks to Marian Hossa's overtime power-play goal. Patrick Kane had two assists while Jonathan Toews and Brent Seabrook scored in regulation. Corey Crawford, who made 33 saves Monday night, has started 20 consecutive games.
The Bruins won in Philadelphia on Sunday after getting blanked by the Rangers a day earlier. They scored seven goals Thursday in a shutout romp against the Canadiens, but have just two since. Tim Thomas and Tuukka Rask have been splitting time of late with Thomas starting 10 of the past 18 games. Thomas has stopped 81 of 83 shots in his past three starts.
Upcoming: The Blackhawks go to Columbus on Friday and then return home to play Tampa Bay on Sunday. The Bruins stay home and host the Maple Leafs on Thursday and the Thrashers on Saturday.
CAROLINA (35-30-10, 80 points) at WASHINGTON (44-22-10, 98 points)
Where they stand: Carolina is ninth in the East; Washington is second in the East
What's at stake: Carolina is five points behind Buffalo in ninth but is looking to keep its thin playoff hopes alive. Washington can move closer to clinching its fourth straight Southeast Division title and potentially move into a points tie with Philadelphia and Pittsburgh. Should the Capitals and Penguins both win in regulation they will tie Philadelphia with 100 points.
How's it going: The Hurricanes lost the second half of their home-and-home with Tampa Bay during the weekend and those were crucial points that they needed to have with Buffalo playing well. Despite winning three in a row prior to that loss to Tampa Bay, it appears the Sabres are pulling away from the 'Canes, who are just 4-5-1 in their past 10 games.
It's possible that Alex Ovechkin returns to the Capitals' lineup Tuesday after missing three games with undisclosed injuries. Ovechkin had 21 points in 16 games prior to sitting. The Capitals beat Montreal on Saturday for their 12th win in their past 14 games. Jason Arnott is also close to returning from a groin injury. He will miss his seventh straight game Tuesday.
Upcoming: The Hurricanes host Montreal on Wednesday and go to Long Island on Saturday. Washington, which just completed a six-game road trip with a 4-2 record, stays home to play Columbus on Thursday and Buffalo on Saturday.
VANCOUVER (50-18-9, 109 points) at NASHVILLE (41-25-10, 92 points)
Where they stand: Vancouver is first in the West; Nashville is sixth in the West
What's at stake: The Canucks can clinch first overall in the Western Conference and move closer to clinching the Presidents' Trophy with a win. Nashville can possibly finish the night in fourth place, but would need a win and losses by both Los Angeles and Phoenix. The Predators can also move up to fourth with a one-point loss, but then the Kings and Coyotes would have to lose in regulation.
How's it going: The Canucks, winners of three straight, are dealing with some significant injuries again. They already knew Manny Malhotra (eye) was done for the season but now there are question marks surrounding the availability of defenseman Dan Hamhuis, who suffered his second concussion in the past six weeks during Sunday's win against Columbus. Hamhuis is out indefinitely.
The scorching hot Predators have put themselves in a solid position with a six-game winning streak. They have a five-point cushion on the ninth-place Flames. The Predators are actually winning with offense as they are averaging 3.83 goals per game during the winning streak. Their season average is 2.58 goals per game.
Upcoming: The Canucks come home to play Los Angeles on Thursday and Edmonton on Saturday. The Predators, who have won eight of their past nine games, play at Colorado on Thursday and then come home for three in a row.
DALLAS (38-26-10, 86 points) at PHOENIX (41-25-11, 93 points)
Where they stand: Dallas is 10th in the West; Phoenix is fourth in the West
What's at stake: Dallas can leap Calgary and move into ninth place with a win. However, the Stars will need Chicago to lose in Boston in order to get closer in points to eighth. Phoenix will stay in fourth with a regulation win, but a loss could potentially drop the Coyotes to sixth, depending on what the Kings and Predators do in their respective games.
How's it going: The Stars are trying to stay optimistic, but they put themselves in a bind by winning only twice in the past eight games. Dallas is winless in its last three (0-1-2) and is just 2-3-3 during the past eight. The Stars lost in Nashville on Saturday, 4-2. Starting Tuesday, their next four games are all on the road against Pacific Division opponents who are all currently in playoff position.
The Coyotes lost to the Sharks during the weekend, but have won seven of their past nine games. They gave up four goals to San Jose, which matched the total goals they allowed in their previous four games. The Coyotes are 15-6-2 since Feb. 5.
Upcoming: The Stars brutal schedule continues in California with three games in four nights, starting Thursday in San Jose. They play at Los Angeles on Saturday and at Anaheim on Sunday. Phoenix hosts Colorado on Friday.
ATLANTA (32-31-12, 76 points) at MONTREAL (40-29-7, 87 points)
Where they stand: Atlanta is 11th in the East; Montreal is sixth in the East
What's at stake: Montreal's hopes of winning the Northeast Division appear to be crushed since the Bruins have a seven-point lead with a game in hand. However, the Canadiens don't want to finish any lower than sixth and right now they're tied with the idle New York Rangers. They're also four points behind the Lightning for fifth.
How's it going: Montreal's offense has to turn up at some point, right? The Canadiens have been shutout three straight times and have been held scoreless for the last 186:05. They haven't scored since the third period of their 8-1 throttling of the Wild in Minnesota nine days ago. Coach Jacques Martin put his team through a brutal 64-minute practice Sunday following another listless offensive performance in Saturday's 2-0 loss to Washington on Saturday. The Montreal Gazette called it the Canadiens' hardest practice since training camp.
The Thrashers topped Ottawa in a shootout Sunday and have won two of their last three games.
Upcoming: The Canadiens play at Carolina on Wednesday and head to New Jersey on Saturday. The Thrashers continue their five game road trip in Philadelphia on Thursday.
OTTAWA (29-37-10, 68 points) at TAMPA BAY (40-24-11, 91 points)
Where they stand: Ottawa in 15th in the East; Tampa Bay is fifth in the East
What's at stake: Tampa Bay will clinch a playoff berth with a win and a Carolina regulation loss in Washington. While not conceding the division, the Lightning appear to have a firm hold on fifth place in the East.
How's it going: The Lightning picked up a huge win Saturday against Carolina. Simon Gagne scored two goals, including an empty-netter, for the second straight game. Mike Smith got a rare start in net and was solid. However, Steven Stamkos is without a point in his past five games and has just 5 goals since the All-Star break. Lightning coach Guy Boucher acknowledged Stamkos' slump on Monday, saying it's not just a scoring slump, it's a playing slump. He was given Monday off along with Martin St. Louis and Vinny Lecavalier.
Ottawa has beaten the Lightning twice already this month, once in regulation and once in overtime. The Senators are 0-for-12 on the power play in their last five games, but have balanced that by going 15-for-15 on the penalty kill.
Upcoming: The Lightning hosts Pittsburgh on Thursday and starts a three-game road trip Saturday in Minnesota. Ottawa goes south to Sunrise to play the Panthers on Thursday before returning home for three straight.
BUFFALO (38-28-9, 85 points) at TORONTO (34-32-10, 78 points)
Where they stand: Buffalo is eighth in the East; Toronto is 10th in the East
What's at stake: Buffalo will move into seventh place with a win and could possibly finish in sixth depending on what Montreal does at home against Atlanta. Toronto can stay alive and move within five points of eighth place with a regulation win.
How's it going: The Sabres rode Ryan Miller's First Star of the Week performance last week to three straight wins and a five-point cushion on the Hurricanes for the final playoff spot. The Sabres aren't done yet. Now they have their eye on the Rangers and possibly the Canadiens, too. Sixth place is definitely within the realm of possibility for them and if they stay hot perhaps they can catch the Lightning for fifth. It wasn't too long ago that the Sabres were trying to climb into the top eight.
Toronto is just hoping to keep its fading playoff hopes alive for another day. The Leafs were dealt a blow during the weekend when they lost in Detroit, 4-2. However, Buffalo is a good opponent for them now because it's a four-point swing game. They're also pulling hard for Washington to beat Carolina.
Upcoming: Buffalo hosts the Rangers on Wednesday and seventh place will be on the line. The Sabres then travel to play at Washington on Saturday. The Leafs go to Boston on Thursday and then play at Ottawa on Saturday.
LOS ANGELES (43-26-6, 92 points) at EDMONTON (23-41-11, 57 points)
Where they stand: Los Angeles is fifth in the West; Edmonton is 15th in the West
What's at stake: Los Angeles could move up to fourth with a win and close within three points of idle San Jose for first in the Pacific Division. The Kings would need Phoenix to lose in order to jump into the top four. They have two games in hand on the Coyotes.
How's it going: Life could be better for the Kings, who have to press on without their top two scorers. Justin Williams is out until late in the first round at the earliest with a dislocated right shoulder. Worse news came Saturday when leading scorer Anze Kopitar went down with a broken ankle. Original reports had him out for anywhere from four to six weeks, but an MRI conducted Monday revealed ligament damage. Kopitar is expected to undergo surgery on Wednesday and will be lost for the season. The Kings have won three in a row, but their recent spate of injuries has crushed their top line and provided far too many questions with the playoffs nearing.
The Oilers are winless over their past nine games, going 0-6-3 during the stretch.
Upcoming: The Kings go to Vancouver to play the Canucks on Thursday and then return home to play Dallas on Saturday. The Oilers close the regular season with five of their last six games on the road starting Thursday in Minnesota.
Follow Dan Rosen on Twitter at: @drosennhl