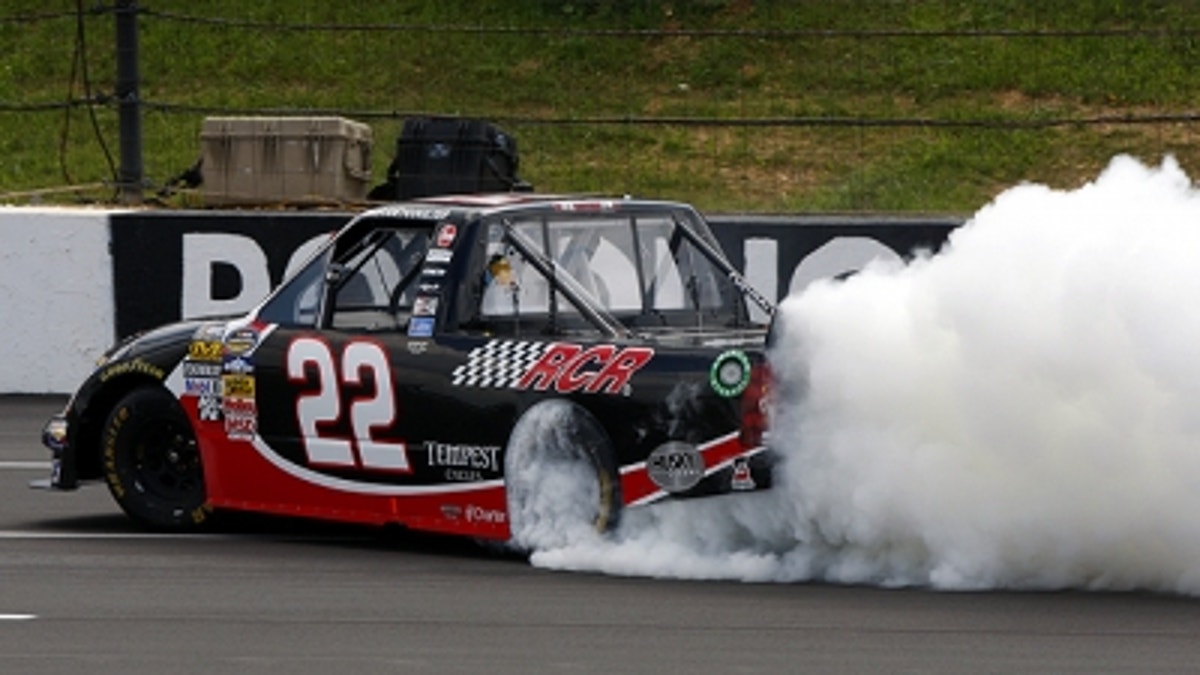 Joey Coulter made a brilliant late-race pass to win Saturday's Pocono Mountains 125 at Pocono Raceway, a short, fast, 50-lap dash that saw plenty of on-track carnage in the closing laps.
Coulter was third on the race's final restart behind Nelson Piquet Jr., but when the green came out with seven laps to go, Coulter dove to the bottom of the track, blew past Piquet and was never challenged from there.
It was the first NASCAR Camping World Truck Series victory in 36 career starts for the 22-year-old Florida native, who drives for Richard Childress Racing.
Coulter became the ninth different winner in 11 Truck Series races this year, and the fourth first-time winner.
"The whole time it seems like I've been racing stock cars, it seems like I've struggled with restarts," said Coulter. "I probably put more time into that than just about anything. It's just awesome to close the deal. We've been so close. It's been awesome to finally put one together for these guys."
James Buescher finished second in his Turner Motorsports Chevrolet, followed by teammate Piquet, Matt Crafton's ThorSport Racing Toyota and Denny Hamlin in a Kyle Busch Motorsports Toyota.
Piquet started on the pole, but second-qualifier Ty Dillon hit the Turn 1 wall on the first lap, falling deep in the field, as Johnny Sauter had a transmission problem, as well, and went to the garage. Piquet held the early lead, opening a margin of 3 seconds over Turner Motorsports teammate Buescher by Lap 6.
The leaders started pitting at Lap 20, with Piquet pitting on Lap 22 and surrendering the top spot.
The first caution came on Lap 30 after Tim George had a tire go down and made contact with another truck.
The race restarted on Lap 34, with Piquet leading Buescher. Piquet got a bad start, and at the exit of Turn 1, Todd Bodine pulled down from the outside, and hit Piquet as they were battling for second place. Bodine's truck crashed hard into the inside wall, and afterward, Bodine threw his helmet at Piquet's truck as it drove by under caution.
The race restarted on Lap 39, as Buescher led teammate Piquet.
Behind them was a big crash in the Tunnel Turn that snared points leader Timothy Peters and Paulie Harraka. It was Harraka that drifted up into Ron Hornaday Jr., while Peters crashed into Crafton.
Piquet took the lead before the caution waved, so he led when the race restarted with seven laps to go.
Coulter restarted third, but drove into the lead on the restart, moving to the front for the first time on the day, with Buescher second and Piquet falling back to fifth.
Afterward, Piquet was understandably disappointed. "To be honest, I don't know how much I was allowed to defend," Piquet said. "… When I noticed (Coulter), he was already beside me in the 22. There was nothing I could do."
That was all Coulter needed to drive to victory for the first time in the Truck Series.
Peters now leads Dillon by eight points and Buescher by 15.
Tom Jensen is the Editor in Chief of SPEED.com, Senior NASCAR Editor at RACER and a contributing Editor for TruckSeries.com. You can follow him online at twitter.com/tomjensen100.