TRUCKS: Another Burton Turns The Wheel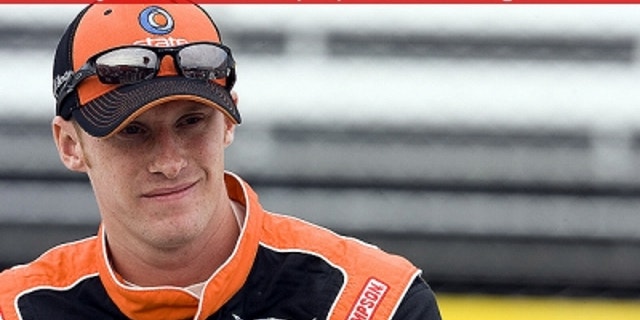 John Edward "Jeb" Burton has the slow talk and fast drive of his Daytona 500-winning father, Ward Burton.
Burton, who made his NASCAR national-series debut in the second Camping World Truck race of the season at Martinsville Speedway, has competed in six of the eight Truck Series events this year with a top finish of eighth at Charlotte.
Only 19 years old, Burton, who also races Late Models from his own shop, has shown sparks, running as high as third at Charlotte and in the top 10 at three of the other events.
He has targeted the Sprint Cup series in the next few years, hoping to duplicate some of the success of his father, who drove the No. 27 truck at Daytona in the season opener because Jeb had not been approved to run a superspeedway.
Burton ran motocross, go-carts, Limited Late Model and now Late Model before getting a limited-schedule shot in trucks with Hillman Racing this year.
He finished 19th in the season's sixth race at Dover but did not enter at Texas and is hoping for additional sponsorship funds to put him back on track.
"When I was growing up dad was racing a lot," Burton said. "I was always around. I knew there would come a time Dad would want to get out of it. I just came easy to it. I love being out there and on the track. I hope we can find some sponsorship money so I can do this every weekend."
Burton ran a truck test at Ace Speedway, where he has been a regular Late Model competitor, then jumped into the fray at Martinsville, where he finished 13th in his series debut.
"I just show up at these tracks and go," he said.
Burton is in the rather difficult position of trying to impress sponsors while also trying to protect equipment.
"I just go out there and use my head and try not to press the issue until the last 20 to 25 laps," he said. "I just want to stay out of trouble and watch out for everybody else's mistakes."
Burton established an early-season goal of posting top-15 finishes in each race of his first season, and he has reached that level in three of five races. He said moving up from Late Models to trucks hasn't been a major issue for him.
"There's a big difference from Late Model," he said. "A lot of guys can run Late Model and then a truck and not be very good at it. It's a whole different ball game. Late Model is a tough series, but the trucks definitely are more competitive. I've caught on to them pretty well. I just need an opportunity."
Mike Hembree is NASCAR Editor for SPEED.com and has been covering motorsports for 30 years. He is a six-time winner of the National Motorsports Press Association Writer of the Year Award.