TRUCKS: After Rolling In Dirt, Drivers Dust Off And Head To Martinsville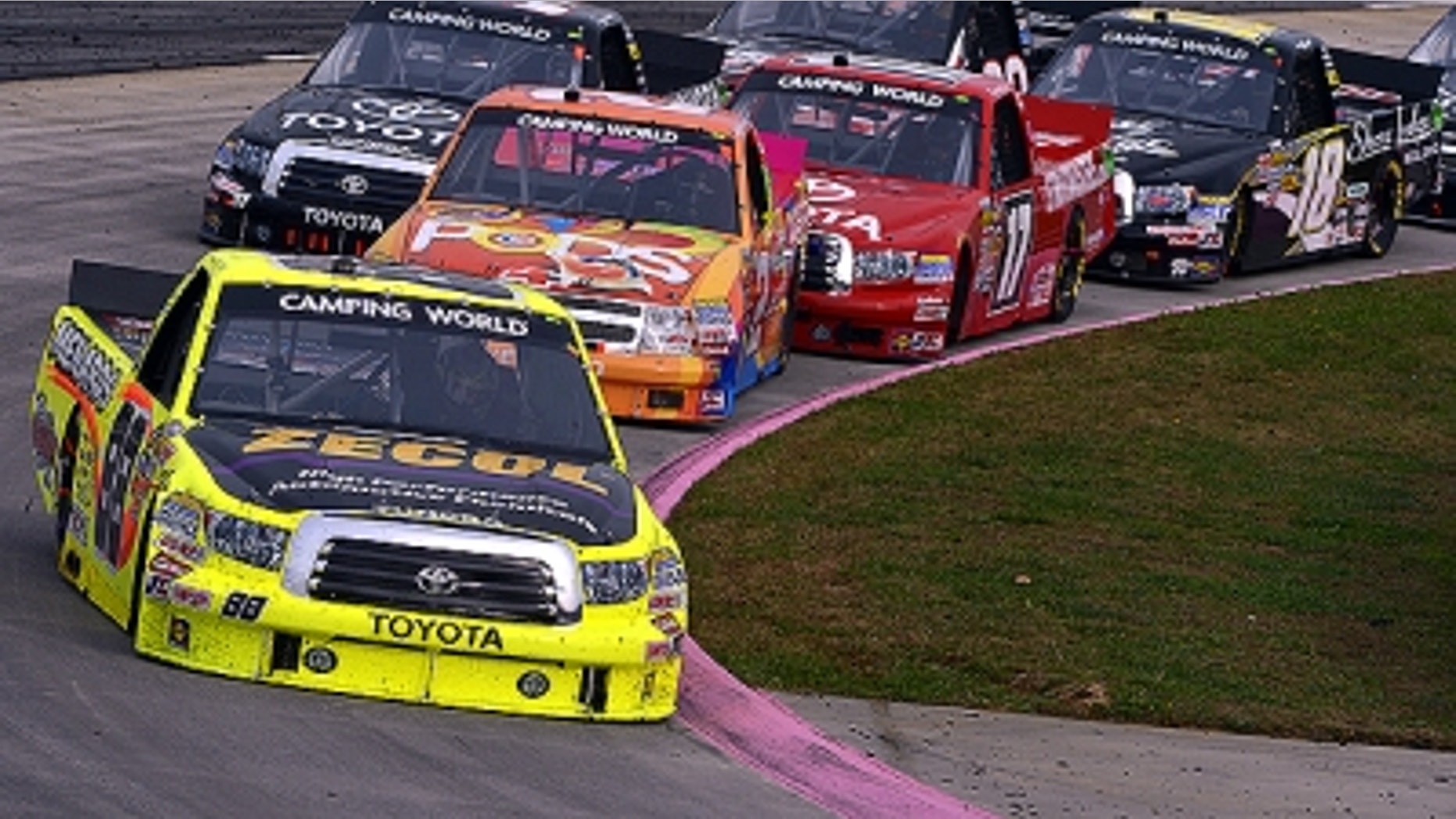 AFTER ROLLING IN THE DIRT THE LAST FEW WEEKS, NCWTS DRIVERS DUST OFF & HEAD TO MARTINSVILLE
SPEED OFFERS LIVE COVERAGE OF SECOND TRUCK SERIES RACE OF SEASON APRIL 6 AT 1:30 P.M. ET AT HISTORIC HALF-MILE TRACK
Coulter: "It's going to be like a Talladega or Daytona. I think it's going to be a complete wildcard … Everything will come out of there really shaken up."
Given enough time and no pit crews to separate them, Tony Stewart and Joey Logano may have been rolling in the dirt Sunday at Auto Club Speedway. However, some of their NASCAR Camping World Truck Series counterparts have beat them to the punch in the five weeks since the series' season opener at Daytona.
While the NASCAR Sprint Cup Series looks forward to its first weekend off, the Truck Series marks its fifth consecutive open week of 2013. A few Truck Series drivers, though, have put their time to good use, getting down and dirty during the lengthy hiatus preceding the April 6 race at Martinsville Speedway (1:30 p.m. ET LIVE on SPEED; NCWTS Setup with Krista Voda at 1 p.m. ET).
Several Truck Series regulars have been taking steps to prepare for the July 24 inaugural race at Eldora Speedway. Joey Coulter began running dirt Late Models last year, and has competed in more than 15 races to-date, most recently in the NeSmith Chevrolet Late Model Series, in which he currently sits eighth in points. His dirt resume also boasts four ARCA Racing Series dirt-track starts in 2009 and 2010, in which he notched two top-five finishes.
Matt Crafton first set foot on dirt in January in a dirt Modified, competing at Tucson, Las Vegas and Volusia Speedway Park during Daytona Speedweeks. Max Gresham also slung some mud at Volusia with the UMP Modifieds following his first dirt test session in January at Carolina Speedway in Gastonia, N.C.
For those with a little dirt under their nails already, those first laps on dirt were a hair-raising baptism by fire.
"I probably couldn't say what I was thinking when I first hit the dirt," Coulter recalled. "It was totally different. I've been racing for 14 years and all 14 have been on pavement. Everything that has become second nature to me was basically useless. It was really, really different. But it was a ton of fun and I really enjoyed it right from the get-go."
"I raced dirt in mini-sprints or midgets probably 15 or 16 years ago, but something that heavy and big that moves around so much compared to those cars was so different," Crafton explained. "Everything I've had embedded in my head the last 15 years is all about asphalt and being smooth and driving into the corner a certain way, and now I'm trying to relearn everything I knew. Even the Modified is so much different than what I used to race on dirt."
For those who haven't yet had their dirt-track initiation, they soon will, as most teams are finalizing testing plans. Red Horse Racing is sending its three drivers, Timothy Peters, German Quiroga and John Wes Townley, to a dirt-racing school, in addition to hiring a professional dirt driver to coach them. Gresham, driver of the No. 8 AmWINS Chevrolet Silverado for Eddie Sharp Racing, has a second test at Carolina Speedway on the docket, possibly in an ARCA car.
"Some of the dirt Late Model guys I've talked to like Jimmy Mars think I'm better suited to try and sit in a dirt Super Stock -- something kind of heavy and lazy, you could call it, and try to get some experience that way," said Sauter, who expects to test in Wisconsin. "We'll go more toward the race date -- May or June probably -- so I can keep stuff fresh in my mind."
Bryan Silas of T3R2 owns eight ARCA starts on dirt, in which he scored three top-10 and four top-15 finishes. He insists that experience will give him a leg-up.
"I think it will be (car) control and tire conservation," expressed Silas, driver of the No. 99 Rockingham Speedway Ford F-Series. "I had to make a few mistakes in my first couple of dirt races to know what I could get away with and what didn't work. That helped down the road with some strong finishes. I'm sure we'll be limited to the amount of tires we can have for the Eldora race, so I think the driver who has conserved their tires the best will have a shot at winning. It wasn't always the driver with the fastest car in ARCA, and I'm pretty sure that will apply with the NASCAR Camping World Truck Series, too."
Coulter and Crafton have taken stock of their progress on dirt thus far and both give themselves a passing grade, albeit one with room for improvement before Eldora rolls around.
"I'd say a 6.5 or 7," stated Coulter, driver of the No. 18 Gunbroker.com Toyota. "There are certain things I feel like I've really gotten the hang of that don't seem to faze me anymore, but when the track makes the hard transition -- gets really slick, turns black and gets really dry slick -- I really struggle in those conditions."
"C-plus," said Crafton, driver of the No. 88 Rip It Energy Fuel/Menards Toyota. "At Volusia, I definitely struggled. It was a brand-new car, so I can't blame it all on me. I was off and the car was equally off. I was a fish out of water. After that, on the last night I had a pretty good run and in the B-main came from 11th to finish third in 10 laps and missed the transfer (spot) by one. In the last two Vegas races I ran, I ran really well. I ran in the top five and I won my heat race. I was very happy with how far I've come. I'm going to race a few more races before we go to Eldora."
Both men say they'll test a NASCAR Camping World Truck Series truck on dirt prior to Eldora, although neither team has nailed down a date or location. However, it's questionable how well information gathered in a dirt Late Model will translate to a Truck at Eldora.
"I know people who race on dirt," said Sauter, driver of the No. 98 Carolina Nut Co./Curb Records Toyota. "My brother crew chiefs a dirt car in Virginia. It's not that I can't have access to cars or dirt technology, but I don't know how much of that stuff will carry over and correlate to racing a truck. You're talking about substantial weight differences and a lot of different variables … I have a feeling that as heavy as the trucks are, they'll have to pack the track hard to where it almost has a shiny, asphalt-look to it. I don't know how much slipping and sliding you'll be able to do. You see dirt late model cars slipping and sliding through the corners, and I may be totally wrong, but I just don't know that that's what we'll have unless they have a really good tire."
"That's the really tricky thing about dirt," Coulter explained. "With a pavement track, you can call anytime and say, 'Hey, we'll be there next week. Go blow the track off and get the dust off of it.' On a dirt track, there's a lot of prep that goes just into testing on it. One car on a track all day is a lot different than 30. We've got to be real smart about where we test."
All agree, though, the Truck Series debut at Eldora holds major implications for the championship battle, potentially wreaking havoc on the point standings.
"It's going to be like a Talladega or Daytona," Coulter related. "I think it's going to be a complete wildcard. Nobody will have any idea what's going to happen. Everywhere else we go … like we're going to Kentucky in the middle of the summer, and we can say the track is going to be hot and slick. We can't do that with Eldora. There's really no way of knowing how the track will be because we won't know how they're going to prep the track until we get there. It's a really big question mark. As far as the points go, it's going to be a wildcard. Everything will come out of there really shaken up."
"It's going to be huge," Crafton predicted. "That's why I've been doing what I've been doing. I know we're going to be a championship-contending team, and I need to be at the best of my ability for the dirt track and possibly win it or run in the top five there. A lot championship-contending teams who haven't raced dirt will be there. If I can just one-up them on that weekend, that's more points for us."
And whether on dirt or asphalt, those points are what it's all about …