Triple H says Conor McGregor could be a huge superstar in WWE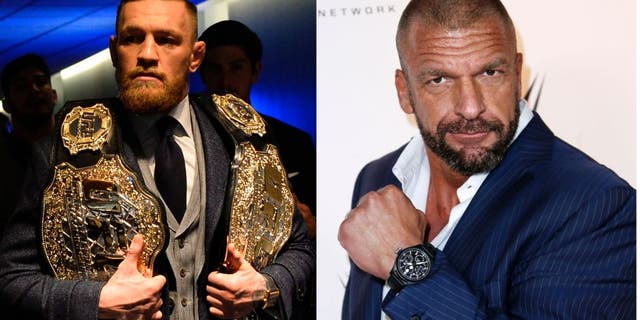 Whenever Conor McGregor fights there are always plenty of celebrities in attendance.
This past weekend at UFC 205 in New York was no different as McGregor dispatched Eddie Alvarez in less than two rounds to become the first ever simultaneous two division champion in the history of the promotion.
One of the most interesting onlookers to McGregor's dominant performance was WWE vice president of talent Paul "Triple H" Levesque, who attended the event and tweeted about the Irishman's performance on Saturday night.
Triple H is well known for acquiring talent from all over the world to bring to WWE and there's no doubt that McGregor fits the bill for the kind of superstar who could excel on his first day in professional wrestling.
"He could come over, he's got it all, man," Levesque told the Telegraph in the UK. "He's got the personality, the skills, the talk. He's an entertainer, for sure."
The former WWE champion turned executive stopped short of saying that he was at UFC 205 on a scouting mission to pursue McGregor, but there's no doubt he would jump at the opportunity if it ever came about.
Of course, McGregor had a dust up with several top WWE stars this year when he took shots at the entire roster in several interviews as well as his infamous message on Twitter that earned a lot of responses from the professional wrestling community.
Despite that dig, Triple H knows it's all part of McGregor's showmanship that results in a ton of eyeballs on anything and everything he does.
That's why he believes McGregor could easily make an impact in the WWE if he ever decided to make that move, even if it was only on a temporary basis.
"What does he walk around at? 180 pounds? I have smaller guys now in the WWE," Levesque said. "We have 200-pound guys who are stars. You don't need to be 300 pounds any more.
"But yeah, he could do just as well as Floyd Mayweather when he fought the Big Show. That really worked. Conor could do it for sure."
McGregor has never expressed any interest in the WWE, but money talks and that's always a conversation starter if the company wanted to offer him a potential deal.
WWE has crossed over with the UFC before, most recently allowing Brock Lesnar to return to the Octagon for his fight with Mark Hunt in July. The UFC has also allowed Ronda Rousey to appear on WWE programming when she showed up at WrestleMania in 2015.
There's no doubt McGregor appearing at a big WWE showcase like that would be a transcendent moment for professional wrestling and mixed martial arts as well.