Treadwell brings blocking ability as well as receiving skills to Vikings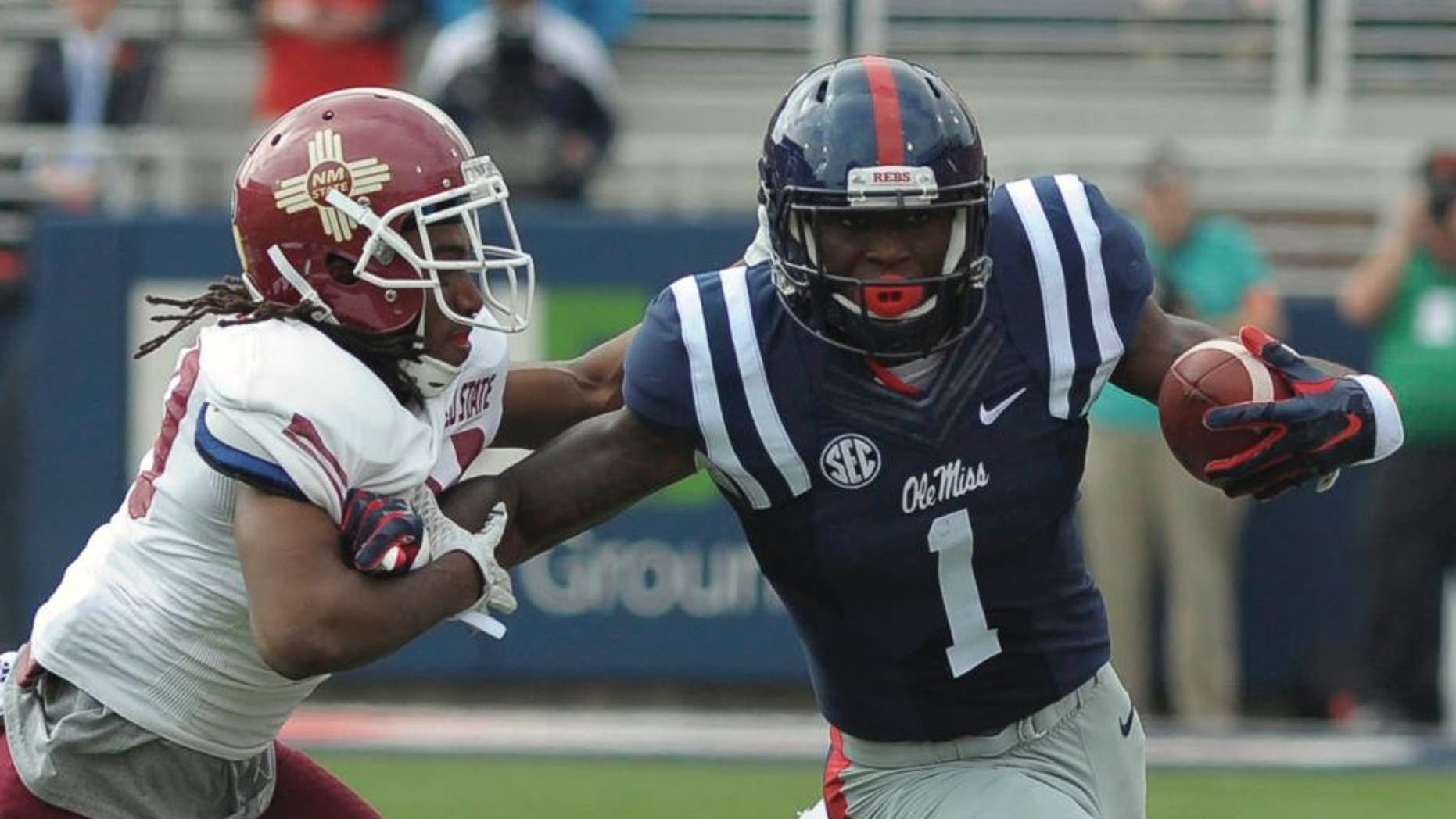 At 6-foot-2 and boasting a catch radius to rival just about anyone in the 2016 NFL Draft, Minnesota Vikings first-round pick Laquon Treadwell can go up and get it.
The big-bodied receiver excelled at the art of the 50-50 ball at Ole Miss, leading the SEC in receiving yards (1,153) and receiving touchdowns (11) last season.
Randy Moss calls it "taking the top off the defense."
Treadwell likens his game to that of Dez Bryant, the explosive Cowboys receiver known for the same quality.
But on an offense built to coax openings out of eight-man fronts in service of star running back Adrian Peterson, where offensive coordinator Norv Turner frequently attempts to unleash the speed of his receiving corps with passes thrown behind the line, blocking can be just as important.
Those skills, head coach Mike Zimmer said, sealed the deal.
"We obviously took him because of him as a receiver, but he is the best blocking receiver that I have ever seen," Zimmer said.
He's not the first person to make that assessment.
It's possible that Zimmer watched Ole Miss' 23-3 win over Texas A&M back in October, when Treadwell followed up a successful block on defensive back De'Vante Harris by pulling up and leveling 6-3, 235-pound linebacker Shaan Washington.
That one was enough to grab its own headlines.
"Honestly, I learned young and I learned that in high school, the technique of blocking and settling your feet and waiting for the defender and being two yards apart from him," Treadwell said.
Treadwell lined up everywhere in high school, supplementing his receiving resume with stints at running back, quarterback, kicker and defensive back while leading Crete-Monee (Crete, Ill.) to a state title in 2012.
It's yet another consequence of his physicality, the same skillset that allows him to manhandle opposing cornerbacks when need be.
"I'm physical and can use it to my advantage to either shed the guy, let him go and just push him the way you want to go, or if he's waiting I just engage," Treadwell said. "It goes either way. I'm just a natural, honestly."
But it isn't just about his size or his strength.
The grisly injury that derailed his sophomore season taught Treadwell to make every play count.
An Auburn defender dragged Treadwell down just inches from the goalline during a late-season matchup in 2014, snapping his fibula and dislocating his ankle.
"Now I don't take the game for granted, and I appreciate the littlest things and the littlest coaching points that I can get," he said. "Everything from being great, that's what I'm all about. I'm just going to stick to it. That comes with the territory, just playing every play."
And he'll likely get the chance to do it.
If Zimmer has his way, expect to see Treadwell on the field, even if the ball isn't coming his way.
Follow Ryan Lund on Twitter